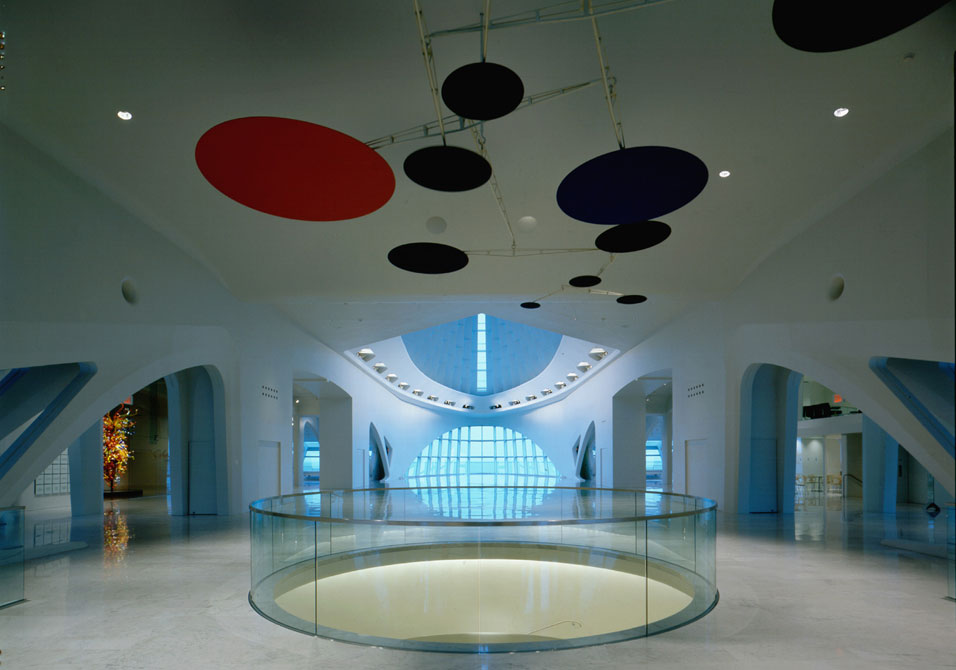 Milwaukee Art Museum. Photo: Timothy Hursley.
MILWAUKEE, WI.- The first U.S. museum survey exhibition to explore the work that Andy Warhol produced during his final years begins its national tour at the Milwaukee Art Museum September 26, 2009–January 3, 2010. Andy Warhol: The Last Decade reveals a mature artist in full command of his complex repertoire, mixing forms and media with audacious fluency. Created amidst the bustle of Warhol's Pop celebrity, the works on view illustrate as never before the artist's vitality, energy, and renewed spirit of experimentation.
Warhol created more new series of paintings in the last decade of his life, in larger numbers and on a vastly larger scale, than during any other phase of his 40-year career. But far from a period of "Factory" production, it was a time of extraordinary artistic development for Warhol, during which a dramatic transformation of his style took place alongside the introduction of new techniques. The artist confidently utilized and combined hand painting, mechanical reproduction, representation, and abstraction. Collaborations with Jean-Michel Basquiat, Francesco Clemente, and Keith Haring were central to his pursuit of new ideas, and stimulated the artist to return to painting by hand.
The exhibition includes nearly 50 works lent by private collectors and institutions such as the Museum of Modern Art, New York; Baltimore Museum of Art; and Andy Warhol Museum, Pittsburgh. Along with an introduction to Warhol's oeuvre, it is divided into thematic sections based on significant Warhol series: abstract works, collaborations (featuring Jean-Michel Basquiat and Francesco Clemente), black-and-white ads, works surrounding death and religion, self-portraits, camouflage patterns, and a concluding section of the artist's Last Supper series—the largest series that he produced in his entire career. Several large-scale works 25 to 35 feet in width punctuate the exhibition. In 1984, Warhol purchased a new studio building where he had the luxury of an expansive space in which to work. The paintings created there mushroomed in size to monumental proportions.
Categories
Tags