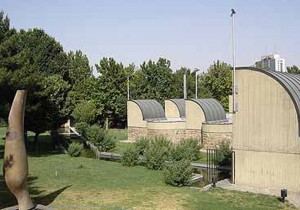 The Tehran Museum of Contemporary Arts is one of the most important museums of Asian modern arts. The museum was inaugurated in 1978 in Tehran and after 30 years, this museum's treasures are being publicly exhibited for the second time. Four years ago, in the period of Khatami's presidency in Iran and in the last days of the so called "reforms period", the treasures were exhibited on the walls of 9 galleries for the first time. The treasures of Tehran Museum of Contemporary Arts is one of the richest eastern modern treasures of the world which can be considered as the most important Asian museum of the world's contemporary arts.
120 works of European and American modernism's history are on view since 26 June 2009 in this museum. This launching is the greatest exhibition of western works after the Islamic revolution in Iran. It has to be mentioned that from the 80s up to now, no foreign works has been added to this collection and the treasure lacks the works of this period. This exhibition will be on view until 6 August 2009.
Works by the following artists are kept there: Claude Monet, Camille Pissarro, Van Gogh, James Ensor, Edouard Vuillard, André Dunoyer de Segonzac, Jules Pascin, André Derain, Louis Valtat, Georges Rouault, Fernand Léger, Pablo Picasso, Alberto Giacometti, Francis Bacon, Max Ernst, René Magritte, George Grosz, Diego Rivera, Jasper Johns, Andy Warhol, Roy Lichtenstein, Jim Dine, Peter Phillips, James Rosenquist, Fritz Winter, Joan Miró, William Turnbull, Victor Vasarely, Adolph Gottlieb, Richard Hamilton, Georges Braque, Jean Paul Riopelle, Edvard Munch, Pierre Soulages, Edgar Degas, Mary Cassatt, Maurice Prendergast, František Kupka, Max Beckmann, James Whistler, Edward Hopper, Giorgio Morandi, Noreen Motamed, Giacomo Balla and Marcel Duchamp.
Via (ArtDaily.com) from (Tandismag.ir:)
Categories
Tags