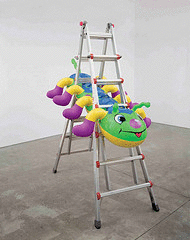 The Serpentine Gallery
presents an exhibition of the work of the celebrated American artist Jeff Koons. This will be England's first ever major survey of Koons's work in a public gallery.
For his exhibition at the Serpentine Gallery, Jeff Koons presents works from his Popeye series, which he began in 2002.
The works incorporate some of Koons's signature ideas and motifs, including surreal combinations of everyday objects, cartoon imagery, art-historical references and children's toys.
The sculptures on show continue Koons's interest in casting inflatable toys. Those typically used by children in a swimming pool are cast in aluminium, their surfaces painted to bear an uncanny resemblance to the original objects. Koons has used inflatables in his work since the late 1970s. He further develops his use of cast inflatables in the Popeye series by juxtaposing these replica ready-mades with unaltered everyday objects, such as chairs or rubbish bins. The paintings in the series are complex and layered compositions that combine disparate images both found and created by Koons, including images of the sculptures in the series.
Featuring loans from both public and private collections, the exhibition
also includes works that have never been shown publicly before. The immediately recognisable figures of Popeye and Olive Oyl are central in
the series and they appear in several prominent works within the exhibition.
One of the most iconic American cartoon characters, Popeye was conceived
80 years ago this year in 1929 when the Great Depression was taking hold.
In Popeye's early years, the cartoon addressed the hardships and injustices
of the time and, in this current period of economic recession, he is a fitting character to rediscover and explore.
Working in thematic series since the early 1980s, Koons has explored notions of consumerism, taste, banality, childhood and sexuality. He is known for his meticulously fabricated works that draw on a variety of objects and images from American and consumer culture.
Jeff Koons first exhibited at the Serpentine Gallery in 1991 as part of the group show Objects for the Ideal Home: The Legacy of Pop Art. His work also appeared in the exhibition Give and Take that was organised by the Serpentine Gallery and the Victoria & Albert Museum in 2000, and as part of In the darkest hour there may be light – works from Damien Hirst's murderme collection at the Serpentine in 2006.
Koons took part in a headline event in the Serpentine Gallery's summer events programme, Park Nights, in 2006. He appeared as part of a panel discussion involving Hans Ulrich Obrist and Rem Koolhaas, the architect of that year's Serpentine Gallery Pavilion. Koons also contributed to Hans Ulrich Obrist's recent book Formulas for Now, which was presented at the Serpentine Gallery Experiment Marathon in 2007.
Jeff Koons was born in York, Pennsylvania, 1955. His work has been widely exhibited internationally. His most recent solo exhibitions include presentations at the Château de Versailles, France; Neue Nationalgalerie, Berlin; Museum of Contemporary Art, Chicago; and Metropolitan Museum of Art, New York, all in 2008. Koons lives and works in New York.
Jeff Koons: Popeye Series is curated by Julia Peyton-Jones, Director, Hans Ulrich Obrist, Co-Director, and Kathryn Rattee, Curator, Serpentine Gallery.
From Popeye to puppies: Jeff Koons explains his love of outrageous art (The Times)
'Popeye' exhibition by Jeff Koons comes to Serpentine Gallery (The Times)
Exhibitions preview: Jeff Koons, London (The Guardian)
Not just the king of kitsch (http://www.guardian.co.uk/artanddesign/2009/jun/30/jeff-koons-exhibition-serpentine)
How FADwebsite broke the story in April (FADwebsite)
Categories
Tags