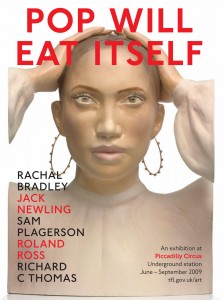 A ceramic bust of Jennifer Lopez, an other-worldly floating starfish and a digital display of iconic album covers are just some of the exciting new artworks to go on show in Piccadilly Circus Underground station from Thursday 25 June. This group show called Pop Will Eat Itself is the first of its kind to be commissioned by Art on the Underground and sees artists Rachal Bradley, Jack Newling, Sam Plagerson, Roland Ross and Richard C Thomas taking over the disused shop display cases in the iconic London station.
Taking its name from the 1980s indie band who, in turn, took their name from an infamous article in the New Musical Express by David Quantick, the exhibition investigates the idea that art, music and popular culture constantly recycle ideas and concepts to create new works, songs and products. These works question the effect that a constant stream of visual imagery has on us, given further emphasis by Piccadilly Circus's famous advertising boards above ground, whose messages flash day and night.
The digital, sculptural and printed works produced specifically for, or tailored to, the unique exhibition space – some empty retail units in the station hall – include explorations of brands, symbols and our relationships with mass media imagery.
Jack Newling creates a series of bold graphic prints that play on Underground imagery; Roland Ross's scrolling digital display pairs contemporary and vintage album covers; Rachal Bradley's glowing, billboard sized photograph of a male chest explores the tension between printed, photographic media and objectified subject matter; Sam Plagerson's delicate ceramic bust of Jennifer Lopez references the gloss of magazine images and their relationship to the reality they portray; Richard C Thomas transforms an entire shop unit into a strange, dark underworld visible through a peephole: we see his eerie digital animation of a starfish that seems to consume itself, only to re-appear in perpetual movement.
Sally Shaw, curator for Art on the Underground, said: "Piccadilly Circus, possibly the world's most celebrated advertising site, is the perfect place to reflect on the impact that image manipulation, marketing and branding have on our visual world. It's fascinating to see these very different takes on mass media culture from a range of contemporary artists."
Jack Newling: Was born in Nottingham and works in London. Recent exhibition include Plastic Culture, the Harris museum, Preston, 2009. Premiums, Royal Academy, London and Anticipation, Selfridges, London in 2008 as well as newcontemporaries, at The New art Gallery Walsall, which toured to Rochelle school, London and Cornerhouse Manchester in 2007.
Rachal Bradley: Currently studying at the California Institute of the Arts, Rachal has exhibited in London, New York, Park, Toronto. Exhibitions this year include Unicorns v's Mermaids, I-20 Gallery, New York; Plastic Culture: Legacies of Pop 1962 – 2008, Harris Museum & Art Gallery, Preston and The Exchange, Penzance and Gallery 1,Bradford. Previous work with AOTU includes a contribution to the exhibition 100 Years, 100 Artists, 100 Works of Art, at the Rochelle School in 2008.
Richard C. Thomas: Working primarily in 3D computer graphics, Richard produces animations and video installations that explore ideas of narrative, pathos and popularised science. Recent exhibitions include: Ocular at Parade, Hackney in 2006 and Abrupt a group show at C4RD, Hackney in 2005.
Roland Ross: Was born in London, 1983. Lives and works in London. Recent exhibitions include: AOTU's 100 Years, 100 Artists, 100 Works of Art at the A Foundation Gallery, Rochelle School in October last year, for which he submitted his own work based on the London Underground Roundel and Triangel Wimbledon / Poznan / Bentlage at Kloster Bentlage, Münsterland, Germany in July 2008. He is currently on BRILLIANTWHITE, a collaborative project by Henry Procter & Roland Ross. Various locations throughout the UK and beyond.
Sam Plagerson: Was born in Plymouth and currently works in London. His work will be shown in New Contemporaries this year. Previous exhibition include Moravia at Cell Project Space, London and AOTU"s 100 years, 100 artists, 100 works of art, Rochelle School, London in 2008 and The Crawford Open 2007, The Sleep of Reason, Crawford Municipal Art Gallery, Cork .
Art on the Underground commission work from artists at varying stages in their careers, providing opportunities to present work in the challenging and vibrant context of London Underground. The individuals in this show have been selected as distinguished artists who have emerged from London's renowned fine art courses at Goldsmiths College of Art, Wimbledon School of Fine Art, The Royal College of Art and the Royal Academy School.
Art on the Underground is London Underground's art programme, producing high calibre artworks throughout the network, enhancing the millions of journeys made every day. It aims to promote a greater understanding of the Tube as a cultural and social environment through the creative commissioning of artworks. With between three and a half to four million passengers using the network per day, Art on the Underground projects are exposed to one of the largest and diverse audiences in Europe.
Categories
Tags