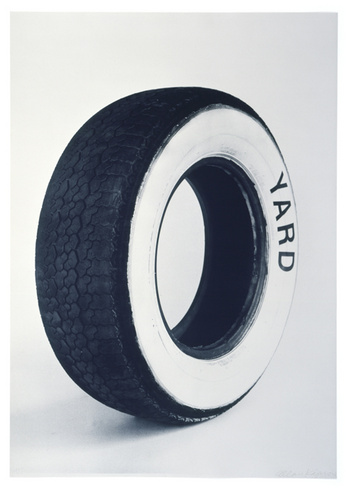 ALLAN KAPROW'S YARD WILL LAUNCH AMBITIOUS EXHIBITION PROGRAM
Iwan Wirth, President and owner of Hauser & Wirth, the internationally acclaimed gallery of contemporary art and modern masters with exhibition spaces in Zürich and London, announced today the company will expand its global activities by opening a fully dedicated gallery in New York City in September 2009. Widely considered Europe's most influential gallery and described as 'a marketplace of ideas' by The Financial Times of London, Hauser & Wirth was founded in 1992.
Hauser & Wirth New York will be located at 32 East 69th Street, offering four full floors of new exhibition and event space at an address freighted with cultural significance: until 1970, the building was home to the legendary Martha Jackson Gallery, a pioneering force during the post-war American art scene and a legendarily powerful advocate for unfamiliar and challenging new art. Hauser & Wirth New York will operate in much the same spirit, seeking to serve, in the words of Martha Jackson, as 'an art dealer whose primary role is that of a mediator between the artist and society'.
Architect Annabelle Selldorf, Principal of Selldorf Architects, will design the new Hauser & Wirth New York facilities on the Upper East Side.
Marc Payot, Hauser & Wirth Partner and Vice President, will serve as Director in New York City.
The new gallery will present a series of highly ambitious public exhibitions and events, spotlighting the work of some of the most respected and challenging artists of the day, introducing new work by emerging talents from around the world, and showcasing never before seen works by landmark artists whose estates are represented by Hauser & Wirth.
Hauser & Wirth New York will celebrate its public opening in September with YARD, a seminal Environment first made in 1961 by Allan Kaprow, the profoundly influential American painter, assemblagist and pioneer of performance art known as the inventor of 'Happenings.' Proclaiming 'The line between art and life should be kept as fluid, and perhaps indistinct, as possible,' Kaprow staged interactive events within and beyond the traditional museum and gallery context. More than forty years ago, he famously filled the backyard of a Manhattan townhouse with rubber auto tires heaped randomly for viewers to climb in and around. That work was Yard and the townhouse, then home to the Martha Jackson Gallery, was located at 32 East 69th Street, the address soon to be Hauser & Wirth New York.
'YARD' at Hauser & Wirth New York is curated by Helen Molesworth, head of the Department of Modern and Contemporary Art and the James R. and Maisie K. Houghton Curator of Contemporary Art at the Harvard Art Museums, working in close collaboration with the Estate of Allan Kaprow. The exhibition will include documentation and archival elements, and will be accompanied by a program of activities at Hauser & Wirth New York and other locations to be announced.
Following 'YARD,' Hauser & Wirth New York will present the following exhibitions:
November 2009: Paul McCarthy SNOW WHITE,January 2010: Ida Applebroog MONALISA
March 2010: Eva Hesse STUDIO WORKS,May 2010: Roni Horn a.k.a.
www.hauserwirth.com/
Categories
Tags