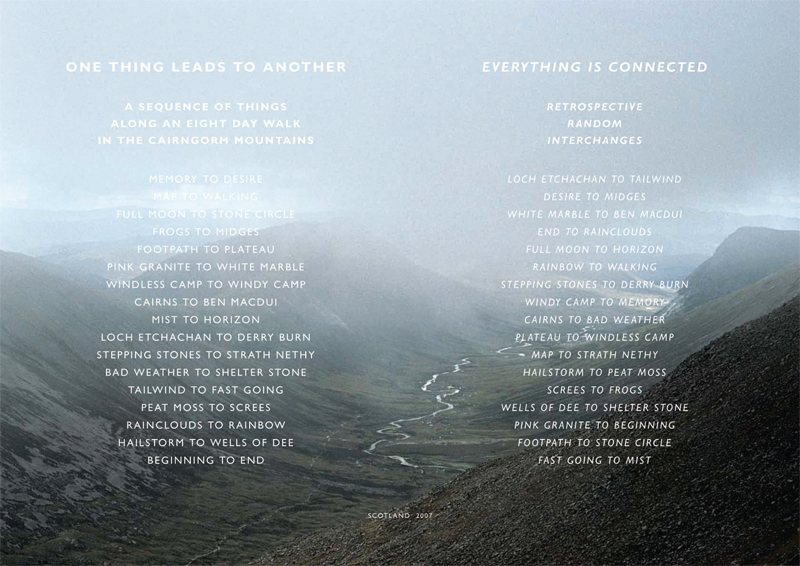 Art on the Underground and Tate Britain to give away 60,000 free prints by acclaimed artist Richard Long
Tube passengers will have the chance to pick up an exclusive print of an artwork by acclaimed British artist Richard Long on two days next week: 2 and 3 of June.
The free prints, in an edition of 60,000, will be given away between 7am – 12 noon at the following stations along the Jubilee line: Stanmore, Wembley Park, Finchley Road, Baker Street, Green Park, Westminster, London Bridge, Canada Water, Canary Wharf, Stratford.
The work, One Thing Leads to Another – Everything is Connected, was commissioned by Art on the Underground in partnership with Tate Britain. It documents an eight mile walk Long took across the Cairngorm Mountains in Scotland in 2007 and the things he found as he travelled. It aims to encourage Tube passengers to consider the fast pace of life and travel in the city by emphasising the contrast between London's diverse, urban landscape with the rugged natural landscape he encountered in Scotland.
This artwork is the first in a series of contemporary commissions by Art on the Underground celebrating 30 years of the Jubilee line. The project also coincides with the opening of Heaven and Earth at eave Tate Britain, a major exhibition of the work of Richard Long and his first survey in London for eighteen years, which opens on 3 June 2009.
Long is famous for his work which rethinks the relationship between art and landscape, exploring relationships between time, distance, geography, measurement and movement and often uses walking as a medium.
Sally Shaw, Curator of Art on the Underground, said: "This beautiful work by Richard Long is a window into an entirely different landscape. It brings a moment of quiet contemplation to the heart of our busy city lives."
Long will also design the next Tube map cover for Art on the Underground which will be published in September.
A series of artworks will be exhibited along the Jubilee line from June 2009 to March 2010 to celebrate 30 years since it opened and 10 years since the extension opened to the public.
Categories
Tags