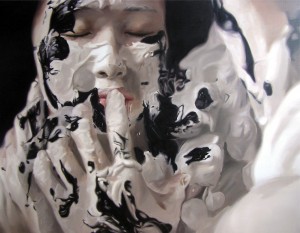 LEE RIM Confusion No.1, 2009 Oil on canvas.194 x 147 cm. (76 3/8 x 57 3/4 in).
Standard Chartered, Korean Eye and Phillips de Pury & Company announce the Korean Eye Moon Generation exhibition. The exhibition brings together a group of leading Korean contemporary artists and galleries to create an international selling exhibition of Korean contemporary art.
After previewing in Seoul in May, Korean Eye's: Moon Generation will travel to London to be staged at the
Saatchi Gallery. The London exhibition will open on June 20 and run through July 5.
Korean Eye seeks to create a legacy of Korean contemporary art and the launch of this exhibition in London
provides a unique backdrop for education and appreciation for this rapidly developing art scene which until
now has had little exposure outside Korea. The accompanying catalogue will feature each of the artist's works available and will become a definitive point of reference for Korean contemporary art.
Founder of Korean Eye David Ciclitira explained his passion for the project "I first visited Korea several years
ago and was amazed at the richness and vibrancy of the country's contemporary art scene. It became my
mission to ensure that the work and artists enjoy the recognition they deserve on the international stage. It
has been fantastic to work in partnership with both Standard Chartered and with Phillips de Pury & Company.
I would like to thank them and the artists for the support which has made the Korean Eye initiative possible."
As the main sponsor of the Korean Eye Moon Generation Exhibition, Standard Chartered is promoting Korea
overseas, and is supporting Korean contemporary artists to open up new possibilities in the international art
world. Tim Miller, Director of Standard Chartered, and Chairman of Standard Chartered First Bank Korea said
"As the largest foreign investor in the Korean financial services industry, Standard Chartered can serve as a
bridge between Korea and the rest of the world in promoting Korean contemporary art in the international
arena."
Rodman Primack, Phillips de Pury & Company's Chairman in London says: "We are proud to offer such
quality work that is fresh to the international market where we have witnessed a strong appetite for works
from unchartered areas. Phillips has excelled in bringing new artists to the forefront of the contemporary art
scene and there is no question that these artists will soon become major names."
Korean Eye will organise an annual exhibition for the next four years with the aim to create an enduring
legacy for Korean contemporary art and chart a path for an impressive cultural contribution to the London
Olympics in 2012. Korean Eye expects to expand the exhibition each year to include additional international
cities.
Generation Exhibition
May 18-23: Korean Eye: Moon Generation Preview, Seoul
June 20-July 5: Korean Eye: Moon Generation Exhibition, Saatchi Gallery, London
www.phillipsdepury.com
Korean Eye is an international initiative founded by David Ciclitira, to highlight the very best of Korean
contemporary art. Korean Eye recognises the need to create a long-term programme for Korean
contemporary art in order to establish a legacy for this emerging art market as Korean art is largely unknown
outside of Korea.
A state of the art website (KoreanEye.org) and reference archive of Korean artworks and artists is to be
established. A new Korean Eye logo has been created by the international brand specialists, Corporate Vision
Strategists.
Korean Eye will also establish links to help build numbers of international art lovers visiting Korea by hosting
a luncheon with art travel agents in London in partnership with Visit Korea.
For more information, please visit: www.KoreanEye.org
David Ciclitira is Chairman of Parallel Media Group plc ("PMG"), the international sports and events company
responsible for initiating the Ballantine's Championship, Korea's largest golf tournament.
David is an Honorary Fellow of the Royal College of Art. Over the last 20 years David and his wife Serenella
have funded the Parallel Prize and the Serenella Ciclitira Scholarship for Sculpture.
David has brought together a group of leading Korean artists and galleries to create Korean Eye's initial
exhibition of Korean contemporary art 'Moon Generation'. The exhibition, of paintings and sculptures, will be
curated by Dae Hyung Lee, the curator of Blue Dot Asia.
Artists included in the exhibition include:
Choi TaeHoon,Park SeungMo,Bahk SeonGhi,Lee Dongwook,Kim Inbai,Debbie Han,Cho Hoon,Lee Rim,Kang Hyung Koo,Jeon Junho,Lee Ufan,Sim SeungWook,Park SungTae,Koh MyungKeun,Lee LeeNam,Whang Inkie,
Kim Joon,Park JungHyuk,Yi HwanKwon,Lee Yong Baek,Kwon KiSoo,Hong KyongTack,Jang SeungHyo,
Lee YongDeok,SeungMin Lee,Yoon Jong Seok,Choo JongWan,Han KiChang,Boomoon,Ayoung Kim ,
Lee HyungKoo.
Categories
Tags