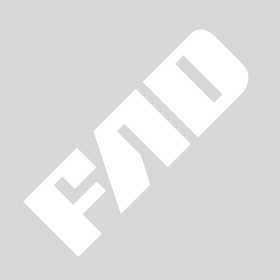 Dia Art Foundation announces the launch of alphabeth, a web-based project by artist Dorit Margreiter, the latest in Dia's ongoing series of online artworks. The project can be seen beginning May 19 at www.diaart.org/margreiter. An opening reception will be held at Dia on Tuesday, May 19, 2009, from 6pm to 8 pm on the fifth floor at 535 West 22nd Street, New York City.
In alphabeth, Margreiter presents two adjacent animations derived from her typeface "zentrum". The artist, who documents and redeploys the remnants of modernism before they disappear, designed the font in 2005 based on the modular components of a sign at Bruhlzentrum, a 1963 modernist housing project in Leipzip, Germany, which was slated for demolition. Reminiscent of Josef Albers' Kombinationsschrift (Combination Type), a stencil-based typeface he designed at the Bauhaus in Dessau, Germany, in the late 1920s, Margreiter's font is modular: components of each letter are presented in individual, consecutive frames. If her animations were sped up, they might become legible, but she slows them so they appear more like an abstract animation than a series of letters.
The left animation will consist of a loop of all the letters and symbols in her typographic system. The right animation will dynamically render the text from Dia's latest press release. Margreiter's channeling of public information through her modulated typeface defies the intelligibility demanded by the press release as a format by transforming it into something difficult-if not impossible-to understand. The piece relies on the tension between abstraction and information, a dichotomy that spans history from the font's Bauhaus roots to its encoding of press materials detailing future events.
Dorit Margreiter
Dorit Margreiter was born in 1967 in Vienna, graduated from the Vienna University of Applied Arts, and in 2001 was a MAK Center Artist in Residence in Los Angeles. She currently teaches video and video installation at the Vienna Academy of Fine Arts. Her work has received several awards, including the renowned Otto Mauer Prize. Margreiter, together with Elke Krystufek, and Lois and Franziska Weinberger, was invited to create the Austrian contribution to the 2009 Venice Biennale of Art.
Artists' Projects for the Web
Dia initiated a series of web-based works in early 1995, becoming one of the first arts organizations to foster the use of the world wide web as an artistic and conceptual medium. Dia's collection of web projects currently numbers twenty-eight. Previous projects include Liliana Porter's Rehearsal (2008); Barbara Bloom's Half Full – Half Empty (2008); Rosa Barba's Vertiginous Mapping (2008); Ezra Johnson's Wrestling with the Blob Beast (2008); Wilfredo Prieto's A Moment of Silence (2007); Dorothy Cross's Foxglove: digitalis purpurea (2005); Ana Torfs' Approximations/Contradictions (2004); Allen Ruppersberg's The New Five Foot Shelf (2004); Glenn Ligon's Annotations (2003); Shimabuku's Moon Rabbit (2001); Stephen Vitiello's Tetrasomia (2000); Diller + Scofidio's Refresh (1998); and Komar and Melamid's The Most Wanted Paintings (1995), among others.
About Mark Westall