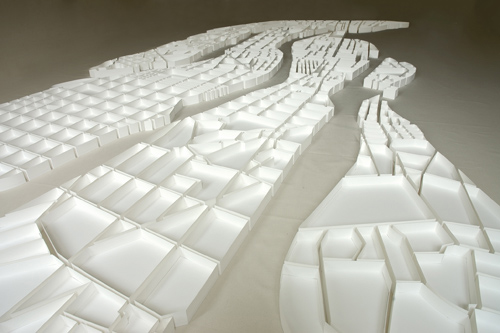 Matthew Picton / Bronwen Sleigh / George Charman
Exhibition: 1st to 31st May
William Angel Gallery is proud to present ARCHITECTURA, a group exhibition featuring the works of Matthew Picton, Bronwen Sleigh and George Charman. Excavating and exploring architecture and modernist space through a variety of media, each artist seeks to undermine the culturally defined biases and perspectives which the viewer brings to the work.
Matthew Picton's paper sculptures combine multiple layers of simultaneously functioning organic threads within a city. Economic, political, and social powers manifest themselves within an urban landscape, marking out the metaphysical effects of history and contemporary progression. Layering each strand, he seeks to provide a linear perspective through which the viewer encounters the complexities of contemporary topography. In 'Vienna', Picton seeks to create order within the chaos of an integrated map. Elemental foundations of power dissected, he transforms a two dimensional topographical and street map into a multi-dimensional, multi-layered work.
Similarly influenced by experiencing the contemporary urban cityscape, Bronwen Sleigh works from photographs that collide the "progressive" elements of urban development with the destruction of nature in a constantly evolving and shifting landscape. Meticulously reconstructing such urban environments, she works first from three-dimensional machetes, eventually transforming inhabitable spaces to etched abstracted maps. The flattened abstractions allow the viewer to experience such urban landscapes distilled.
Perceptions of space, and knowledge of those perceptions, provide George Charman with a point of departure from which to deviate from traditional modernist explorations of the physical environment. Distorting elements in his depictions suggest a theoretical exploration of the architectural perspectives possible within a given frame. He manipulates our view through shifting surfaces and depth perceptions to provide a simultaneously concrete visual language. That of modernist architecture experienced beyond the traditional modes of representation, releasing space from such culturally ascribed functionality.
Matthew Picton's solo exhibitions include Postwar Landscape, An Urban history, Howard House, Seattle (2009), Toomey Tourell Gallery, San Francisco (2007), Mark Woolley Gallery, Portland (2005), Damien B Contemporary Art, Miami (2004) and the Center for Contemporary Art, Anchorage (2000). Group shows include City Planning, Solway Jones Gallery, Los Angeles (2009), Parallels, Pharmaka, Los Angeles (2009), Contested Ground, Museum of Art, Spokane (2008), Miniature Worlds, The Brewery Art Center, Los Angeles (2004), Indoor Outdoor, Limn Gallery, San Francisco (2003) and 5 Abstract Painters, Lindenberg Gallery, New York (1998). The artist's work is held in a number of private and public collections including the De Young Museum, San Francisco.
Browen Sleigh is a graduate of Glasgow School of Art and the Royal College of Art. Solo exhibitions include New Ground, Calgary University, Calgary, Canada (2007) and Natural Progression, Glasgow Print Studio, Glasgow (2005). Group shows include Salon, Whitecross Gallery, London (2009), Hot Off The Press, Curwen & New Academy Gallery, London (2009), Four Corners, The Troubador Gallery, London (2008), Town Hall Gallery, Victoria, Australia (2006), Summer Show, Gallery Heinzel, Aberdeen (2006) and Urban Landscapes, Eye Two, Edinburgh (2006). The artist is recipient of a number of awards incuding the Alf Dun Award (2008), the Davis Langdon Award (2008) and the RCA Society/Thames & Hudson Book Prize (2008).
George Charman is a graduate of the Surrey Institute of Art & Design and the Royal College of Art. Solo shows include Hear and Beyond, The Old Sweet Shop Gallery, London (2009). Groups shows include Contested Ground, 176 Gallery, London (2008), Abandoned by the third dimension, Centre for Recent Drawing, London (2008), Connect 4, Empire Gallery, London (2008), Summer Exhibition, England & Co, London (2008) and Bright Young Things, Your Art Group, Berlin (2003). The artist has also been awarded the Royal Academy British Institute Award (2008) and the Helen Chadwick travel prize (2007).
William Angel Gallery. 1 Barry Parade, Peckham Rye, East Dulwich, London SE22 0JA.
Categories
Tags