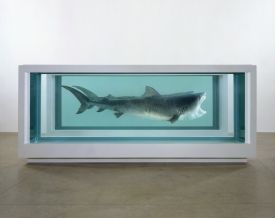 Death Explained, Glass, steel, shark, acrylic and formeldahyde solution Each tank: 78 1/8 x 202 7/16 x 48 3/8 in. (198.4 x 514.2 x 122.8 cm) Photo: Prudence Cuming Associates Ltd
pinchukartcentre.org 25th April – 20th September 2009
Damien Hirst Requiem at the PinchukArtCentre in Ukraine
"Art's about invention and we are all desperately trying to invent a better future, and to learn from the past." (Damien Hirst)
The PinchukArtCentre (Kyiv, Ukraine) is pleased to announce Requiem, a major retrospective of over 100 works dating from 1990 to 2008, by Damien Hirst. Requiem opens on 25th April and continues through 20th September 2009.
Requiem brings together many of the artist's most celebrated works. Ranging from early iconic sculptures such as A Thousand Years, 1990 and Away from the Flock, 1994 to more recent works like the monumental butterfly triptych, Doorways to the Kingdom of Heaven, 2007 as well as Death Explained, 2007, a sculpture of a shark cut in half in formaldehyde, the exhibition shows the extraordinary breadth of Hirst's artistic enterprise.
Since the start of his career, Hirst has pushed the boundaries of art and what it means to be an artist. Requiem bears witness to a bold new direction in his work by showing for the first time a series of skull paintings he created between 2006 and 2008. In works such as Floating Skull, 2006, The Meek Shall Inherit the Earth, 2008 and Men Shall Know Nothing, 2008, Hirst returns to the solitary practice of painting and confronts, in very personal terms, the darkness that lies at the heart of human nature and experience.
Victor Pinchuk: "This exhibition is of great significance but what is most important for me is that the opportunity to see Hirst's new body of work occurs first in Kyiv. Damien's exhibition in Kyiv symbolises the reciprocal and mutually beneficial relationship between contemporary Ukrainian culture and that of the rest of the world. They share a common ground."
The exhibition will be open from 25 April till 20 September 2009.
Viewing hours: Tuesday-Sunday: 12:00 – 21:00 Closed – Monday
Admission is free
A vernissage will be held on 24 April.
Address: PinchukArtCentre Block ?, 1/3-2, Chervonoarmiyska Street/Baseyna Street
Besarabka quarter
Kyiv 01 004
Ukraine
Categories
Tags