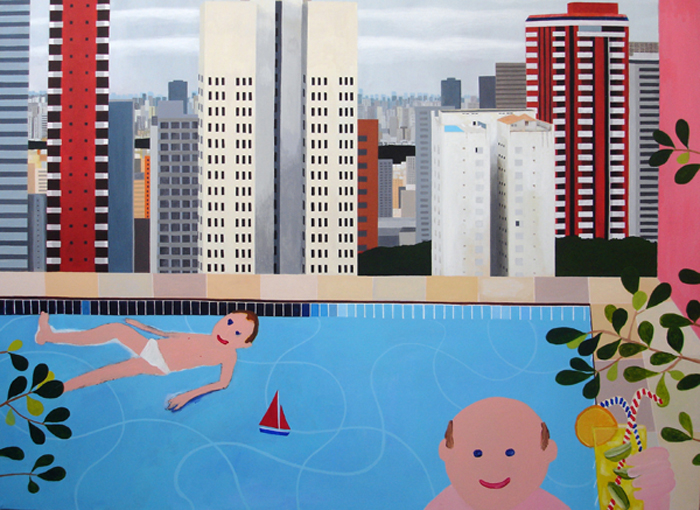 Mikey Georgeson has created a limited edition print of himself in a state of wonder which he will hand decorate with lyrics for Mister Solo new album "Wonders Never Cease".
There will be a raffle – prizes include Harry Pye's print, "Breakfast in Bed" and Mikey's jumbo
sized handmade replica of the album's cover.
PLUS : The Sartorial team will unveil a new collaborative painting and Gordon Beswick will
screen a new film based on his travels in Brazil. Attending this event is your last chance to
see Harry Pye's "Getting Better" exhibition (extended due to popular demand).
(in association with ROLART)
Harry Pye and Gordon Beswick Come On In, The Water's Lovely 2008 Acrylic on canvas 101x 127 cm
Getting Better features the largest selection of Harry Pye's paintings to date. The show features many
special guest collaborators, including Hannah Armstrong, Gordon Beswick, Billy Childish, Marcus
Cope, Luke Gottelier, Kes Richardson, Rowland Smith, and Geraldine Swayne. Pye has made large
scale work for the first time. He's also painted in oils for the first time and experimented with textiles.
The theme of the show is happiness.The old Harry Pye may have seen himself as a tortured soul, but
lately things have started to get better.
Harry Pye's 2 nd solo show in the U.K. coincides with Easter, when Christians believe Jesus rose from
the dead. Several paintings in the exhibition depict events in the life of Christ. Although Harry Pye doesn't
believe in life after death he has not made paintings that in any way mock Christian values or suggest
that Jesus didn't exist. Other paintings in the show are inspired by Pye's own life and in particular his
stay in Sao Paulo and Rio in 2008, the artist's first holiday abroad in 20 years. He believes that events
such as this holiday, becoming an uncle, and turning 35 have made him happier. He feels that Getting
Better is a positive show featuring paintings by a man both "confident in his own madness" and "in
love with the world."
Marvin Gaye once observed, "We are all sensitive people with so much to give." Over the last couple
of years Harry's paintings have appeared in shows in Brazil , Denmark , Australia , Italy and the U.S.A.
Now it's your chance to come to Kings Cross, see them in the flesh and really find out what Harry and
his friends have to offer.
Sartorial Contemporary Art are delighted that issue 5 of their magazine, "The Rebel" has surfaced in
time for the show. Half the publication is devoted to Jesus – the greatest Rebel of all time. The rest of
the magazine is about Harry who welcomes you to his world with open arms.
Categories
Tags