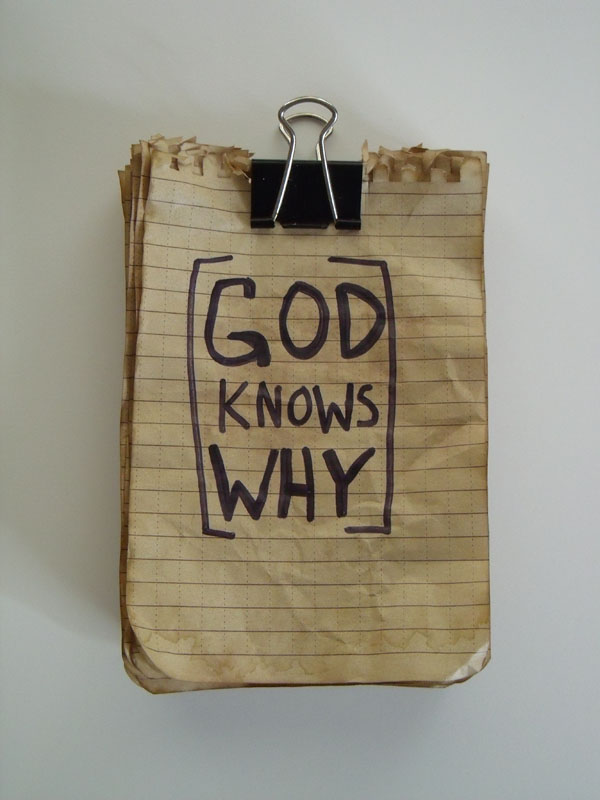 1 When did you start to make art?
I mostly started with the tear- and tantrum-soaked intention to recreate toys taken away from me while I was punished as a child. This happened a lot and thank god it did, because I truly deserved it. I remember making a full-on paper doll replica of nearly every He-Man I owned and those I coveted. Wow — I just found the root to all of my issues!
2 How did you evolve into a professional artist?
It has simply been a matter of alcohol soaked persistence and catholic guilt.
3 What drove you to make art as a professional vocation?
I don't think of it as a vocation at all. I see my work simply as a compulsion.

4 Explain your inspiration?
LIFE IS ART, non? I find inspiration in nearly everything. It may sound like another cliché, but when you are digesting the barrage of information that is general life experience, one's mind tends to desperately attempt quantifying said existence and through that "process" the residual objects can and are sometimes refered to as "art."
5 In what way does your inspiration transform into ideas?
Hmmmmmm, I'm not sure there is a transformation, I think the ideas are the inspiration.
6 From ideas to production of art – how? And why?
WORK WORK WORK — I'm constantly working on several projects, most of which are just to keep me occupied until the accidental masterpiece springs forth. I'm a less "talkie-talkie" and more "doie-doie" kinda guy. That said, I still do a lot of talking — unfortunately for those around me.
7 Could your ideas be portrayed in any other medium? If so which?
I haven't met a medium I didn't like and am therefore constantly trying to cross-pollinate.
8 Which artists would you most like to blatantly rip off?
Rebecca Horn, Jacob Lawrence and Alan Moore.
9 Why is your art made?
Survival, desperation, convenience, withdrawal, and sexual repression.
10 What does being an artist mean to you?
Egomania tempered with depression and topped with a heaping dollop of sour cream.
11 Are you happy with your reasons for making art? i.e Are there any trade offs that make life hard?
I can't complain — so I won't.
12 When does your art become successful?
When it satisfies or scratches a particular itch. All work tends to have a life of its own and creates opportunities for future works, so in a sense, all work is successful by my standards.

13 What is art?
ARTIST
ARTEEST
OUR TASTE
So I guess what I'm saying is 'ART'= 'OURS'

14 How do you start the process of making work?
I have set work hours and a schedule and for the most part stick with it daily. I'm a firm believer in the Henry Miller production ethic.
15 Who prices your work? And how is the price decided upon?
I usually do, and it tends to revolve around gallery commissions and expenses. Also, the work sells at auction and, depending on the venue, new benchmarks for prices can be set. I try desperately to keep the works reasonable.

16 What is your next; move, project, show etc?
My film called 'WARHOLIC' will be screened several times in April and May at the de Young in San Francisco.

17 What are the pros and cons of the art market?
What art market? There is a market for art? I had had no idea. Seriously, the market seems to be regurgitating its own BS right now and I'd be lying if I said that I wasn't enjoying it. Strangely, as the market suffers, my studio sales increase. Go figure.

18 Which pieces would you like to be remembered for?
Any and all of my collaborations; "My French Wife' was one of the bravest and most naive attempts at art that I have yet to attempt.
19 Any routine in making your artwork? If so what?
This would be my most typical routine:
Morning walk/run to collect ideas and objects.
Back to the studio for a brisk lifting of light weights.
Sifting through source material and history books.
Sit down (or stand up) and begin.
20 What has been the biggest break in your career?
Inclusion in the Learning to Love You More book by Harrell Fletcher and Miranda July (which led to several international group exhibitions and magazine features), and as far as street cred, the kids seem to love that fact that I received a cease and desist order with regard to my name from lawyers representing pop artist Peter Max.
21 Who has been the biggest influence on you?
I would have to say in all honesty my close friends and family, most specifically my father Dennis and my mother Barbra. They never cease their support, which then solidifies into overt influence on how I live my life and create my work, which are essentially the same thing.
22 How many artworks have you given away and to whom?
Countless – family, friends and strangers – not to mention the unknowns. I once left a haystack bundle of large acrylic on cardboard paintings in front of Diane Feinstein's house. When I moved to San Francisco, several bags (hundreds) of my works were stolen from a gallery storage space. I actually started a space for people who have legitimate and stolen works to post photos of them on my site. The project is called:
"In Remembering That You Care"
More on Peter Max Lawrence
Categories
Tags