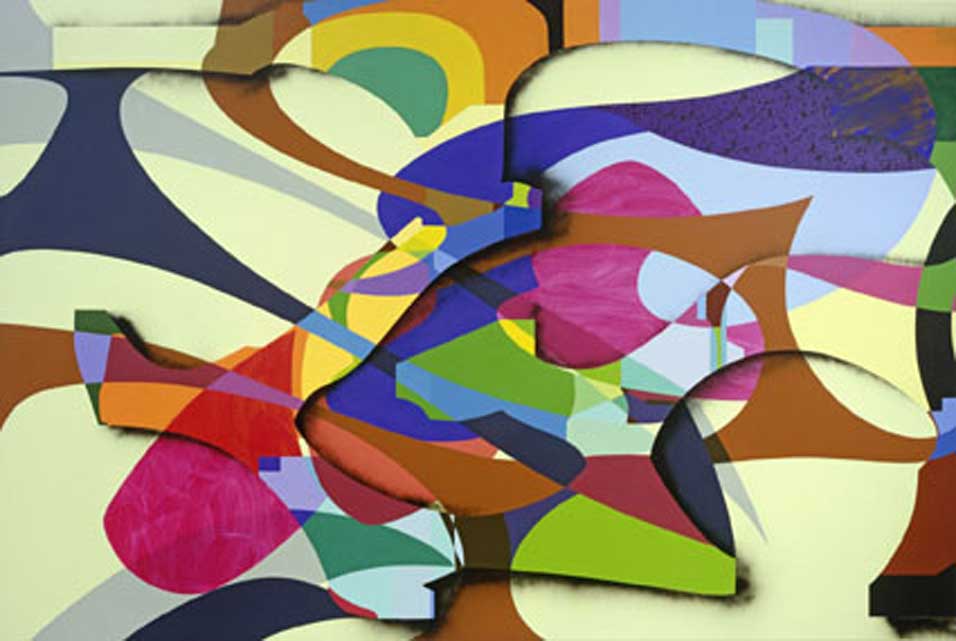 Galerie Max Hetzler Temporary will present recent large-scale paintings and wall paintings by Yves Oppenheim at OsramHöfe. The French painter Yves Oppenheim designed the architecture of the exhibition using the wall painting as the most important element. The canvasses are installed directly on the wall paintings, which appear as the background or frame. The works interact in colour and form, creating a relief-like installation.
The abstract colourful paintings gain visual depth through the swinging and complex language of forms. Superimposed structures create gaps and backgrounds, which give the illusion of three-dimensionality. Some elements of the compositions are reminiscent of collages: opaque monochrome planes with sharp edges might be patterned and provided with an irregular, seemingly torn edge, while the application of paint is even and flat. Black spray is used as a make-believe shadow – Oppenheim plays with perspective within the paintings and in combination with the wall paintings.
This is Yves Oppenheim´s fifth solo exhibition at Galerie Max Hetzler. Yves Oppenheim, born 1948 in Madagascar, lives and works in Berlin. Since the 1980s he has participated regularly in international solo and group exhibitions. His works are included in the collections of the Musée d'Art Moderne de la Ville de Paris, the Centre Pompidou and the Carré d'Art, Nîmes.
Categories
Tags