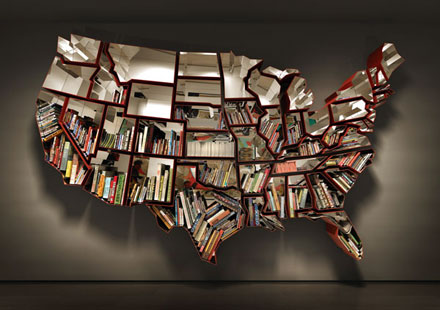 Timothy Taylor Gallery is delighted to present works by celebrated architect and designer Ron Arad. This marks the first show at the gallery since it announced sole representation of Arad in the UK. Grouped around a freestanding star of interconnected walls designed by Arad, the show will unveil a number of highly sophisticated experimental pieces,many only recently produced and on display for the first time.
Arad's re-invention of the chair is constantly evolving; the Thumbprint, composed of multiple bronze rods, and the Rod Gomli, of stainless steel rods, are jewel-like objects that shimmer as the light shifts, revealing subtle gradations of colour. The first in editions of six, they are imposing yet intricate pieces – their seductive contours inviting the viewer to touch, explore and climb into the curved centres they create.
In addition to the Thumbprint, there will be a series of three unique Bodyguards. Crafted from inflated aerospace aluminium, cut individually, highly polished and tinted, they will be shown alongside four new and unique Drunk Bodyguards. These remarkable sculptural pieces sway woozily on a single tangent point, balancing, poised in mid-air,reacting to the lightest of touches. They appear to be weightless. Paradoxically this weightlessness is the result of extreme heaviness.
Exploring similar paradoxes, the woven pieces, Gomlis and Johnny Wasps, are deceptively strong yet light in structure. Composite techno-threads are woven around sacrificial moulds. Colourful, tribal and dotted with latticed holes, they hold the body as if in an airy web.
Arad's most recent and critically acclaimed solo show, No Discipline, was on view at the Centre Pompidou, Paris, until 16 March 2009, displaying over 100 pieces in a specially created scenography. Arad will open a re-defined version of this exhibition at the Museum of Modern Art, New York, from 2 August – 19 October 2009 before reconfiguring it in turn for the Stedelijk Museum, Amsterdam in the autumn of 2010.
Categories
Tags