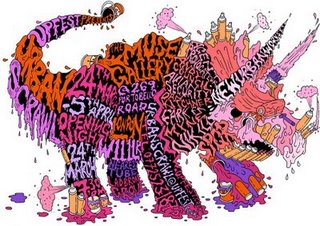 From the promoters of Upfest, we present Urban Scrawl, a diverse mix of urban artists from across the UK, displaying new bodies of work in Portobello's one and only Muse Gallery at 269.
Featuring:
Agent Provocateur,Andy Council,Avian Security,Dan Kitchener,FarkFk,Nik Ill,Myne
Spqr and the long awaited new print releases from Levi C and Snik.
Upfest was born not to long ago at the beginning of the summer following the Cans Festival in London and inspired bythe SuperCans event in Southampton. It began in Bristol, which has always been intrinsically linked with the Urban Art Scene, being the home of Graffiti's leading proponent, Banksy.
Opening night includes live street painting and music from London's notorious DJ Benedict Smith. Come along with an open mind – this is going to be one of this year's shows that you won't want to miss.
The Muse at 269 ,269 Portobello Road London W11 1LR
Categories
Tags