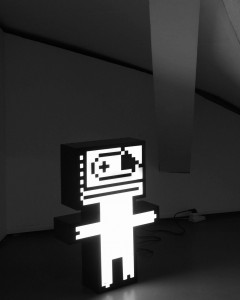 M:M_Paris, The Agent_Pirate, 2006, Courtesy of Haunch of Venison
www.artdubai.ae/Abraaj Capital Art Prize, Global Art Forum, Mapping Palestine and Art Park
Now the largest event of its kind in the Middle East, Art Dubai has established itself as a fair of international importance, attracting both established international galleries as well as the best emerging galleries from the Middle East and South Asia.
A significant highlight of this year's fair will be the unveiling of the works of the recipients of the Abraaj Capital Art Prize, one of the most generous art prizes in the world. The prize provides an exciting opportunity for creative collaboration between international curators and artists from the Middle East, North Africa and South Asia (MENASA) region. Almost 100 curator/artists applications were received, evaluated and discussed by the Abraaj Capital Art Prize selection committee.
The committee looked for innovative ideas and use of medium; a reflection of regional and local cultural principles, experimental art production techniques; and a balanced application which showed the curators' strength and ability to push the artists' boundaries. The three recipient curator/artist teams of its first competition are Cristiana Perrella & Kutlu? Ataman;Carol Solomon & Zoulikha Bouabdellah; and Leyla Fakhr & Nazgol Ansarinia.
Returning for a third successful year at Art Dubai, The Global Art Forum plays host to a series of lectures and discussions featuring leading contemporary art thinkers such as: His Excellency Sheikh Abdulla Al-Thani, Vice President of Education at Qatar Foundation, Founder of Al Markhiya Gallery; Hans Ulrich Obrist, Co Director, Serpentine Gallery, London; Maja Hoffmann, Collector, Zurich; Sultan Al-Qassimi, Collector, Dubai; Daniel Birnbaum, Director 53rd Venice Biennale of Visual Arts; Mikhail Petrovsky, Director, Hermitage St.
Petersburg; Thomas Krens, Senior Advisor for International Affairs, Solomon R.Guggenheim Foundation; Bob Colacello, Writer, Columnist, New York; Jerome Sans,Director UCCA, Beijing/Paris, Simon de Pury, Chairman Pillips de Pury & Company,London; Dr Sami Al Masri, Head of Strategic Planning of ADACH, Abu Dhabi; Catherine David, Curator, Artistic Director ADACH Platform Venice; Manal Ataya, Director General,
Sharjah Museums Department, Sharjah; Alexandros J. Stanas, Director Art Athina, Athens;Josh Baer, Writer and Publisher, The Baer Faxt, New York and many more.
The forum continues to create links between East and West through the exploration of professional and
public interests in art. It examines public support for the arts, corporate and private collecting and art patronage. The topics will be: (Day 1) Creating Spaces, Creating Audiences (takes place on March 16 in the Museum of Islamic Art, Doha, Qatar); (Day 2) Artists/Curators: Brave NewWorld, sponsored by DCAA; (Day 3) ADACH The Arts and Cultural Heritage: A Contemporary View, hosted by ADACH; (Day 4) Rules of Attraction: Cultural Destinations & Audiences. Art Dubai is pleased to welcome The National as the Official Media Partner of the Global Art Forum.
Mapping Palestine is a project curated by Samar Martha of Art School Palestine, which takes place in three different locations. A series of video programmes entitled 'Tamam' – 'everything is fine', located in the Art Park, featuring the work of Khalil Rabah, Sharif Waked, Larissa Sansour,Mohanad Yaqubi amongst others. Secondly the Art School Palestine Pavilion 'Akhir al Layl'– 'at the end of the night', derived from a poem by the late Palestinian poet Mahmoud Darwish, exhibits a range of two-dimensional works by artists living and working in Palestine and the Diaspora. The third integral part of Mapping Palestine introduces several Palestinian art organisations, such as A. M. Qattan Foundation, Palestinian Art Court – Al Hoash and The
International Academy of Art Palestine contributing presentations to the project.
Art Dubai's project space Art Park is situated in the underground car park at the Madinat Arena and will be a cutting-edge space focusing mainly on film and video, reflecting the current vibrancy of these art forms in the Middle East. This Art Dubai programme will feature the special contribution of Bidoun through a series of curated video programmes in the Bidoun Lounge, designed by Traffic and the Khatt Foundation. Within this space, Art Dubai has collaborated with leading Middle Eastern non-profit organisations such as ArteEast and Art School Palestine on a series of video and film programmes and additionally the space features a film programme presented by Contemporary Practices and the 'Me' series by Iranian artist Ghazel. Besides the
film and video programmes, the space promises to engage visitors to Art Dubai by hosting several exciting performances. Art Dubai aims to provide a platform for this new media that is growing around the Middle East by introducing a diverse programme of Middle Eastern, British and Indian artists. Amongst others, there will be performances by Roula Haj Ismail (supported by Maya and Ramzy Rasamny), Kirstie Macleod (supported by British Council), Shilpa Gupta (supported by ArtAsiaPacific), Susan Hefuna, Rabih Mroué (supported by Bidoun) and Monali Meher (supported by Mondriaan Foundation).
Art Park Talks is an educational initiative that aims to provide a forum and platform for discussions, dialogue and exchange through a series of informal talks. Art Park talks will address relevant topics ranging from live art to design and typography within the Middle East as well as engaging the audience through interactive participation.
Art Dubai is also pleased to announce installations which will feature new commissions from leading international artists such as Susan Hefuna (Courtesy of Susan Hefuna & Albion Gallery, London), Bahk Seon Ghi (SUN Gallery & Gallery SUN Contemporary, Seoul), Cha Min-Young(PYO Gallery, Seoul) and Bari Kumar (Grosvenor Vadehra, London / New Delhi).
Categories
Tags