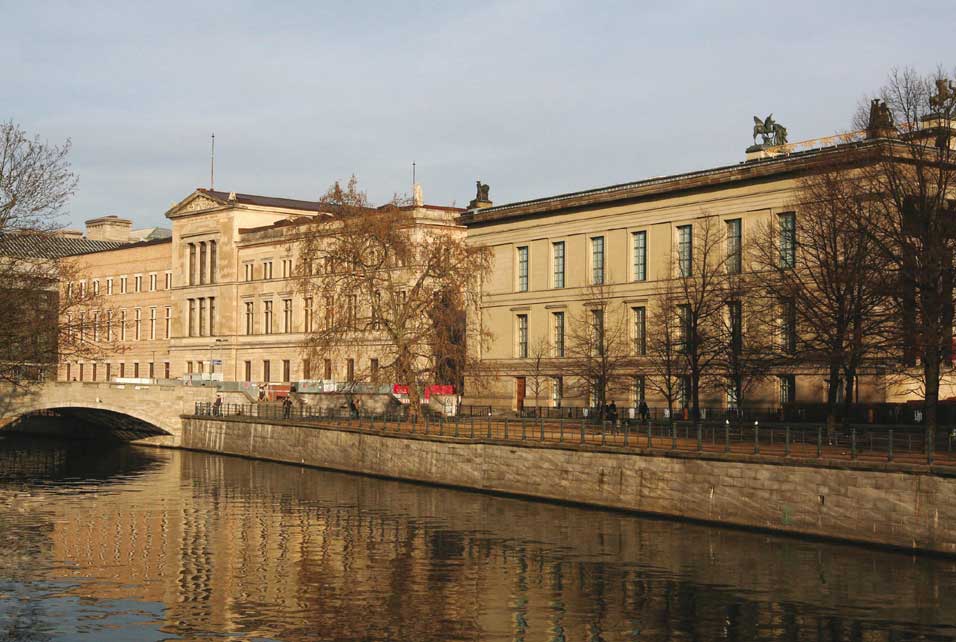 West facade Neues Museum, View from the Schlossbrücke © Stiftung Preußischer Kulturbesitz David Chipperfield Architects, photographer: Ute ZscharntThe Neues Museum was unveiled after a six year restoration headed by British architect David Chipperfield. The building had been damaged by bombs during World War II and was severely damaged. David Chipperfield gave city museum officials the key to the empty restored building. The museum is located in the Museum Island and is one of five museums in this area. The museum will open next October and will hold Berlin's Egyptian collection, just as it did before the war. Once open, it will be the first time since 1939 that all five museums in the island are open to the public.
Mayor Klaus Wowereit stated, "The Neues Museum has finally awoken from its coma…this is a great day for culture in the whole world."
It took $250 million to undertake the restoration, which includes original material that survived wartime bombing (fluted stone columns and faux-Egyptian painted ceilings).
Chipperfield stated when he won the restoration job, "There's really one dominant idea, which is to hold on to the original material that we were given in 1997."
The central staircase and entire wings had been destroyed. Chipperfield seeked to restore their dimensions using plain concrete and brick in some of the rebuilt parts.
Hermann Parzinger said, "Chipperfield's restoration is fascinating, convincing and historically honest, because it does not plaster over the dramatic history of this building. It brings old and new together."
The original Neues Museum was designed by Friedrich August Stueler, and construction began in 1841. It was opened to the public in 1855.
Chipperfield said, "I think the complexity of the problem was one of the reasons it was left so long. The quantity of damage was very strange, very erratic."
The key aim of the project was to recomplete the original volume, and encompassed the repair and restoration of the parts that remained after the destruction of the Second World War. The original sequence of rooms was restored with new building sections that create continuity with the existing structure. The archaeological restoration followed the guidelines of the Charter of Venice, respecting the historical structure in its different states of preservation. All the gaps in the existing structure were filled in without competing with the existing structure in terms of brightness and surface. The restoration and repair of the existing is driven by the idea that the original structure should be emphasized in its spatial context and original materiality – the new reflects the lost without imitating it.
The new exhibition rooms are built of large format pre-fabricated concrete elements consisting of white cement mixed with Saxonian marble chips. Formed from the same concrete elements, the new main staircase repeats the original without replicating it, and sits within a majestic hall that is preserved only as a brick volume, devoid of its original ornamentation.
Categories
Tags