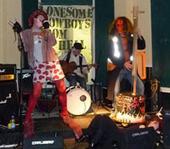 We are the Lonesome Cowboys from Hell, we are playing 6.45pm sharp until 7.30pm at TATE Britain, Millbank on Friday 6th March. Get there for the film beforehand (also featuring us) starting at 5.45pm. Its FREE but CAPACITY 60 folk good n true, after that one-in-one out, so get there EARLY don't say ya weren't warned.
Dress up in all your cowboy/girl finery for this one, big hats and big hoses. Entrance Manton St, TATE side entrance, down the steps to the left of the ticket office in the TATE LIGHTBOX (programme below).
Love to see you all there, Calum/Frank E. from the Lonesomes xx
Altermodern: Tate Triennial 2009 Shezad Dawood Selects Late at Tate Britain March
Friday 6 March 2009, 17.15–21.35
17.45-18.40
Feature, Shezad Dawood (55 mins)
18.45-19.30
Lonesome Cowboys from Hell (music performance)
Cult psycho-country band Lonesome Cowboys from Hell are performing a special set filled with artistic indifference and heart-felt immorality. Be prepared for some Post Post Modern Blues.
Lonesome Cowboys from Hell are: Frank E. the Lonely Woodsman (Calum F. Kerr), Blind 'Gentleman' Jk-ee (Tim Flitcroft) & Jan 'Devil Bucket' Maat (Jan Suchanek). With special guests Roadeo Marco (Marc Vaulbert de Chantilly), Daisy May (Pawla Cottage) and more.
19.40-21.35
Lonesome Cowboys (1968), Andy Warhol (109 mins, 18)
Warhol's take on the Western includes a transvestite sheriff and five gay cowboys. This hilarious and camp film questions the conventional portrayal of these heroic pioneers.
Tate Britain Lightbox
Free
Limited capacity. No seating available. Lightbox shut 14.00-17.00
ALSO if you miss us then we are playing at an event the NEXT DAY:
SATURDAY 7TH MARCH at SHUNT LOUNGE's BEATABET: ALL FOURS – http://www.beatabet.net/Microsites/all_fours/allfours.html
9PM UNTIL 3AM, WE SURELY BE ON AROUND 11 OR SO
COST: £10 but worth every penny!
20 Stainer Street, London Bridge, SE1
Cowboys on the Web:
http://www.myspace.com/lonesomecowboysfromhell
http://www.lonesomecowboysfromhell.com
Categories
Tags