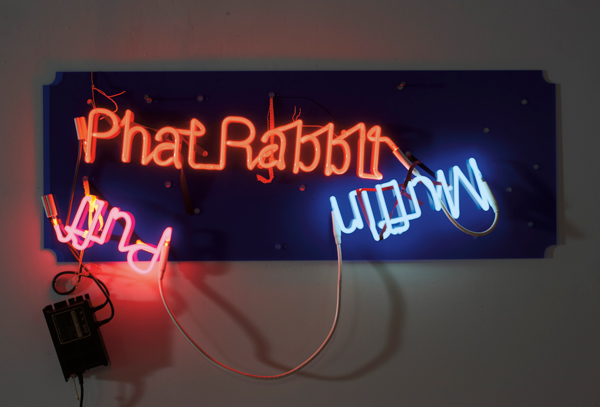 Lot 40 Jason Rhoades, Phat Rabbit; Muffin; Puff, 2003 estimate $40,000-60,000
SALE DATE MARCH 9 AT 10 AM
Phillips de Pury & Company is pleased to announce the 2009 sale of cutting-edge contemporary art Under the Influence to take place at the company's headquarters in New York on March 9at 10am.
The highly anticipated sale Under the Influence has become a signature of the company's commitment to the promotion of young artists, offering quality contemporary works since it first debuted at the Company's Headquarters in 2006. Many of the artists first introduced to the auction market in this pioneering sale have gone on to become the 'blue-chip' artists featured in the company's Contemporary Art Evening sales.
The sale will be held on March 9 at 10 am just after New York's Amory Show which runs from March 5-8.
Highlights of Under the Influence include an exceptional work by Kelley Walker, I see a Teddy Rooseveltshaped thing, 2002 estimated $80,000-120,000.The mirrored acrylic piece is based on the Rorschach inkblot test used in psychology to evaluate patients' degree of neurosis or reveal psychotic tendencies. The title reveals the artists sees a "Teddy Roosevelt shaped-thing" which already set the viewer in looking for that shape within the work. This piece is a great testimony to the craftsmanship of the young Brooklyn based artist where the psychedelic colors melt in intriguing almost menacing forms.
An impressive mixed media installation will be offered by artist Terence Koh, The Voyage of Lady Midnight
Snowdrops through Double Death Star (The Comet I Destroyed Again and Again, II), 2005 with an estimated
$60,000-80,000.
Also offered in the sale Jason Rhoades' Phat Rabbit; Muffin; Puff, 2003, a mixed media installation
estimated $40,000-60,000. Rhoades' untimely death in 2006 propelled his works to the status of highly
collectible and can be found today in prestigious public collections such as the Centre Pompidou, Paris,
The Los Angeles County Museum of Art, CA; the Museum of Contemporary Art, Los Angeles, CA; the
Solomon R. Guggenheim Museum, New York and The Tate Modern, London. Phat Rabbit; Muffin; Puff is a
unique work composed of neon words scrambled against a black backdrop some falling into the air in an
apparent act of negligence. But the artist who founded the FOM (Funk o' Metric) movement in the 1990's had a clear idea of the message he wanted to convey to the public, creating desirable and sexual imagery.
Mark Handforth's Bearded Snake, 2005 will be on sale with an estimated $60,000-80,000. This installation by
the celebrated American artist is made of painted steel and colored wax candles. The colorful rope twists
and turns in the shape of a snake with a candle at its top in an upright position, staying true to Handforth's
themes of beauty, repulsion and attraction the work is mesmerizing and pulls the viewers in his unique
world.
Two works by Ed Ruscha will also be offered including Parking Lots, 1967-1999 estimated $60,000-80,000 and Swimming Pools, 1968-1999 estimated $80,000-120,000. The latter is a distinctive reference to his fellow artist David Hockney and his infamous paintings of swimming pools. Using photography a medium favored by Ruscha, the nine prints show nine angles of a swimming pool basked in sunlight, a reflection on the American West Coast way of life and a testament to the successful transgression of the photographic
image to become conceptual artworks.
The sale will also comprise works by David Ratcliff Mercedes Suck/Second Painting (Shapes), 2007 with a
pre-sale estimate of $10,000-15,000; Rita Ackermann Burning Ashes, 1998 estimated $18,000-25,000. Dave
Muller Two Performances in a White Room (Figure-Eight), 2001 estimated $20,000-30,000. Damien Hirst
Happy Head, 2007, with a pre-sale estimate of $60,000-80,000. And Rachel Harrison's Untitled (Lavender/Tall Giraffe Dog), 2004 a high quality sculpture in acrylic, stucco, fabric and wood estimated $30,000-40,000. This work is very much in keeping with Harrison's unique style combining paint and various media to form moving and idiosyncratic work. Here the attractive faded purple giraffe/dog is wrapped seductively around a piece of wood; the childish quality of the sculpture and its title compel the audience to perceive the work for its conceptual value, as well as its desirable quality. Harrison was featured at the Whitney Biennale in 2008; had her first major solo exhibition at the San Francisco MOMA in 2004 and was part of a group show at the New Museum, New York City in 2007.
AUCTION March 9, 10 am
VIEWING March 2-8, 10am-5pm
www.phillipsdepury.com
About Mark Westall