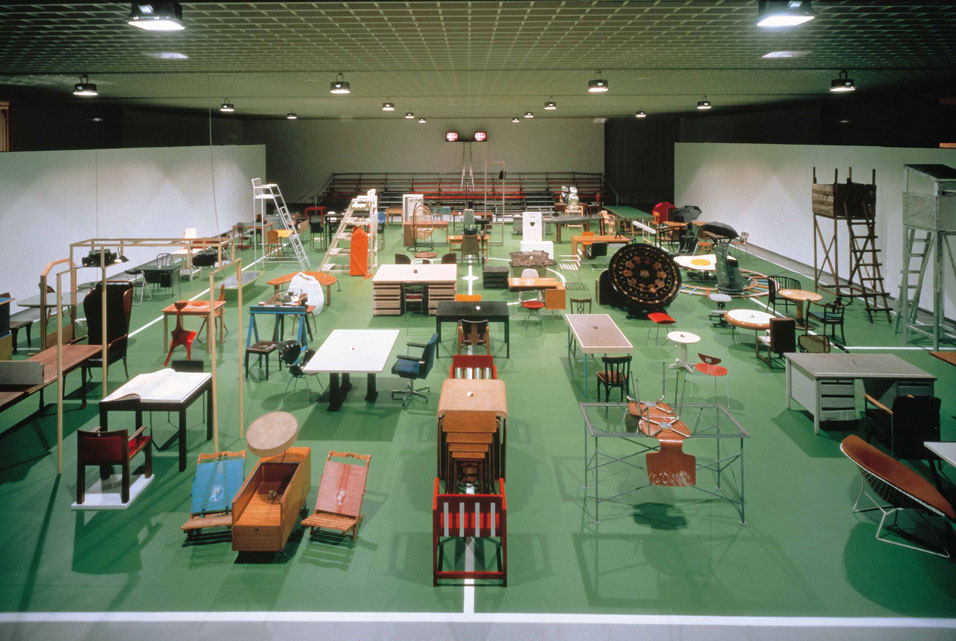 Martin Kippenberger: The Problem Perspective is the first major retrospective of the work of Martin Kippenberger (German, 1953–1997) to be mounted in the United States. One of the most significant and influential artists of our time, Kippenberger produced a complex and richly prolific body of work from the mid-1970s until his untimely death in 1997 at the age of 44. This large-scale exhibition includes paintings, sculptures, installations, multiples, drawings, photographs, posters, announcement cards, and books, offering a comprehensive examination of the artist's expansive 20-year career. The exhibition will be on view in MoMA's Joan and Preston Robert Tisch Gallery, sixth floor, from March 1 to May 11, 2009. Kippenberger's installation The Happy End of Franz Kafka's "Amerika" (1994) is installed in the Museum's Donald B. and Catherine C. Marron Atrium.
Martin Kippenberger: The Problem Perspective is organized by The Museum of Contemporary Art, Los Angeles (MOCA), where it was on view from September 21, 2008, to January 5, 2009. The exhibition was curated by MOCA Senior Curator Ann Goldstein, Senior Curator at MOCA. At MoMA, it is organized by Ann Temkin, The Marie-Josée and Henry Kravis Chief Curator of Painting and Sculpture.
Kippenberger's life and work were inextricably linked in an exceptional practice that centered on the role of the artist in the culture and within the system of art. With references, subjects, and sources as wide-ranging and diverse as his production, his work examined and expanded upon that role as he also cast himself as impresario, entertainer, curator, collector, architect, and publisher. Kippenberger drew from popular culture, politics, history, art, architecture, music, and his own life. He was an exceptional appropriator—transforming and challenging his subjects with incisive criticism, self-deprecating humor and formal invention. Working with the support of Estate Martin Kippenberger, as well as public and private collections in Europe and the United States, this first American retrospective offers new insights into the accomplishments and complexities of the artist's remarkable practice.
Ms. Temkin says, "We are delighted to be able to present the work of an artist whose relevance has only increased since his death twelve years ago. The energy and intensity of Kippenberger's production is reflected in galleries that nearly overflow with an astounding diversity of materials."
Kippenberger's last and largest sculptural installation, The Happy End of Franz Kafka's "Amerika" (1994), on view in the Museum's Atrium, reimagines a scene towards the end of Kafka's unfinished 1927 novel. In the book, the protagonist, a young German immigrant named Karl Rossman, arrives at a recruitment center for the so-called Theater of Oklahoma, bringing his naïve hopes to an obviously fraudulent enterprise. Kippenberger's sprawling installation provides a vast stage for scores of simultaneous interviews. The eclectic array of furniture includes classic examples of modern design as well as lawn chairs and bar stools purchased from flea markets, objects Kippenberger adapted from his previous installations, and works by other artists. Arranged on a green floor modeled on a soccer field and flanked by bleachers, this absurdist employment agency casts the ritual of the job interview as a spectator sport.
Installed on the platform outside the exhibition galleries on the sixth floor is the sculpture Spiderman Studio (1996). In 1996, Kippenberger was invited to exhibit at a gallery in Nice, located in a building where Henri Matisse had his studio in the early 1930s. In response to the site, Kippenberger created an exhibition he wittily called Matisse's Studio Sublet to Spiderman. Ready to leap from a studio full of paintings, the crouching wire figure, bearing a sculpted portrait of Kippenberger's face, embodies the myth of the artist as superhero.
The sixth-floor galleries include selections from Kippenberger's many bodies of work, including the renowned self-portraits that Kippenberger produced throughout his career in all media. Important series of paintings are featured in the exhibition, including several works from the series Dear Painter, Paint for Me (1981), and the painting, The Problem Perspective. You Are Not the Problem, It's the Problem Maker in Your Head (1986), from which the exhibition title comes. The exhibition reunites many of the key works from his breakthrough 1987 exhibition of sculpture in Cologne, Germany, entitled Peter. The Russian Position and other important sculptural installations such as Now I am Going into the Big Birch Wood, My Pills Will Soon Start Doing Me Good (1991).
As this exhibition demonstrates, Kippenberger repeatedly invoked canonical modern artists such as Pablo Picasso, Henri Matisse, Joseph Beuys, and Gerhard Richter in his work. Featured prominently in the exhibition are three paintings in which Kippenberger depicts himself bearded, bloated, and wearing only underwear. Based on a famous photograph taken of an aging Picasso in boxer shorts, Kippenberger created the works while he was living in Madrid in 1988. Kippenberger's invocations were never simple tributes to famous predecessors nor attacks on them, but rather, nuanced examinations of their mythic personae, and by extension, decisively unglamorous representations of his own identity as an artist.
Selections from two of Kippenberger's later series are also featured. In the paintings from the series Jacqueline: The Paintings Pablo Couldn't Paint Anymore (1996), Kippenberger literally cast himself as Picasso, taking up that artist's project by producing a series of portraits of Picasso's grieving widow and muse, Jacqueline, based on photographs of her taken after Picasso's death. The Raft of the Medusa (1996) was Kippenberger's last series of self-portraits. This series was based on the 1819 painting by Théodore Géricault portraying the aftermath of the wreck of the French ship Medusa, during which survivors clung to a raft adrift at sea, resorting to murder and cannibalism in order to survive. For this group of works, which comprises drawings, paintings, and lithographs as well as a rug woven with a diagram of the raft, Kippenberger cast himself as various figures from Géricault's painting.
The exhibition also features numerous examples of Kippenberger's hotel drawings—drawings on hotel stationery that he collected during his travels or that were given to him—and other works on paper; photographic works; and selections from the artist's prolific output of printed matter, including books, editions, multiples, and large-scale presentations of his exhibition posters and announcement cards—all of which are central to Kippenberger's production.
Categories
Tags