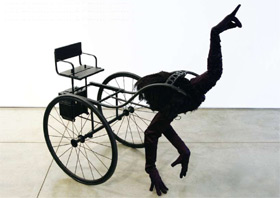 Pony by Tim Lewis Photograph by Andy Day
When: 27 February – 2 March 2009
Kinetica Art Fair, developed by Kinetica Museum in partnership with P3 with the support of the Contemporary Art Society, features well known artists from across the world including Daniel Chadwick, Sam Buxton, Jason Bruges, Martin Richman and Tim Lewis.
More than 25 galleries and organisations specialising in kinetic, electronic and new media art are taking part and over 150 artists are exhibiting. The Fair will be like no other with 'living' artwork moving, speaking and performing. The Fair provides unparalleled opportunities for the public and collectors alike to view and buy work from this thriving international movement, and to participate in talks, workshops and performances.
Opening spectacular and world premiere: Friday 27 February, 20:00 – 22:00hrs,
Seth Riskin, a former U.S. national champion gymnast, brings his astonishing physical ability to Light Dance in which he sculpts light and space in a remarkable performance of human and light interaction. Acclaimed international artist collective, body>data>space, present a world premiere of performers interacting with light and visual projection. Other performances are detailed below.
Where: P3, 35 Marylebone Rd, opposite Baker Street Tube. P3 is London's newest multi-disciplinary art space. The 14,000sq ft former concrete testing facility is located under Westminster University.
www.kinetica-artfair.com
Categories
Tags