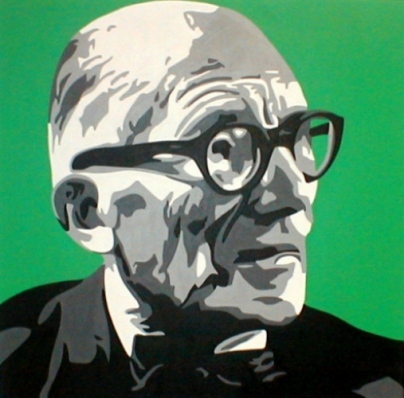 Potrait by Asbjorn Lonvig www.lonvig.dk
"I prefer drawing to talking.
Drawing is faster, and leaves less room for lies."
-Le Corbusier
The Barbican has suitably dealt with the immense challenge of representing the oeuvre of the polymath Le Corbusier. Starting chronologically, art school sketches and even a virtual representation of one of his perishable sketch books from 1915, and then creating the sensation that Le Corbusier's spectrum of work gains momentum and takes charge.
The way that this exhibition exposes his inner workings is fascinating. Le Corbusier emerges overall an artist as much as an architect. His swift charcoal illustration of inner city congestion recalls the above quote, but is removed from his radical yet elegant designs for municipal buildings and private houses that he referred to as 'machines for living'. His interest in the purity and functionality of housing and its interiors are in no way allowed to compromise their beauty, if anything it intensifies it. His furniture designs did seem a little down played; though the Le Corbusier chaise-longue, a spectacularly innovative piece, does have original depictions of up-ended women demonstrating its reclining function.
Due to Le Corbusier's remarkably prolific life we are presented with the work of several different men: Le Corbusier the renaissance man of architecture, Le Corbusier the painter, Le Corbusier the writer, even Le Corbusier the socialite. There are indeed photographs of him returning Josephine Baker's wide grin aboard a Rio to Bordeaux cruise, and a filmed glimpse of Salvador Dali and Gala descending one of his spiralling staircases. It seems rather unfathomable that a man so dedicated to his metiers could be distracted by the flagrant Surrealists and Dadaists in 1930's Paris: Duchamp, Man Ray, Picabia and Satie are all featured, enlisted in Rene Clair's Entr'acte a film of absurd non-sequesters and cameos.
That Le Corbusier should emerge an artist from this retrospective proves he lived his work, but chose a prominent public arena as the platform for the articulation and exhibition of his vision. His notion of 'built art' is described as the moulding and shaping of forms applied to the essential functions of buildings.
Although his paintings and sculptures are less unique than the work he is celebrated for they are none the less an integral part of the outpouring of his vibrant creativity. His work as a painter dates him to an era, but his visionary designs for furniture and architecture are still waiting for the world to catch up. The Saint Pierre Chapel so recently completed in 2006 shows the still active legacy of a genius, Le Corbusier Le Grand!
Categories
Tags