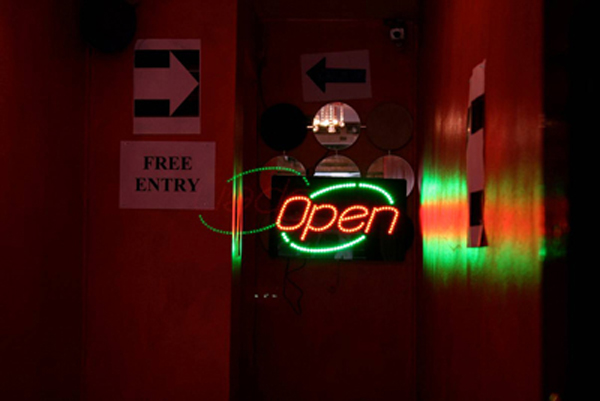 21 February – 5 April 2009
Commissioned by ArtSway and The Photographers' Gallery, Jordan Baseman has made new film works in and around Soho interviewing residents who range from the notorious to the anonymous, including hedonists and faded actors. The interview process is at the heart of Baseman's work. He heavily edits this recorded material, juxtaposing the finished interviews with film footage taken in and around Soho to construct narratives that mimic, and yet subvert, the traditional documentary film format. These films are at once semi-narrative, poetic and revealing.
For the ArtSway showing Baseman will present films including Dark is the Night and Nasty Piece of Stuff. The title film features Lucy, a transexual prostitute, as we hear her describe her life and experiences while watching footage of dimly-lit Soho streets. Dark is the Night was recorded nocturnally over a six-month period.
Nasty Piece of Stuff features Soho resident Alan Wakeman discussing the Gay Liberation Front and his first intimate sexual experiences. The film combines experimental film techniques with personal testimony.
Jordan Baseman's exhibition at The Photographers' Gallery, London takes place between 24 April – 14 June 2009.
Jordan Baseman lives and works in London and is represented by Matt's Gallery, London.
Jordan Baseman received a BFA from Tyler School of Art, Philadelphia, Pennsylvania and an MA from Goldsmiths College, University of London. Baseman is currently the Reader in Time Based Media at Wimbledon College of Art, University of the Arts, London, and is also a Lecturer at the Royal College of Art Sculpture School. He has a long history of carrying out projects in collaboration with various public institutions. These have included residencies and commissions for Arts Council England, Dundee Contemporary Arts, Grizedale Arts, London Arts, Camden Arts Centre, The Serpentine Gallery, Book Works and National Sculpture Factory, Ireland.
Categories
Tags