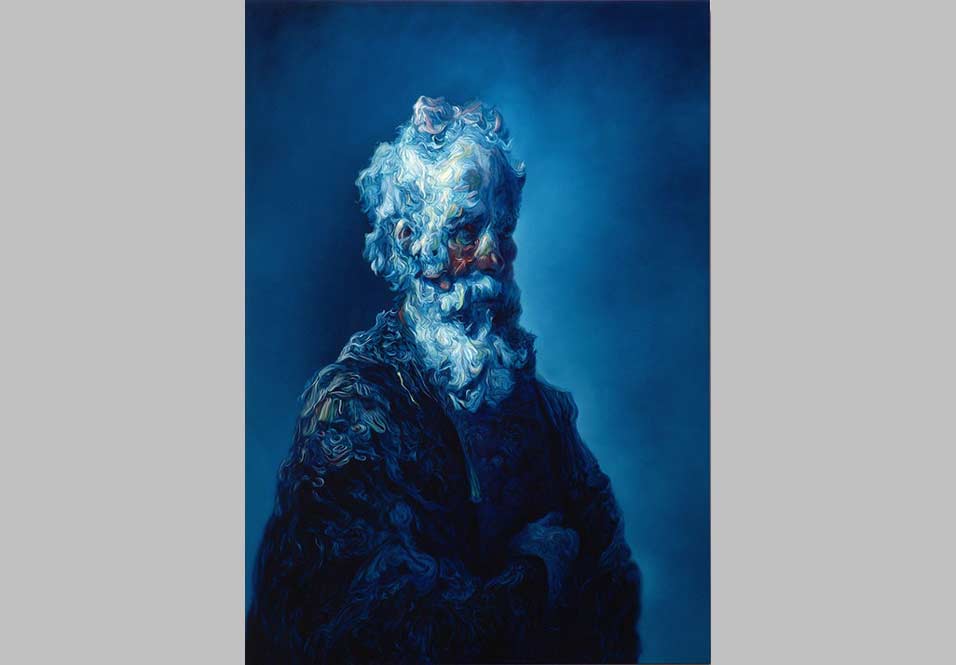 Glenn Brown – Hunky Dory 2005 © The Artist courtesy of Tate Liverpool.
Tate Liverpool presents today Glenn Brown, on view through May 10, 2009. Borrowing from art history and popular culture, Glenn Brown transforms a familiar visual history into something extraordinary and alien. Paintings by Rembrandt, Fragonard, Salvador Dalí, Frank Auerbach and many others, including the illustrators for science fiction novels, have all been used by the artist as starting blocks. Yet it is not original paintings that Brown turns to for inspiration but reproductions – images printed on postcards, in books or digitised on the internet.
Brown is fascinated by how an image changes when it is reproduced. Often cropped, its scale shifts as it is transferred to a new format. Texture is lost and colour distorted as the inaccuracies of the printing process take hold. Brown adopts these various accidental alterations as painterly strategies, grossly exaggerating them to question what it is to paint and to transfer people, places and objects into this medium. In his work, naturalistic colour becomes putrid or kitsch, figures are elongated and enlarged into the grotesque, flesh grows or begins to rot and heavy impasto brush-marks, painstakingly copied, are rendered completely flat.
Spanning the last eighteen years, this exhibition is selected and arranged according to Brown's perennial intrigue in the history and processes of painting. Groups of works reveal the artist's manipulation of brushwork, form, technique, subject matter, genre, narrative and colour. To look at one of Brown's works is to witness an unravelling of the languages of painting and the modes of pictorial solution that have preoccupied artists for centuries.
Glenn Brown was born in Hexam in 1966. From 1984 to 1992 he studied at Norwich School of Art, the Bath College of Higher Education and then Goldsmith's College, London. He was shortlisted for the Turner Prize in 2000. Exhibtion organised by Tate Liverpool and the Fondazione Sandretto Re Rebaudengo, Turin.
Categories
Tags