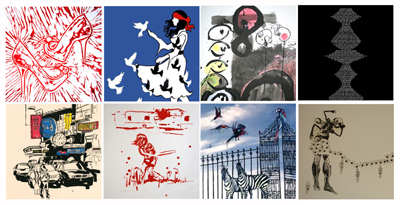 Featuring 8 emerging artists working in the printmaking fields
of Etching, Lithography, Screen and Digital Printing Private View: February 19th 6-9pm
Show Runs: February 18th to 1st March 12-6pm DegreeArt.com
30 Vyner Street, London, E2 9DQ
Featuring diverse and high quality limited works from 8 emerging artists working within the field of print including Screen Print, Etching, Lithography and Digital Print.
Featuring work by DegreeArt.com artists Tom Bown, Rachel Cloyne, Mary Dalton, Kate Marshall, Dan Parry Jones, Vicky Scott, Maria Stouppos and Rebecca Wright.
With a rich past dating back to pre-history, print making is often associated with its role in the advent of literacy and distribution of knowledge that shaped the modern world.
Today contemporary artists are drawn to this rich artistic medium because of its unique and distinctive qualities, often blending very advanced modern technology with ancient techniques- preserving an age old tradition while at the same time assuring that it continues to evolve and diversify.
Over the last 6 months DegreeArt.com have observed not only an increase in the trend for buying limited edition prints, but a growing interest in print making by fine artists. Its status as a discipline within fine art continues to expand as more and more established and upcoming artists take it up as their main medium.
Limited edition prints provide a great opportunity for investment as well as an affordable way to start or add to an existing collection. An 'edition' refers to the amount of prints created from an original plate or digital image that is later destroyed or no longer used. One of the main contributing factors in an artist's career development is notoriety.
If there are 10 prints created rather than one, the likelihood of familiarity through circulation is greatly increased.
The Limited Edition Print Show 2009 presents framed and unframed exclusive works by recent graduates from the UK's leading art universities. A great chance to pick up great art while it is still affordable!
Categories
Tags