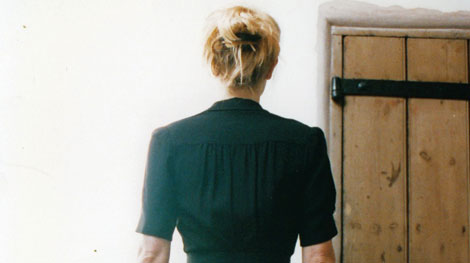 Jane and Louise Wilson's Unfolding the Aryan Papers was received with a buzzing opening night. The crowd was large and enthusiastic. Among the wealthy and excitable were the more reputable: experimental film maker William Raban and also photography scholar Lucy Soutter, who was most pleased to see the University of The Arts' Kubrick archive being used as a form of active research and inspiration for contemporary artists. For me to see this young space being lavished with the attention it deserves was a treat.
Curator of the BFI Gallery, Elisabetta Fabrizi, has once again managed to reinvent the space. The ability to make the BFI gallery feel completely different for each given exhibition continually impresses me. This time for Jane and Louise Wilson the space has been expanded by the use of mirrors either side of a suspended screen, creating a palindrome that breeds screen after screen into infinity. This sensitive dynamic of images makes the piece a joy to behold, several times over.
For the Unfolding the Aryan Papers the Wilson twins have delved deeply into their use of research as a basis for Video art. The resulting work bears resemblance to a linear documentary, but in its best possible form: informative, yet beautiful and interesting.
The piece adheres to many of the agreeable changes that have occurred in Video art in recent years, a consideration to each image in relation to time and a retreat to the filmic. The circulating and seductive camera movements marry up with a photographic composition to each shot, exposing the considerable investments this work has taken to produce. The time and research plied into this video piece are truly articulated in its execution.
Unfolding the Aryan Papers consists of multiple layers, from the actress Johanna ter Steege's monologues, to dialogue from the film that never was. Integrated with Kubrick's preliminary photographs are images from war-time Germany rendering the Wilson twin's own footage quite lavish in comparison.
The Wilson twins' work has matured and is befitting in a space that is coming of age. I have high hopes for the space that the BFI is pioneering: whether in isolation, or to encourage other spaces dedicated to artists' film and video. I cannot recommend this exhibition enough, even if just to see how yet again this gallery has successfully created an environment tailored to the individual video piece.
Categories
Tags