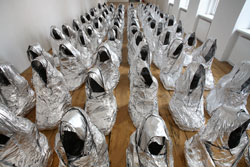 Kader Attia Ghost 2007 Aluminium foil Dimensions variable
Greetings und guten tag mein dear Fad reader, it is with much pleasure that I offer to you my latest art exhibition review.
So, it was on a brisk Thursday evening, that your own Klaus stepped out into Soho with my young nephew Casper, he is making a cultural tour of London, before going up to Hertford College, Oxford this September. We had arranged to meet with Professor Markus at his private club in town. He is a most interesting colleague, who is exploring the relationship between art and communication in this high tech world. I must admit that I am a bit of a Luddite when it comes to all this virtual realities and internets. I much prefer the old fashioned hands-on approach to art. I guess I must be showing my age.
Another person who definitely has a hands-on approach to the process of art making is Jonathan Meese. The show at Stuart Shave/Modern Art was as baffling as it's title, "CASINOZ BABYMETABOLISMN' (Put DR. NOS MONEY in your mouth, Baby). The three of us were greeted to massive grotesque painting collages, which incorporated the provocative images of Hitler, the Iron Cross and German banknotes placed alongside cinematic stars, literary and fictional characters such as Scarlett Johansson, Noel Coward, Marlene Dietrich and Dr. No.
It is not the sensitivity of this material that troubles me, as I found some use of text and iconography comic as much as anything else, part of Meese's personal performance, a frenzied artistic expression to absurdity. It is the lack of Meese's painterly skill that hinders this show as the work look hurried and slapdash in places. The exhibition is redeemed by Meese's series of bronze sculptures. These manipulated and distorted forms are clearly more considered. They metaphorically and literally give weight to Meese's artistic concerns.
I spotted the fine figure of Alfred Camp and he was likewise very enthusiastic about these pieces. I introduced myself to the unmistakable Jonathan Meese, who in his long leather black trench coat looked very much the part of the 'Art Dictator'. "It's all lolly….It's all play", he excitedly tells me, grinning like a mischievous wunderkind. Of course it is, I assured him.
It was time for myself, Casper and Professor Markus to head off and we popped into David Roberts' space around the corner before enjoying an Italian meal. This was more of an art world social gathering than anything else and it was good to see Ben Lewis from the Standard admiring a black gothic doll house there.
This week, I will admit to be snowed under with my research paper. Horst in Vienna has yet again been demanding for more material and I greatly resent his insinuation that some of my work is not original. I defy him to back up this outlandish allegation with evidence, the arschkriecher.
Anyway, young Casper was eager to attend the opening of Peter Blake: The Venice Suite at Paul Stolper, but due to some unfortunate misinformation on Art rabbit, we sadly missed it. This is a great pity as we were both keen on seeing this show and indeed Casper very much wanted to meet the Popfather himself. So it is with much shame that I bring you this show through only the press release.
These prints depict 'imagined, fairytale visions of Venice', inspired by the artist's 2007 visit to the Venice Art Biennale. Blake's source material and collages could not contrast more with Meese's nightmarish concoctions. Here we have Victorian and Edwardian oddities, images drawn from postcards, photographs, second-hand books and vintage children illustrations. These fantastical scenes are set against background 'of blues, greys, greens and muted yellows, evoking the magical atmosphere of a place enshrouded in myth and romance and imbued with Blake's wonderfully surreal sensibility'.
So, in spite of the fact that I haven't seen this artwork at first hand I can honestly say that I have a desire to have one. Casper, I know feels the same and I told him that he if studies well at Oxford, he will be able to start collecting one day. Alas, the life of academia is not one of great fortune and your poor old Klaus can mostly only admire artwork, although dear Maria Lassnig did once give me a sketch, but that was many years ago now and yet I am pleased to say it is framed and hung in pride of place.
The most exciting opening in London this week, must be 'Unveiled: New Art from the Middle East at the new Saatchi Gallery on the Kings Road. So it was with much interest that I read Bryan Appleyard's preview in The Sunday Times magazine. I have always admired Mr. Saatchi as driving force behind contemporary art, his advertising background is reflected in the savvy nature of his collecting and the marketing thereof. So, it comes as no surprise on the back his Chinese Pop inaugural show that he hits upon the next hot thing, both politically and financially. Casper and I will have to wait until the opening on Thursday to judge at first hand the quality of this Middle Eastern promise, but to judge from the reproduced images in the magazine there is much to look forward to. I am particularly interested to see the Kader Attia installation depicting Muslim women at prayer, in hijabs made of tinfoil. The blurred and haunting portraits by Iraqi born Halim Al-Kalim look very strong, as do the photographs by the Iranian Shadi Ghadirian. 'Like Everyday', which shows a veiled Muslim woman whose face is covered a yellow rubber washing up glove looks particularly powerful.
Other work to look out for is the comment on the Tehran sex industry in the form of Sarah Lucas-like sculptures by Shirin Fakhim and 'Self Melt' a sculpture by Diana Al- Hadid, which is partly inspired by a Brueghel painting of The Tower of Babel.
These artists of Middle Eastern origin have adopted a very Western contemporary language to explore themes and issues within their own culture; this new freedom of expression has been a comparative recent phenomenon in the region and Saatchi, shrewdly as ever is ahead of the game. And talking of games, I also noted today in the Times that Charles Saatchi himself is to host an art X-factor, well in a round about way by the sounds of it. Notoriously publicity shy Saatchi will be apparently judging the art hopefuls – silently.
So no art guru's equivalent to Simon Cowell's smug quips and oh-so witty put downs then, which makes one wonder how entertaining this programme will be. The show will be aired on BBC2 later this year and is meant to reassure us of the BBC's commitment to the arts. A Culture Show meets Big Brother contest sounds like a good commercial opportunity for one budding art star and to get yourself into art school 'boot camp' (instead of press ups, you are forced to do extended life drawing classes), you can check it out as they say on: www.submit-yourart.com.'Anybody with a fresh creative approach should enter – because nobody knows where the next star will emerge from' Saatchi said and who has been prudently barred from buying the winner's work (and others?) To the victor- an exhibition at the Hermitage museum in St. Peterburg, where laurels from cash rich Russian collectors await.
The other show that I must refer to is the wonderful Alice Anderson (a real art rising star) at Artpojx. She has, rightly so been receiving much critical attention. Her Dolls' Day short video piece is to my mind one of the most directly engaging pieces of work that I have seen for a long time. I'm sure we will be seeing a lot more of this most talented artist's work in future.
Alles klar that is all for now from your own Klaus, I will be sure to be keeping you informed on all art world activities and going-ons. Tshussy.
Categories
Tags