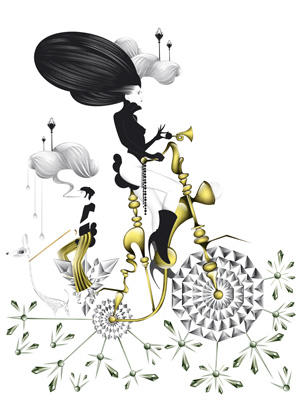 It's not unusual for an art gallery to sell rare or limited edition pieces, but a new, online art gallery based in London is banking on exclusivity to set it apart by offering just a single, limited-edition creation from each of a handful of select artists.
The Few Gallery commissions limited-edition art prints exclusively for its shop from a set of hand-picked graphic artists and illustrators from around the globe. Each artist makes only one design for the gallery, which prints each of 30 editions of it individually using the Gicleé process for high resolution and life spans of at least 100 years. Prices begin at EUR 300 for each 60-by-80-cm print. In exchange, owners get a hand-numbered certificate of authenticity to go with it, along with the knowledge that 10 percent of the price is donated to a select set of charities, including Survival, Concern Worldwide, Save the Children and the World Wildlife Fund. Perhaps more importantly, once the design is sold out, it will never be printed again. The Few Gallery was founded by Hannes Unt, who is also the creative director and founder of Estonian design agency LOOVVOOL, specializing in high-end brands.
The economy may be a shambles, but that doesn't mean status and exclusivity are going by the wayside. Nothing like a little planned scarcity to keep the massclusive wolves at bay and make a consumer feel truly unique!
Categories
Tags