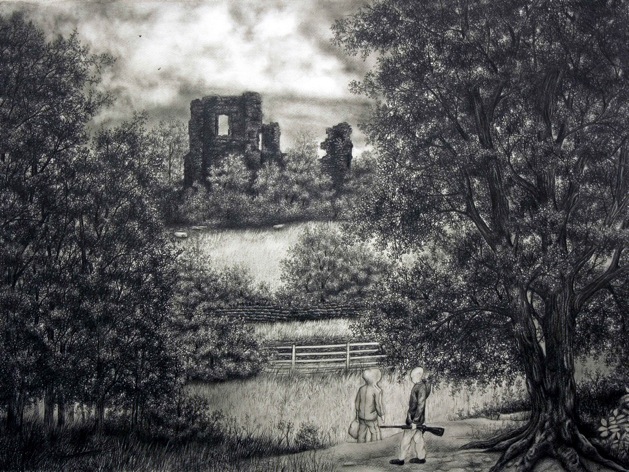 Bearspace, Paul Caton, An Internal Bleeding of the Heart, 6.30-8.30pm, info:www.bearspace.co.uk
Written by Max Decharne.
Two hoodies wait in a ruined abbey. One, holding a large medieval sword, keeps watch while the other sleeps. The blade glistens against a backdrop of dark trees and stone. A devastating contemporary reference to armed children and gang culture. But with echoes of the princes in the tower and the horrors of the 13th century Children's Crusade.
Paul Caton's new work, a series of pencil drawings on paper, recalls the South Yorkshire landscape of his childhood, into which he has introduced the figures of modern teenagers – anonymous hooded individuals, set against a background not of tower blocks of the inner city, but a post-industrial countryside.
The focus here is local, territorial. These are Caton's childhood haunts, and this is a landscape he feels he has an ethical license to use. The figures inhabit an almost classical background of 18th century follies and abandoned pit-heads; they are alienated, rather than troublemakers. The traditional anonymity of the hood is continued with a painful sense of a disenfranchised, un-represented identity. As Paul says, 'It's all about the occupation of the landscape and what they're doing with it. It's their heritage – it belongs to them. These are my memories and my places. It's about where you've been and where you're going. For me, it's about the Civil War, the Miners' Strike and Kes, but anyone could project their own time and place onto it.'
These pictures are dark, heavily worked, detailed. They explore contrasts and opposites: darkness and beauty; the absence of light or hope; the innocence and experience which echoes William Blake. Referencing the theme of child welfare through the ages, Paul's own South Yorkshire landscape becomes that of London's famous Foundling Hospital in Coram Fields Forever. Titles of works come from a variety of sources, providing a sometimes ironic comment on the scene. In British Birds of the Wild Places (from a bird watching book by James Wentworth Day), the landscape depicted is of a ruined 16th century building, which featured as a location in Ken Loach's 1969 film Kes. Ghosts of Princes in Towers takes its title from a late 1970s punk rock song by Rich Kids. In Lords of the Wood and Forest, one hoodie makes a gun sign with his fingers at a defensive stag, while another takes a picture on his mobile phone.
'Their styling is just a post-modern device to show that I mean what I'm talking about. That this is a serious subject. If I have to rip-off Dutch masters to make a point then that's okay.
'The most important issue today is what is happening to the children. Art has so far ignored it. It isn't interested. It is too occupied by its own self.'
Categories
Tags