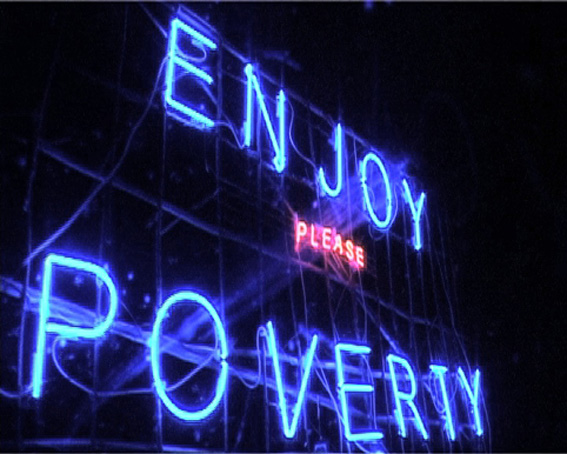 Episode III – 'Enjoy Poverty' is the second in a series of three films by Martens in which he raises issues
regarding contemporary image production. The films prompt the viewer to think about the construction of a
documentary and the role of the maker in it, and the responsibility of the viewers themselves. Martens filmed the first part of the series in Chechnya, where he looks for diversion from the disappointments of romance among the ruins and victims of the war.
For Episode III Martens traveled for two years with his video camera in the Democratic Republic of the Congo, an area marked by humanitarian disaster. Martens shows how development aid and Western photographers delineate an image of this situation. His film confronts the public with the fact that the Africans themselves do not profit from the images that foreign photographers take of them. Quite on the contrary: like gold and luxury foods, the images of poverty, their most lucrative export product, are also out of their reach; they are exclusively exploitedby the Western 'poverty industry'. As an answer to this injustice, Martens starts an emancipation project for Congolese photographers – a project that is doomed to failure.
Among the sources of inspiration for Martens's film is the short novel by Joseph Conrad, Heart of Darkness from 1902, which also was the basis for Francis Ford Coppola's film epic Apocalypse Now. Conrad's book not only describes the colonial exploitation of former Belgian Congo, but above all it is a literary interpretation of the chaos and madness in a land where the natural resources are almost inexhaustible and the inhabitants almost without rights.
The connecting thread in Episode III is Martens's journey through the interior of the Congo. From the
central Congo, where plantation workers live in wretched conditions and child mortality is high, the artist travels together with his crew of bearers to the east of the country, where guerrillas are engaged in a war with Western corporations that are extracting the local raw materials – corporations supported by UN forces, with Doctors Without Borders in their wake.
What solutions can Martens suggest for the problems of this land? It becomes increasingly clear that the
egocentric artist, who feels himself akin to romantic spirits such as Yves Klein and Neil Young, can only make a purely symbolic contribution. In doing so, he holds a mirror up before Western development aid, and thereby also the Western viewer, in which the moral dilemmas are outlined mercilessly. Before doing that, he is equally implacable in first sketching the systemic humanitarian crisis in the Congo in excruciating detail.
The hour-and-a-half long film by Martens is a documentary in which the maker himself is constantly present as a performance artist. He not only conceived the concept, but is also the cameraman himself, and a reporter and political activist at the same time. With this personal presence, Episode III provides an alternative for the ostensible objectivity in documentary work by both visual artists and filmmakers.
Wilkinson Gallery
Categories
Tags