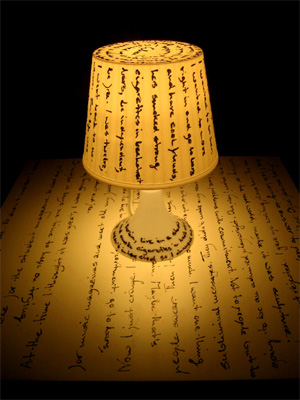 Objects: Approaching Sculpture A Group Show of Camberwell Students
Janina Josephin Holloway, Christiane Luck, Satu Viljanen, Rachel Watts
Private View: Thursday 15th January 6-9pm Show runs: 14th – 18th January 2009, 12pm – 6pm daily
The Empire Gallery, 30 Vyner Street, London, E2 9DQ
Janina Josephin Holloway
The work consists of a fetishistic and obsessive concern for material sensation. Metallic surfaces, blobs of dripping glossy paint, intricate patterns and suggestions of body parts inhabit the work. A play between the alluring, appetising and the temptation of the grotesque are implied through the objects. On the one hand they invite you to approach and on the other they mark their space. This combination references the complexities of craving and disappointment and the fickle nature of human desire.
Christiane Luck
The two white side tables and table lamps in "I gave up writing plays then" are identical in form but transformed by the narratives, taken directly from the artist's experiences, written upon them. One table, painted in white, portrays ephemeral hopes and expectations not yet formed into reality. The other, painted in black, shows the complexities, compromises, successes and failures of the actual life lived. In dialogue they reflect the gap between desire and reality.
Satu Viljanen
The piece is playing with the idea of becoming a super hero by creating her very own superwoman mask. She is experimenting with this alter ego to investigate whether or not this guise can help to conquer her insecurities, to realise her ideal personality, and to find out if this new identity can change the universe. As a superhero, Satu would hope to provoke others to adopt the principles of this superwoman character: life and energy, fun and laughter, chaos and freedom from behavioural rules.
Rachel Watts
The work is a development on previous work concerned with viewpoint. "You there!" teeters above ground level implying imminent but unreal collapse alongside careful composure, balancing this impression. The work is concerned with illusion of the unattainable and the change in perspective sometimes required to achieve aspirations. This can be seen in the resemblance to the fairytale and the everyday within the piece.
About Mark Westall