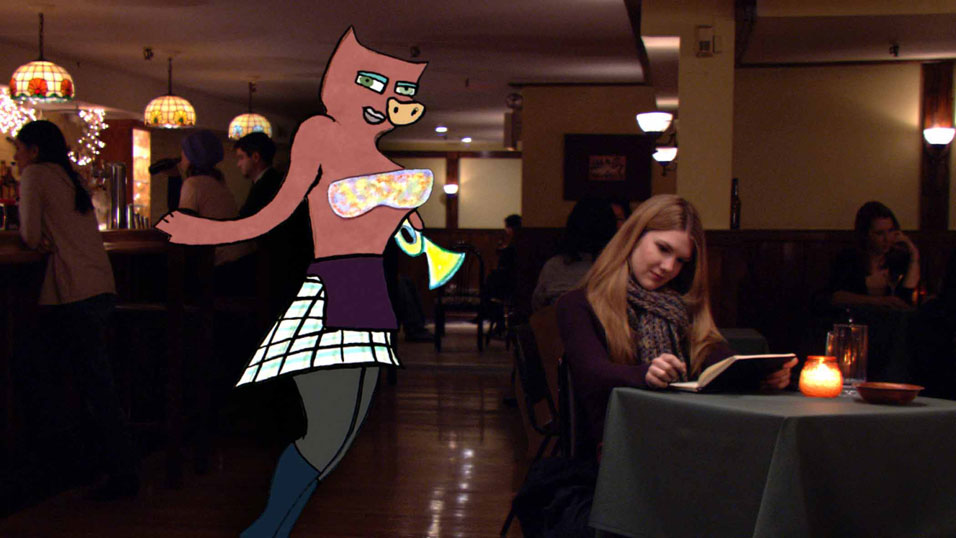 The Toe Tactic (2008). Directed by Emily Hubley. Credit: MoMA Film Archive. Pictured: Lily Rabe as Mona Peek.
The Museum of Modern Art presents the theatrical premiere of Emily Hubley's feature debut, The Toe Tactic, a nimbly creative film that brings to life a layered world of reality and imagination through the combination of Hubley's distinctive, handdrawn animation and live action. Hubley, who has been making animated shorts for 30 years, unspools the whimsical story of a young woman engulfed by loss and the mystical events she encounters over the course of a problematic but magical weekend. By juxtaposing different views of reality, The Toe Tactic addresses themes of memory, loss, and renewal. The film had its premiere at the 2008 SXSW Film Festival in Austin, Texas, and was included in the 2008 New Directors/New Films festival organized by The Museum of Modern Art and Film Society at Lincoln Center. Following its theatrical debut in The Roy and Niuta Titus Theaters from January 28 through February 2, which is organized by Rajendra Roy, Chief Curator, Department of Film, The Toe Tactic will tour the United States.
In The Toe Tactic, a young woman named Mona Peek experiences delayed grief over the death of her father when she learns that her childhood home has been sold. In moving between live action and animation, her emotional plight and the lives of her neighbors are played out as an esoteric card game by four capricious dogs. The game begins when Mona returns to the home's back yard to disinter a relic—a piece of bone from her father. Over the following days, the dogs mystify an unknowing Mona by stealing things, impersonating people, and intervening with fate. Winsome newcomer Lily Rabe interacts with animated forms that push, pull, and caress their real-life cohabitants through a journey of renewal.
The screenplay for The Toe Tactic was developed at the Sundance Screenwriters and Filmmakers Labs. The cast includes Lily Rabe as Mona Peek, Mary Kay Place as her mother, Amelia Peek, and independent filmmaker John Sayles. Veteran television, film, and stage actors Marian Seldes and Eli Wallach provide voiceovers of two of the animated characters. The kinetic flow of Hubley's remarkable feature debut is enhanced by Yo La Tengo's equally innovative score.
Categories
Tags