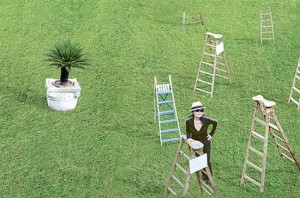 Yoko Ono is one of the pioneers of conceptual art and has an international exhibition career spanning nearly 50 years. From Sunday 14 December, BALTIC will present the two-floor exhibition YOKO ONO BETWEEN THE SKY AND MY HEAD, comprising work by Yoko Ono from 1950s to the present.
The exhibition, one of the largest exhibitions of Yoko Ono's work to date, is a major collaborative project with Kunsthalle Bielefeld, Germany, and will occupy two floors of BALTIC with additional works located outside the gallery.

Yoko Ono has a strong and irrepressible desire for freedom. This desire can be immediately recognised in her Imagine Peace billboards which will be located in prominent locations. Ono's Wish Trees invite visitors to express their hopes and dreams by writing wishes on paper and hanging them on Wish Trees installed close to BALTIC. These wishes will be gathered at the end of the exhibition, and sent to the IMAGINE PEACE TOWER in Videy Island, Iceland, to join the rest of the wishes from around the world. Another work, SkyLadder – which might be read as an allegory for the exhibition's title,YOKO ONO BETWEEN THE SKY AND MY HEAD – invites us to consider an imaginary, spiritual space centred between the sky and earth.
YOKO ONO BETWEEN THE SKY AND MY HEAD outdoor artworks form part of NewcastleGatesheads world-class programme of festivals and events developed by culture 10.
Inside BALTIC, the exhibition will cover more than 1400m² of gallery space containing sculpture, paintings, drawing, photography, films and sound installations, as well as participation works. Among the 50 works featured in the exhibition is Play it by Trust, a conceptual chess set, made from white Italian Carrara marble. A version of the work was first exhibited in London at Ono's legendary exhibition at the Indica Gallery in 1966.
Another work, My Mommy is Beautiful, is a participatory piece in which visitors to BALTIC are invited to bring photographs of their mothers, along with thoughts and memories about their mothers, to be permanently attached to the blank canvases. At the conclusion of the exhibition, the filled canvases will be sent to the artist in New York.
Categories
Tags