NICKY DEELEY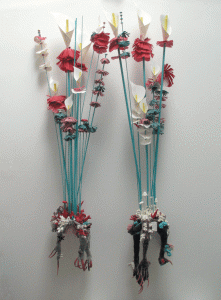 PING PING PING WEDNESDAY 10TH DEC – SATURDAY 24TH JAN 2009 PRIVATE VIEW – Thursday 11th
Seventeen is proud to present new works by New Zealand born artist Nicky Deeley.
The exhibition constitutes a series of totemically charged depictions of dead or dying creatures. The corpses of ornate coiled serpents, imagined velveteen marsupials sit alongside contemporary corporate mascots, a caricature sausage is captured in the ecstatic death-throes of its ritual sacrifice. Each of these forms a miniature death garden that sprouts foliage, permeating every visible surface in an explosion of fauna, fungi and flowers; a force stretching chaotically outward.

The human relationship with the innate and sometimes startling power of the natural world is a theme that runs throughout this exhibition. In particular Deeley's florid, chromatically abundant sculptures celebrate the predispositions of animistic or 'magical' culture to engender mythic, ritualistic and ceremonial engagement with the unanswerable questions that human existence proposes. The bizarre fusion of the natural and contemporary iconography within the work presents the notion that, refracted by a post-enlightenment perspective and transposed into a sea of 'personalised' ideology, these mechanisms and meta-narratives today continue to inconspicuously manifest in the western world.
Fashioned from a consciously cluttered range of materials and executed with a glossy touch, Deeley's expired creatures appear as a hopeful and strangely whimsical treatment of the ordinarily brutal natural processes of decay and entropy.
Categories
Tags