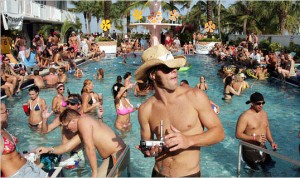 Greetings und guten tag mein dear Fad reader, it is with much pleasure that I offer you my next instalment live and direct from Art Basel Miami.
Much of my morning was taken up with dull academic emails for the University of Applied Arts in my native Vienna. Horst there can be quite demanding, I can tell you.
But back to Basel Miami and all the fun of the fair, although I fear that it is not so much fun for the art dealers currently. I was invited to the VIP preview, which opened at 2pm at the Convention Centre. After the fiasco of last night, I was pleased to see a professional and well-organised fair. All the top international galleries are here, displaying some very fine artwork indeed. It is quite problematic taking it all in at once and I will be returning over the next few days for a closer inspection.
I was keen to speak to the dealers directly and gauge the mood, which came as no surprise and was generally downbeat. Quiet, was the one word that kept on cropping up.
Maureen Paley, a very fine galleriest and a most pleasant lady, tried to put a positive spin on the state of affairs, 'we need culture now more than ever, the world is going to hell and we need to leave something for the future generations', she told me with almost evangelical zeal.
Victoria Miro was slightly more pragmatic, 'there is still movement' she said, 'things are definitely coming through, but will take a little longer'. I left her booth admiring her two large Grayson Perry vases that she assured me where safe from being knocked over.
Over at the sidelines of the fair, I had a very decent conversation with Carl Freedman, who informed me that, 'a few years ago I would of sold out of a young artist's work and now for better or worse I am building up an inventory'.
In the vicinity, I managed to engage the quiet yet powerful man of the art world fairs, Matthew Slotover of Frieze, who said that there was definitely a downturn and that his fair took place just as the financial markets were crashing. I told him that I very much respected the fact that Frieze prides itself in staging artist's projects, such as the smoking installation and the Icelandic bar (I'm afraid the artist's names escape me and perhaps a kind reader will refresh my memory). He said that he wanted to create a somewhat different experience for the visitor, rather than the just come and buy me art.
I agreed wholeheartedly with him and said the sculpture garden in Regent's Park was one of the highlights of the fair for me.
I am shortly going to Art Position in the containers on the beachfront, which is always a treat. But I leave you with the image of a dealer from New York, whom I overheard virtually pleading with a prospective buyer 'to please do think about overnight'.
Finally, on my way out, I bumped into the omnipresent and personable Andrew Mummery, who confirmed my suspicions that things were very much the same sad story at 'Pulse'. I will see for myself tomorrow. Tschussy.
Klaus von Kunst.
Categories
Tags