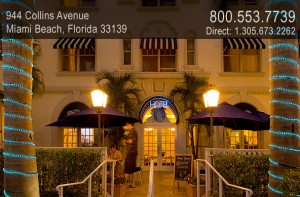 Greetings und guten tag mein dear Fad reader, it is with much pleasure that I offer you my next instalment from South Beach, Miami.
I must admit that yesterday I did not do so much. I wanted to, as the Americans say, 'decompress' from such a long trip. By the time I arrived at my very pleasant hotel, The Blue Moon on Collins Ave I was kaput. So after a restful night sleep (although I am waking at 6.00 am, perhaps the clock of the body still needs to adjust), I took a walk a block over to Ocean Drive, where I had a most excellent breakfast at The Penguin. American food is not exactly to my taste being somewhat robust as a rule, but this place serves fresh fruit and eggs with favour. The coffee here is weak though and lacks the aroma of the European blend.
Ocean Drive is most charming, lined with bright and colourful art deco hotels and restaurants. It is of course a tourist haven, with many knick-knack shops and such like. There are also many homosexual folk to be found here. I am a liberal, broad-minded Austrian so this blatant 'gay' culture does not offend. I will say though that these gays are a bit different from the gays of London or Vienna. They mostly display a well-defined physique and I am informed that these gays are referred to as 'Muscle Marys'. This I think is a funny expression.
After breakfast, I took a stroll on the beachfront behind the many über posh hotels on Collins Ave, such as the Ritz Carlton and the Loews. Around these shimmering pools and over power brunches I can imagine multi-million dollar deals being done by men who wear jewellery. As the wives ignore their husband's infidelities by shopping on revenge credit cards.
I decided now that as the sun was now appearing and poking out from behind the clouds, I would take some of it myself. So I returned back to my hotel to change into suitable beach attire. I am a keen nudist in my native Austria but I am sure that the sight of a naked man would appal the average conservative American not to mention the reaction of the 'Muscle Marys' gays. There is a naturist beach called Haulover Beach here, where they even have a designated nude volleyball area and a special section for naked gays too. Perhaps if I have time I will go to this beach.
I take a soft mattress sun lounger for $15. I know my budget is being squandered on needless luxury items but I justify this reckless expense by taking some research papers to read. I am currently writing my thesis on 'Freud and the effect of psychoanalysis on twentieth century art'.
The whole Dada and Surrealism movement might not have happen in the same way if it hadn't been for this prominent Austrian thinker. Not to mention Sigmund's artistic legacy in the shape of his grandson, Lucien, to my mind our greatest living painter.
So, I pass a few happy hours in a semi-reclining position, enjoying the sunshine on my body. At around teatime, I return to my hotel room to shower and change for my evening excursion. I have been invited to attend the opening party of 'In Fashion Photo', hosted by Art Photo Expo in the Design District. I have a weakness for this type of work when it is done well, even though some art purists often deride it.
I am afraid to say that I was much disappointed by the whole event, to start with the venue was an open plan space underneath what the English call a flyover, the artwork of very mixed quality was hung in a most terrible way. Many pieces with dust on the surface were merely propped up on the floor, whilst in other parts there were gaps and empty spaces. There was no or little information on the artwork and the whole thing looked as if it had been clumsily assembled in a few hours, which was in fact the case.
For many of the attendees this mattered little, outside was a horde of press photographers lining the red carpet eagerly awaiting the arrival the diva model of honour, Naomi Campbell. There was a whole section devoted to photographs of this black beauty. This area was encased in grassy turf for some reason, which did nothing to enhance the otherwise decent enough photographs.
The crowd was, for the most part beautiful with models being lead around by gays feigning interest in the artwork. The whole event had a distinctly Franco feel and was indeed hosted by a Frenchman, a certain Francois Trabelsi. I was informed by a certain unfortunate exhibitor from Luxembourg that this was his collection and that nothing was actually hung on the make do wooden structures by lunchtime. The crowd in any event had either gathered around the bar, drinking strong but tasteless cocktails or were milling around the main entrance. Then at around 9pm, hysteria and pandemonium broke out with the arrival of the Queen of Sheba. Flash bulbs popped, the crowd pressed forward to catch a mere glimpse of the divine Naomi. I of course thought this kind of adoration unseemly and managed to have a few words with the lovely songstress Kym Mazelle, who is apparently a good friend of Naomi and was to be singing later.
She gave me her new song, 'Here comes the light' on CD, and I have been greatly enjoying it. Meanwhile the gaggle pressed on, with Campbell being taken into the mossy grove, which housed the pictures of her. There was something surreal seeing a model being photographed looking at photographs of herself. She was not the only one being photographed for at the entrance they had mocked up a studio and guests were being treated to a shoot. Which I thought was a good idea and nice touch. After a very brief tour of her pictures, Naomi was safely ushered to the VIP area, where she granted an audience to the chosen few.
I decided that it was time to leave, reminding myself of my favourite Naomi Campbell story, although I do not know how true it is, apparently prior to a show an assistant rushed into her dressing room to find her staring intently at an orange juice container, when asked what she was doing, she pointed to the carton and replied, 'It says concentrate on it'.
I managed to get a cab outside to take me back to Collins Avenue, the best conversation I had all night was with the driver, a very literate Cuban gentleman, whose opinion on the election Obama was edifying. I am not so sure that dear Naomi could put his sentiments about an African American president into the same words. I guess I will never find out.
Tonight is the opening of the main Basel fair and I will be sure to bring you all the latest gossip and art world inside information from there. Tschussy.
Klaus von Kunst.
Categories
Tags