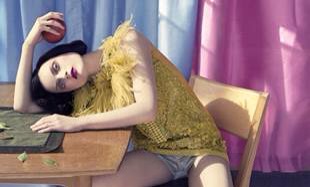 Guinevere Van Seenus, Los Angeles, Vogue Italia, January, 2008
Phillips will launch tomorrow in Paris a new touring exhibition : Role-play, celebrating the groundbreaking work of internationally acclaimed photographer Steven Meisel in a traveling selling exhibition for the photographer.
From his early days as an illustrator for Women's Wear Daily, Meisel captured the 80s zeitgeist in his bold and pioneering style. Ever the visionary, Meisel has since continued to cultivate his distinct eye with each passing decade, continuously defining and redefining the leading aesthetic in fashion photography.
Guinevere Van Seenus, Los Angeles,Vogue Italia, January, 2008
Over the course of his illustrious career, Meisel has collaborated with major fashion publications, from Vanity Fair to Interview, W Magazine, and Vogue, including Vogue Italia, for whom he has photographed every cover for the past twenty-five years. His imagery is reliably rich in narrative, drawing from an encyclopedic knowledge of fashion history. Indeed, with an informed nod to the past, Meisel's photographs continue to lead the ever-evolving dialogue in fashion photography.
Included in the show are twenty-five images capturing some of Meisel's most notable contributions to fashion photography. The images include a landmark image from the early 1990s, through which Meisel introduced the grunge aesthetic, marking a significant turning point in fashion, whereby the formerly marginalized aesthetic was folded into mainstream discourse.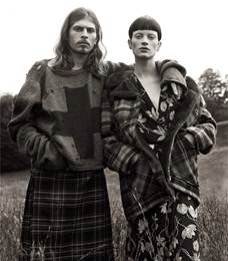 Daniel Blaylock and Kristen McMenamy,
Ward Pound Ridge Reservation, Vogue, December, 1992
In reflecting on this image, Meisel has stated,
"the portrait of Kristen McMenamy and Daniel Blaylock, from the grunge fashion story in American Vogue, is one of my favorite pictures. I'm excited to be showing it, particularly in its almost life size format, in the upcoming Phillips exhibitions. This image captured a real cultural moment of a music scene and fashion scene fusing together to create a new look. I remember Anna was thinking of killing the story. After all, it was a lot of black and white, an unusual casting, men in skirts – altogether a bit stronger than what was running in Vogue at the time. Alexander Lieberman, however, said it was one of the most important fashion stories ever and it ran in its entirety."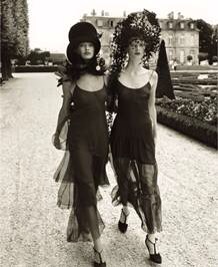 Linda Evangelista and Kristen McMenamy,L'Haÿ-les-Roses, France, Vogue, October, 1992
Meisel's penchant for keeping his lens focused on the zeitgeist is further reinforced in his dialogue with contemporary art, be it the within the confines of the Warhol museum or in his nod to Alex Katz. Indeed, references to the works and styles of his predecessors abound, perhaps most notably in Meisel's continued and evolving revisiting of Classical art, as seen in his images where his models are posed as Grecian deities or ambling through the gardens of L'Haÿ-les-Roses, France.
The glamorization of the quotidian is further reinforced in other works, whereby daily activities—from shopping in Paris to lounging in L.A., to sharing a laugh with a friend by a pool—are infused with a charm and a style that are distinctly Meisel's. Unsurprisingly, Meisel's interest in character making is prevalent throughout his entire oeuvre, molding and shaping his models into an endless array of narratives that collectively allude to Meisel's mastery in storytelling and hinting at the many more groundbreaking images that are to come.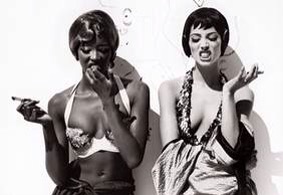 Naomi Campbell and Christy Turlington, Los Angeles,Vogue Italia, December, 1989
"Steven Meisel is one of the most important fashion photographers working today and Phillips is honored to be collaborating with him on this very exciting selling exhibition. For the past few decades his visual language has been shaping both the fashion and photographs industries and will no doubt continue to do so. This is a terrific opportunity for collectors to enrich their collections with Meisel's compelling images."
Vanessa Hallett, Senior Director and Worldwide Head, Photographs
On view in Paris, London and New York, the exhibition will give audiences in three of the world's most revered fashion centers the rare opportunity to view Meisel's photographic constellation. Be it in Paris's chic Saint-Germain, London's ultra-hip Berkeley Square and New York's prestigious Park Avenue, each of Phillips's exhibition spaces will complement the creativity, star-power and exuberance generously rendered by Meisel's work.
PARIS EXHIBITION: 20 November– 9 December 2014
PHILLIPS, 46 Rue du Bac, Paris
LONDON EXHIBITION: 16 December – 11 January 2015
PHILLIPS, 30 Berkeley Square, London
NEW YORK EXHIBITION: 23 January – 14 February 2015
PHILLIPS, 450 Park Avenue, New York
EXHIBITION LINK:phillips.com/auctions/exhibition/
PHILLIPS:
As the only international auction house to concentrate exclusively on contemporary culture, Phillips has established a commanding position in the sale of Photographs, Contemporary Art, Design, Editions and Jewelry. Through the passionate dedication of its team of global specialists, the company has garnered an unparalleled wealth of knowledge of emerging market trends. Founded in London in 1796, Phillips conducts auctions in New York and London and has representative offices throughout Europe and in the United States. For more information, visit: phillips.com.
Categories
Tags