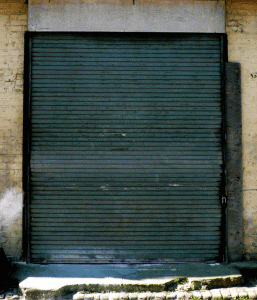 WEDNESDAY 29TH OCT – SATURDAY 29TH NOV 2008
PV Thursday 30th October 6pm
From the exterior there are few clues to the contents of Self Storage, David Ersser's second exhibition at SEVENTEEN, as the windows are barred and the main space is sealed off by a half lowered roller shutter that bisects the gallery.

This barrier marks the boundary of the exhibition, the shutter obscuring the collected objects, placed into stasis in a lock-up storage behind it.
Ersser's installations are constructed from a number of familiar objects, often tools, white goods or domestic belongings, hand crafted by the artist from wood, brought together to provide an environment through which the viewer can move.
The objects can act as a portrait of their implied owner, who is always absent, but implicated by the items encountered. This new work follows on from recent exhibits such as The Ideal Home Show, a detritus filled sitting room, littered with pizza boxes and over flowing ashtrays. A mid 90's games console and flat pack furnishings indicate its place in history.
Self Storage looks to develop ideas of implied narrative, gently suggesting the lifestyle and habits of this storage units' owner.
Categories
Tags