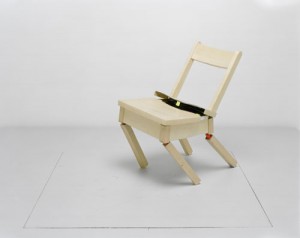 MAX DEAN, RAFFAELLO D'ANDREA & MATT DONOVAN Robotic Chair 1985 – 2006 custom-made robot, software, vision system, computer & platform Chair: 82 x 40 x 48 cm platform: 20 x 244 x 244 cm Courtesy Nicholas Metivier Gallery, Toronto Photos by nichola feldman-kiss
PRIVATE VIEW: THURSDAY 31 JULY 2008, 6-8PM
THOMAS BAUMANN / IAN BURNS / JIM BOND / MAX DEAN, RAFFAELLO D'ANDREA & MATT DONOVAN / THEO KACCOUFA / KRISTOF KINTERA / TIM LEWIS / HAROON MIRZA / GOSHA OSTRETSOV / STEVEN PIPPIN / JAIME PITARCH / NATHANIEL RACKOWE / NIK RAMAGE / CAROLINE TATTERSALL / JEAN TINGUELY / ANTOINE ZGRAGGEN
Kinetic art emerged in the 1960s from the mixed parentage of the well-oiled motor of Constructivism and the anti-art ad absurdum of Dada. On the one hand, the movement was a celebration of the artist-as-engineer; a utopian practice that gave formal expression to the energy of mechanical processes and championed a Modernism most High. On the other, it animated the anarcho-political fervour of a revolutionary post-war contingent bent on trashing aesthetic precepts and bourgeois tenets. Supreme functionality verses extreme destructiveness; the whirr of social harmony or the cacophony of a cog in the political machine.

Despite this significant lineage, it is broadly assumed that Kinetic art never really established itself beyond a contested adolescence, and that it played out this errant youth – depending on who's story of art you are reading – occupied with pseudo-scientific gadgetry or kitschy optical tricks. The footnoting of the movement in the history of 20th century art lead to its widespread dismissal in many areas of contemporary criticism, an erasure that triggered Yves-Alain Bois to declare that Kinetic art had 'suffered the unhappy fate of a flash in the pan'.
This exhibition substantiates the domestic connotations present in Bois' statement to investigate Kinetic art at a tangent to the discrete line of art history, a position located not only off the official path, but behind closed doors. Expanding the bracket of the artistic movement beyond its staunchly socio-political origins, it explores how artworks loosely grouped by the classification 'kinetic' have addressed the structures – psychological, linguistic, social and familial – that exist within the space of the home.
Whilst the domestic object can claim a legacy in Kinetic art that extends as far back as Duchamp's readymades, the significance of a domestic/kinetic interplay within a continuing field of practice has yet to be fully addressed. Here, a diverse group of artists explore the meanings generated when kinetic art, taken beyond its limitations as a finite modern movement, enters the machine for living in.
Jean Tinguely, founding father of Kinetic art in its Dadaist incarnation, and Czech artist Kristof Kintera exploit the same signifier – the power drill – to different ends. Tinguely's playful sculpture, an ode in steel and feathers to his second wife Niki de Saint Phalle, is imbued with an intimacy that hints at a private language of desire, whilst the violent pas de deux acted out in Kintera's domestic drama muddles objectification and anthropomorphism to make the viewer a voyeur, complicit – through the act of seeing – in a scene of sexual antagonism and gender politics.
The industrial aesthetic of Antoine Zgraggen's monumental destructive machines masks their role as priest-like vehicles of confession and catharsis. In the mechanical hands of these automaton analysts, domestic objects invested with traumatic memories and turbulent meanings are severed, compressed and shattered into extinction. Where Zgraggen destroys objects made faulty through their entanglement in psychic webs, Nik Ramage subverts the purpose of appliances to make them anew. Relinquishing Constructivist principles of utility and efficiency, fragility and faultiness become their bathetic function.
Max Dean, Raffaello D'Andrea & Matt Donovan pay deference to the Dadaist legacy of auto-destructive machines by creating a robotic chair that perpetually negotiates the spectrum of construction and collapse. Falling apart only to put itself back together again, the chair is a cipher of flux; neither figure nor ground, form or l'informe, it inhabits a space where the line between mechanical system and subjectivity blurs. This ambiguous terrain is also the setting for Thomas Baumann's Asilver, an object fixated on the cycle of deformation and re-formation. Doggedly remodelling itself ad-infinitum, it momentarily diverges from an abstract geometry to adopt the form of an unheimlich apparition – a domestic glitch that is the 'ghost' in the machine.
DOMESTIC APPLIANCE will be accompanied by a catalogue with text by exhibition curator Ellie Harrison-Read.
Flowers East
82 Kingsland Road
London E2 8DP
Categories
Tags