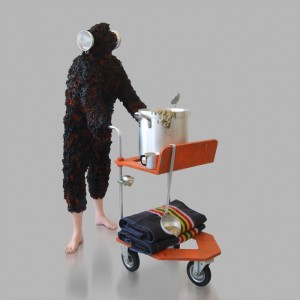 Paul van den Hout, Qmaster I, perspex laminated photoprint, 90x90cm, 2008
1 When did you start to make art?
Drawing and creating things I've been doing since my childhood and through my teens until entering Art College. Of course that's where things became more serious.

2 How did you evolve into a professional artist?
My first show in a gallery was during my years in Art College. The gallery was run by my tutor in art history. After finishing college my work immediately got shown in galleries and other art venues and within a few years I was making some money through sales and earning artists grants.
3 What drove you to make art as a professional vocation?
Art was always present at home. My father being an architect, there were plenty of books on art and architecture to be inspired by. Then there was a huge boom of creativity in the late seventies and early eighties, in the wake of the punk movement, which boosted my plans to study art.
4 Explain your inspiration?
Man and society in general are the inspiration for my art.
5 In what way does your inspiration transform into ideas?
Art often tries to find solutions for dilemmas or conflicts. These may be personal or formal conflicts or a conflict in ideas or aesthetics. These conflicts, usually in the shape of dualities, are the basis on which the ideas for my art grow.
6 From Ideas to production of art – how? And why?
This is a matter of process and making decisions. Often an idea can be translated in many different forms or by different techniques. You have to find out what works best to bring the message across. Small details even matter and can change the angle of a work of art.
Why? There is an urge or obligation to visualize what can't be told in another way.
7 Could your ideas be portrayed in any other medium? If so which?
Like I said, in my case there often is a choice to make between media. Ultimately you chose what you think work bests and also depending on which skills you have. But some ideas need a certain approach like 3D or 2D, photography or assemblage.
You could also go a step further and ask yourself if media outside visual arts can be used? Yes, sound or performance for instance might be an option.
8 Which artists would you most like to blatantly rip off?
There are plenty and there have been plenty. I mean, that changes with time as well. In Art College Bruce Nauman and Joseph Beuys were absolute idols, to name just two. I am an absolute fan of Thomas Huber and more recently I have been very much impressed by the works of Kara Walker and the rich visual language of Paul McCarthy.
9 Why is your art made?
Because it is the best I can do.
10 What does being an artist mean to you?
Hard to answer straight forward. I guess one important aspect is visualizing ideas. The process and pleasure of creating is another.
11 Are you happy with your reasons for making art? i.e Are there any trade offs that make life hard?
Don't know exactly what you mean. Being an artist means you have to figure out most things yourself, which sometimes can be tiresome. But it would be much harder for me to sit in the same office all day and every day with somebody telling me what to do.
12 When does your art become successful?
You mean when my art works? Usually when people discover a new way of seeing things through my work.
13 What is art?
Impossible to answer as art isn't a monolithic phenomenon.
14 How do you start the process of making work?
Like everybody I am constantly taking in information by looking around me, reading and listening etcetera. Then there is usually a specific project I am working on. It is often at moments the mind relaxes, for instance when driving long distances, that ideas are put together in my head.
15 Who prices your work? And how is the price decided upon?
Most of the time in consideration with the galleries or venues where the work is shown. There is a sort of price per volume, but obviously that doesn't always work. Production costs and time spent on a work of art are taken into account.
16 What is your next; move, project, show etc?
At the moment I am working on a group of semi-figurative sculptures loosely addressing man's attitude towards territory and natural resources.
17 What are the pros and cons of the art market?
I do not occupy myself with such matters. I am suspicious of this situation when art becomes a speculative investment. But that is not my concern as I am not in that league with my work, I think.
18 Which pieces would you like to be remembered for?
I hope I still have to make that piece.
19 Any routine in making your artwork? If so what?
No routine, as I use several techniques and every project is different. As a spin-off from my production of art there are also other 'businesses', like building custom musical instruments for instance. These keep me from developing a routine as well.
20 What has been the biggest break in your career?
Hard to tell what the biggest break has been. Possibly my first grant, as from that moment on I could seriously start spending money on equipment and materials. The first sculpture sold to a museum collection definitely was a landmark.
21 Who has been the biggest influence on you?
I honestly can't name one single person. Probably my tutors in Art College? And then there are so many peripheral influences in other fields of art, part of my frame of reference: Stanley Kubrick, Jean-Luc Godard, '50's B-Movies, Franz Kafka, Joseph Heller, Flannery O'Connor, Bo Diddley to name just a few, from the top of my head.
22 How many artworks have you given away and to whom?
I have given some artworks to my parents, naturally, and some I have given to or traded with friends. Also one or two works have been donated for a special occasion or project.
Paul Van Den Hout – Artworks : http://www.greenonion.nl/arts/art/art.htm
Paul Van Den Hout – Portfolio @ culturehall.com : http://culturehall.com/paul_van_den_hout
Paul Van Den Hout – Green Onion Musical Instruments : http://www.greenonion.nl/instruments/gro_instr_all.htm
thanks to David Frey at Culturehall
Categories
Tags