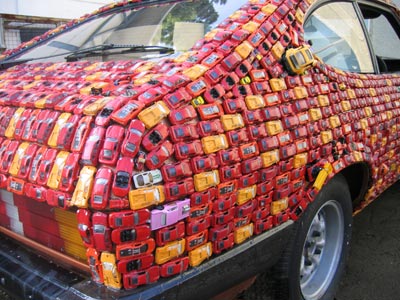 Latest News After 3 years of planning, perseverance and Porsches, the General Carbuncle sculpture by artists James R Ford is finally finished! And from today it will be auctioned on eBay.
The internet has been integral in the completion of this work; now the process has come full circle. Below is the link to the General Carbuncle eBay auction (10% of the final sale price will support Make-A-Wish Foundation UK).
If you aren't interested in purchasing this monster artwork, maybe you know someone who might be interested and could pass this email on to them? http://cgi.ebay.co.uk/ws/eBayISAPI.dll?ViewItem&item=170040052460
The sculpture was finished in October 2006 and will be exhibited at the Your Gallery @ The Guardian exhibition (in association with Saatchi Gallery) on 23rd October. Over the course of 3 years there has been ups and downs, good weather and torrential storms, progress and disappointment, and lots of press campaigning and rallying the general public into donating their (or their children's) spare toy cars to the cause!
More info here
Categories
Tags