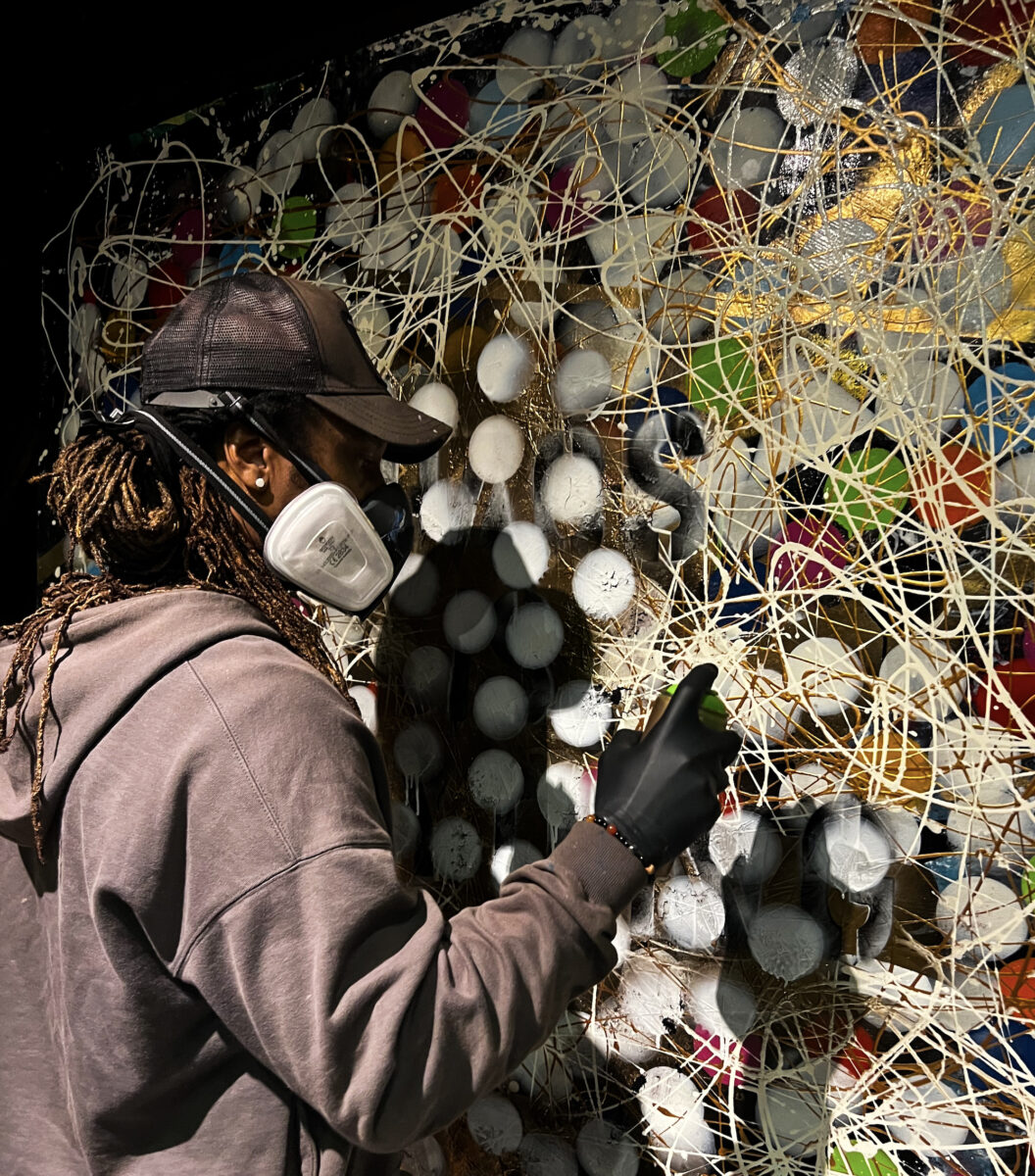 Maxim, eminent mixed media artist and legendary frontman of The Prodigy opens a new solo exhibition showing a mixture of Warhol and Hirst-influenced art at Clarendon Fine Art.
The show will open at Clarendon's Covent Garden gallery on the eve of The Prodigy's major European tour 'Army of the Ants', and will present a brand new collection of original paintings, sculptures and limited editions.
The socially charged collection explores Maxim's unshakeable faith in human nature in the face of division and conflict. Through his innovative use of unconventional materials, vibrant colours and technology, he allows the shocking and the gentle to converge to create a surreal message about life, love, and the positive outcomes we can create with our own actions and attitudes.
The collection contains contradictions and surprises, such as figures in riot suits handing out flowers in a gesture of peace and friendship, a grenade encasing a heart, primed to spread love not war, or butterflies betraying an unexpected strength. Other highlights include a futuristic take on beauty and the ways we hide it, and a quietly beautiful profile portrait from a photograph Maxim took in Ghana.
Interwoven through these works is the influence of the artists Maxim admires – Escher for his fantastic illusions, Bosch for his contrasts between light and dark and heaven and hell, or Giger for his mesmerising fusion works. The music connection also comes through in a Warhol-style riff on a headphone-wearing skull, representing our similarities and interconnectedness for the artist.
Combining music and art has been a part of Maxim's life now for over 15 years and embarking on a major European tour with the Prodigy this month will, he says, feed into his artwork.
I pick up a lot of inspiration when I'm touring. The people you meet can change your life, and the places and objects you see can inspire you to move things on and I am always working on the next idea for my art.

It turns out that many Prodigy fans are also passionate about art and appreciate the crossover. It's been a pleasant surprise to see the overlap between music and art.
MAXIM, 15th November Clarendon Fine Art — Convent Garden Gallery
About the artist
In music you are always aiming for perfection, you're never 100% happy. Art is much more liberating than that; even mistakes can be beautiful.

Maxim
One third of British band The Prodigy, Maxim is known for a fierce style of art that explores the complex nature of humanity. His art intertwines positive and negative elements of society with an unexpected and deeply personal convergence of the shocking and the gentle. This can be seen in his latest sculpture, Rebel with the Paws, which, he says, "was created with the mind set of a cat that stood up to the wrongs in society but what he did was spread love."
Maxim is influenced by his love of the surreal, whether that is movies and books or the work of other artists such as Dali and Bosch. Working in a range of mixed media, he gives each artwork a uniquely expressive edge, and by placing objects in an unexpected context he creates art which is both thought-provoking and emotionally challenging. The final decision on its meaning is always open to interpretation.
However, while his work frequently examines the darker side of life, Maxim himself believes passionately in positive outcomes, and aims to represent the uprising of the oppressed and the triumph of good over evil. A clear example of this came when he collaborated with British artist Dan Pearce over the 2020 lockdown on a sculpture entitled Hope to send out into a world that had been thrown into emotional turmoil.
Since 2012 Maxim has supported a wide range of charities that are close to his heart, donating artworks to support these positive outcomes. He has raised substantial finds for research into Breast Cancer, BT ArtBox for ChildLine, Chain of Hope (cardiac care for children around the world), the NHS, Shelter and mental health charity Young Minds.
Maxim has been with the Prodigy since its inception in 1990 and has toured all seven of their studio albums extensively around the world, picking up numerous awards along the way including MTV and NME accolades recognising their unique and innovative music as well as their chart success. He turned to art in 2004, but choosing to keep his career as a musician and artist separate he exhibited his work under the moniker MM. He has become a highly sought-after and much respected visual artist and has met with success at solo shows in London and L.A.
Art is another expression for me. When I'm not doing music, I'm doing art. When I'm not doing art I'm doing music. That's my life fulfilled.
Categories
Tags