It's a known fact that Santa Fe has America's third-largest art market. Take a second to think about how extraordinary that is, though. Santa Fe doesn't have the same global art fair presence as galleries from larger cities like Chicago or Miami, for instance. Instead, collectors swarm the city's 200 galleries on their own. And that's to say nothing of the locals.
Many seek Santa Fe for the City Different's other charms, like the chiles, or the color shifting mountains, or the plaza's winding, four hundred year European history — an anomaly for America, founded just over 200 years ago. Indigenous traditions and contemporary preoccupations intermingle in Santa Fe today, perhaps best exemplified by local legend Jeffrey Gibson, who just had a stunning show at Sikkema Jenkins in New York, and who will represent the United States at next year's Venice Biennale, presented by the Portland Art Museum and SITE Santa Fe. The latter institution's got three amazing shows on view. One is on this list. 
Brooklyn-based art writer Vittoria Benzine made her second trip to Santa Fe last week. The first one went by in a flash. This time she got to pounding pavement. Read on to see what she saw.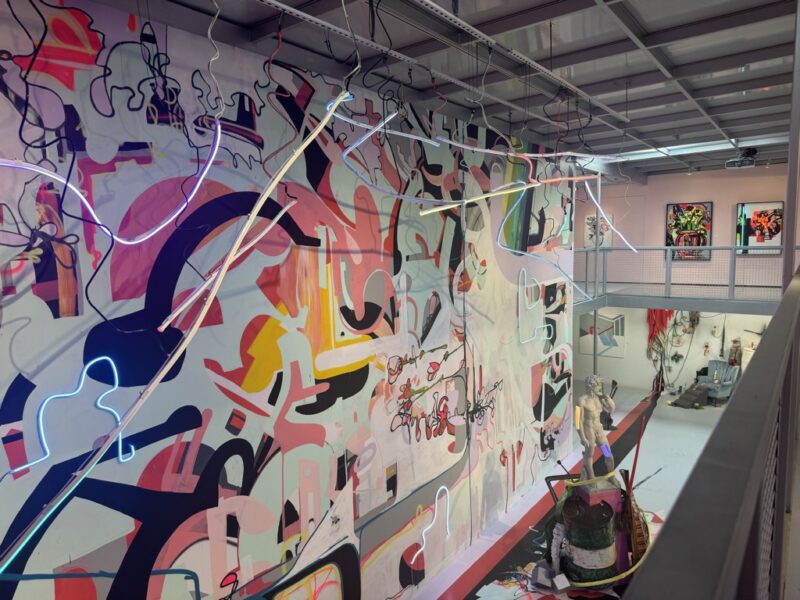 Meow Wolf is one of those rare feats that managed to breach the art world and dazzle the collective with a fury of bold daring. Co-founder Matt King tragically took his own life last year. A sweeping retrospective of his inventive oeuvre is on view at CONTAINER, an experimental project by local gallery Turner Carroll, who I actually first learned of last year at the Dallas Art Fair. The shipping container space itself is a spectacle, and an effort by its organizers to create a fusion gallery and institution. "Becoming Light" strikes this precise balance, with extensive wall text and veritable artifacts from King's creative life, like a hallway full of his early works from the last two decades. Some are for sale. It feels like more aren't. "Becoming Light" takes flight. Through November 5
Play your cards right, and you might meet the kinetic sculptures of Frederick Prescott out in the wilds first. If you're not up for the scavenger hunt, head straight for Prescott's studio and gallery on Canyon Road, the heart of Santa Fe's commercial gallery scene. You'll know when you're there, but don't be shy — admiring from the road won't be enough. Inside, there's more intricate and mesmerizing moving sculptures, like a denser, smaller amusement park, scintillating with good times in store. Light is a huge part of Santa Fe's more modern art community. It appears over and over in exhibition titles. Prescott even plays with neon in some places, imbuing his offerings with even more life.
Of the three incredible shows at SITE Santa Fe right now, "Interference Pattern" by Nicholas Galanin presents unparalleled depth. The show opens with this powerful neon installation, commissioned by the institution — then it winds and winds around hallways, rooms, and mediums, from sculpture to film to textile. Born and raised in Sikta, Alaska, Galanin is inspired heavily by his Tlingit and Unangax descent. He translates Indigenous principles into our troubling contemporary times — not settling for malaise, often posing solutions, like the maps of museums with stolen artifacts on hand that Galanin's painted on the backs of animal hides, across from a neat set of gleaming, engraved lock picks. It all feels like an astounding sensory feast first, and a call to arms. Through February 5
In the early 1980s, Michael Horndeski transitioned from painting with oil and knife to knife and acrylic — then acrylic with water, inspired by a Jackson Pollock documentary, and because he'd bought up all the Lone State's acrylic retardant, necessary to help him ply the fast-drying material with his tool. Works from the decades since fill out his studio gallery on Canyon Road. I think they're truly hypnotic. Two big pieces are pinball machines, but it wasn't until Hordenski came out to demonstrate that I understood they're actually functional. In fact, the artist got banned from New York's Outsider Art Fair last year because the launcher on one was too loud. Another uses a hand-held launcher to shoot balls into a funnel above. Another work had doors around its frame with images of the sequential layers he'd worked over in stages. None of these paintings needed the extra elements, but they all added something, rather than stifling them. 
Numerous Indigenous communities live in and around Santa Fe today, but people from further flung tribes flock the city, particularly to attend the Institute of American Indian Arts — an historic school established in 1962 for the study of Native American and Alaskan art. Morning Star Gallery, a division of Santa Fe's esteemed Nedra Matteucci Galleries, strikes this same intersectionality, offering Indigenous artworks across eras and also geographies. One particularly striking moment they'd staged while I was there placed Oglala Lakota artist Dwayne Wilcox's triptych "Back Street Boys" (2022) alongside nine beaded Apache canes from the 1890s. The next room over had an entertaining cache of Wilcox's ledger drawings from the past decade, all in colored pencil.
Categories
Tags