Jennifer Guidi: 'And so it is' has opened at The Orange County Museum of Art. It is the artists' first US museum solo exhibition.
Known for her sand-and-acrylic creations that employ systematic mark-making to investigate the full spectrum of color, this exhibition spans a decade of her practice, introducing a curated selection of Guidi's works, including several significant new paintings on view for the first time, and a ground-breaking outdoor sculpture, Kundalini Rising(2023), which stands as the largest sculpture the artist has ever created to date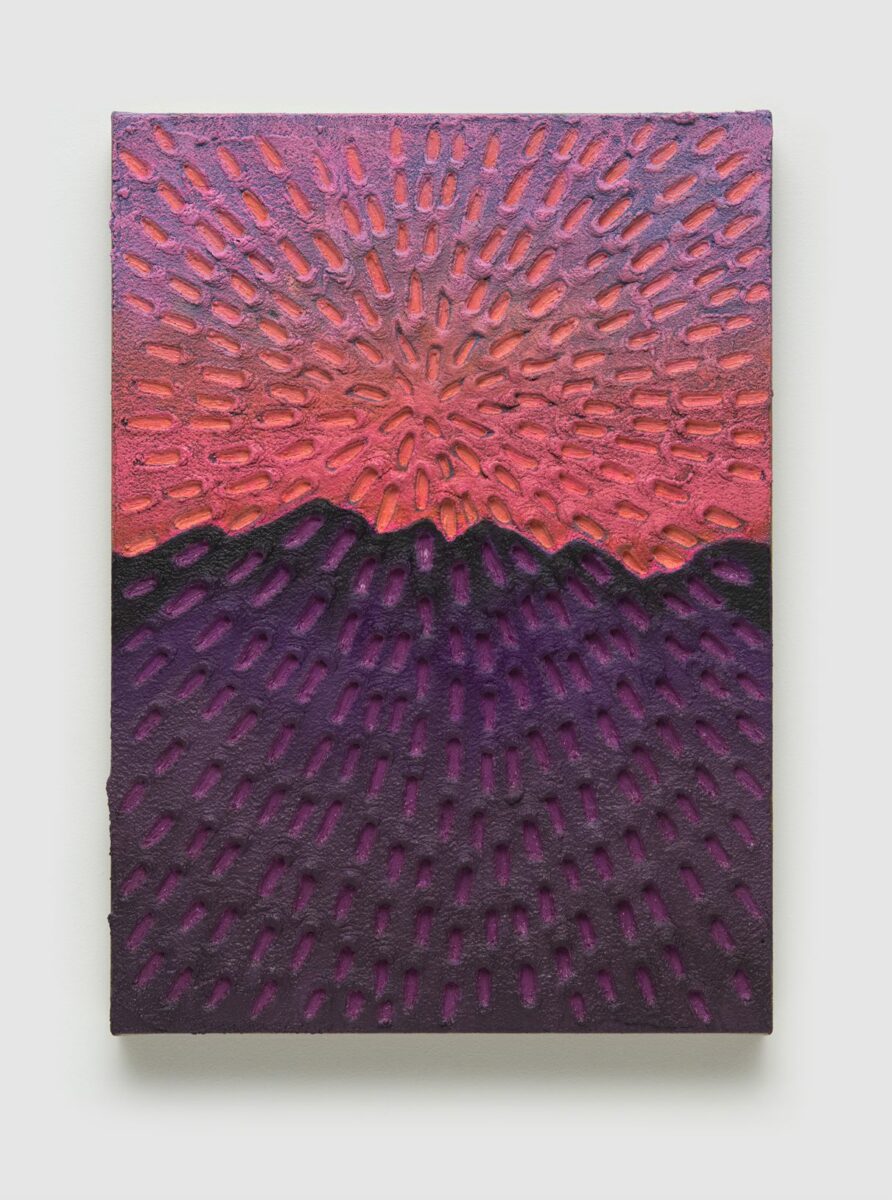 It is an honor to present Jennifer Guidi's first solo museum exhibition in the United States

And so it is. is an opportunity to explore the complexity and depth of this artist's body of work, one that is profoundly layered both in paint and meaning. It is a revelation to see how her work builds on the practices of artists like Agnes Martin, Georgia O'Keefe, and Agnes Pelton, drawing inspiration from a deep engagement with the world and offering us as viewers the opportunity for spiritual reverie.

Heidi Zuckerman, CEO and Director, Orange County Museum of Art, also curator of the exhibition.
Spanning from 2013 to the present, Guidi's artistic evolution is evident as she transitioned from employing lines as the foundational elements of her compositions, upon which she placed stitch-like marks, to her current approach involving the creation of concentric, repeated, and carefully crafted perforations that emanate from a central focal point. This transformation offers a window into Guidi's artistic odyssey, showcasing her establishment of mark-making with sand—a technique entirely her own.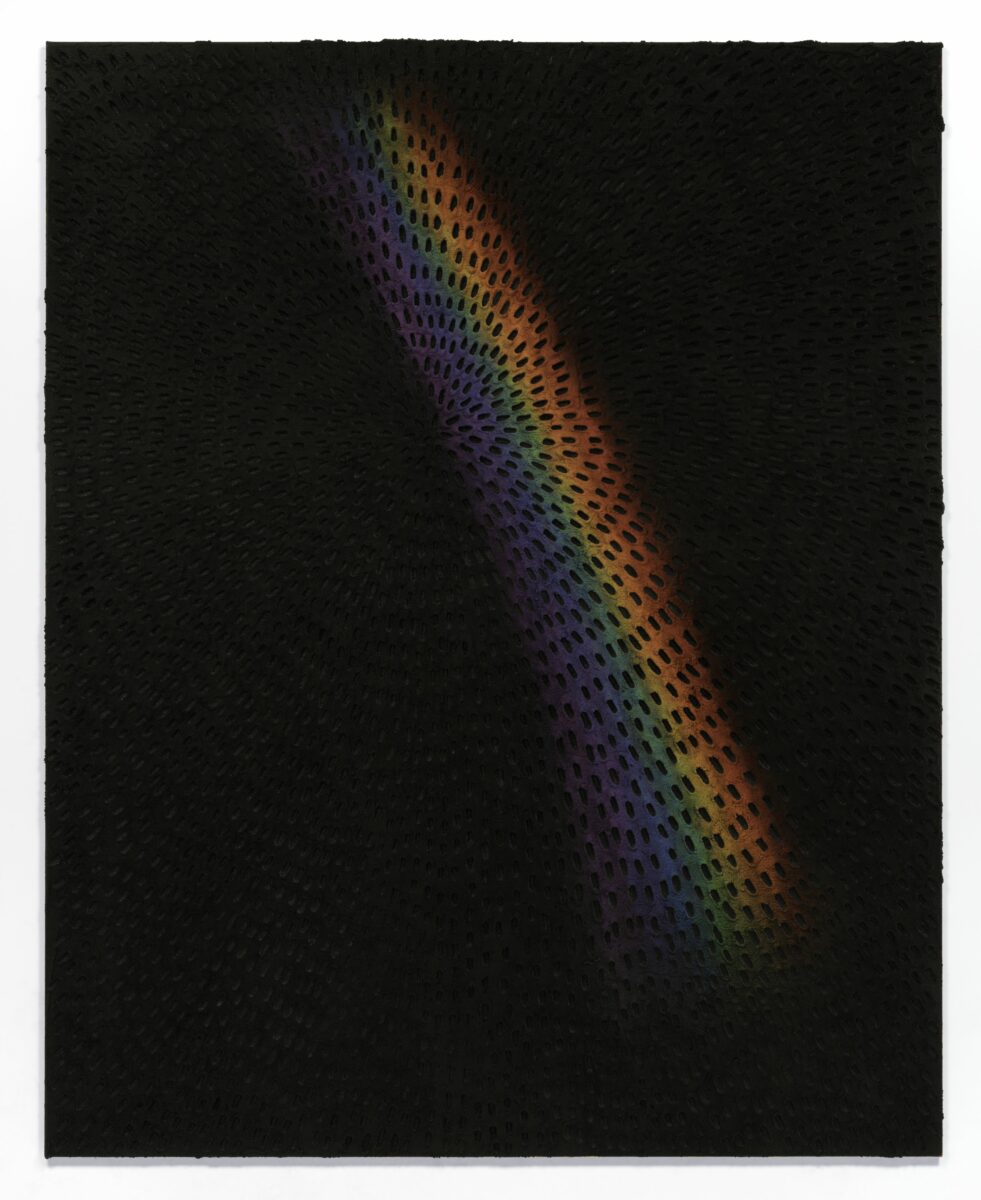 The exhibition encompasses six parts of her practice: Sand Mandalas, Universe Mandalas, landscapes, shapes, works on paper, and sculptures. The Sand Mandala series, in which she presses divots into a thick layer of wet sand with a dowel, was a pivotal juncture in her practice, arriving during a transformative moment when observing Tibetan monks making sand mandalas, where intricate patterns radiate from a central focal point.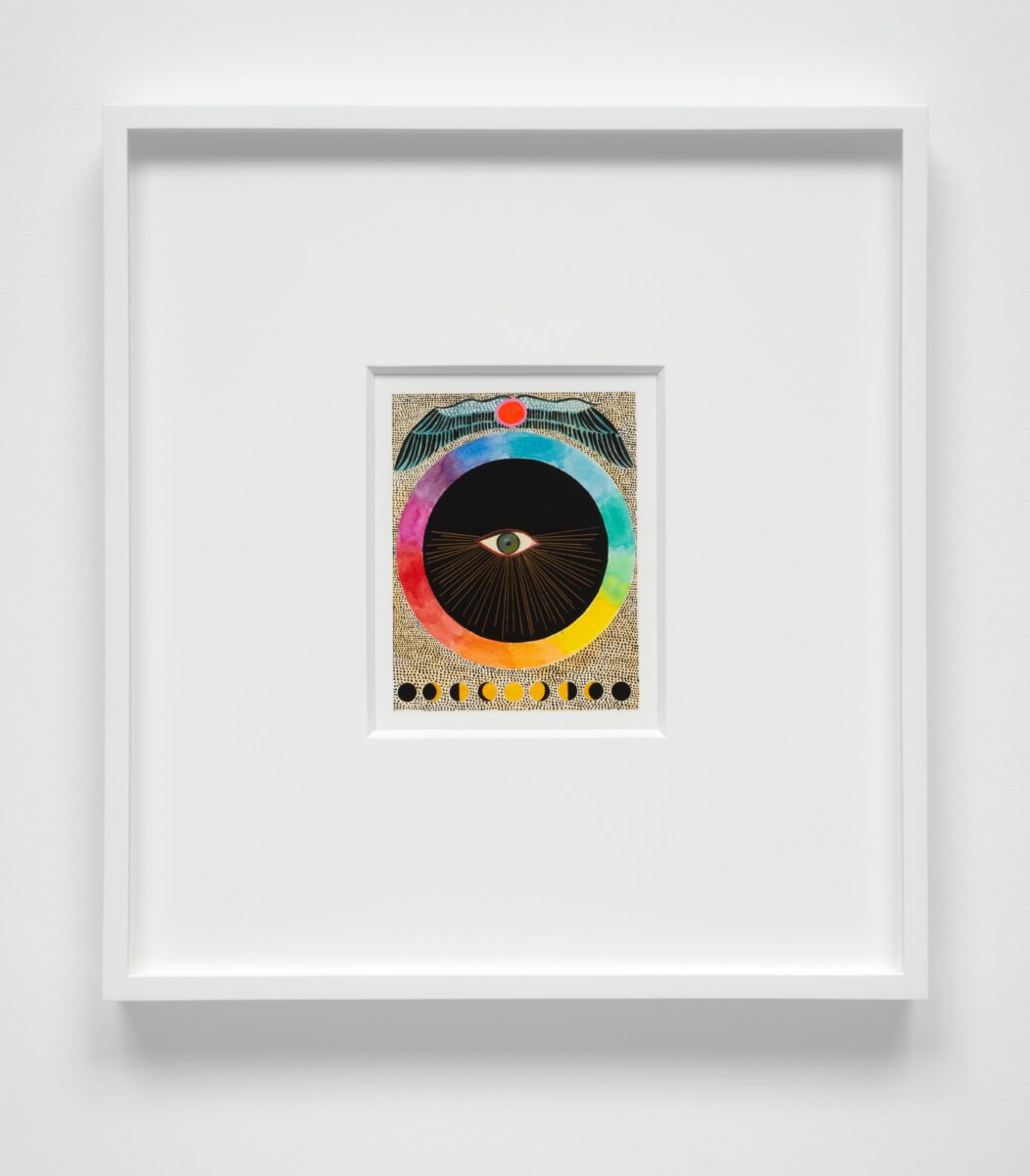 Guidi's methodical system, which uses ritualistic procedures and repetitive patterns, continues in her landscape paintings that focus on the importance of place. It brings her back to the point where abstract and figurative boundaries blur and her consistent interest in the colors of California—the fleeting pink and red of sunrises and sunsets, the hazy light of Los Angeles, the snow-capped mountains seen from a distance from her studio. Her outdoor sculpture, Kundalini Rising (2023) serves as the culmination of her painterly and sculptural pursuits. It employs the serpent symbol—a motif intertwined with ancient mythologies and mysticism—as the central statement of her integrated artistic practice.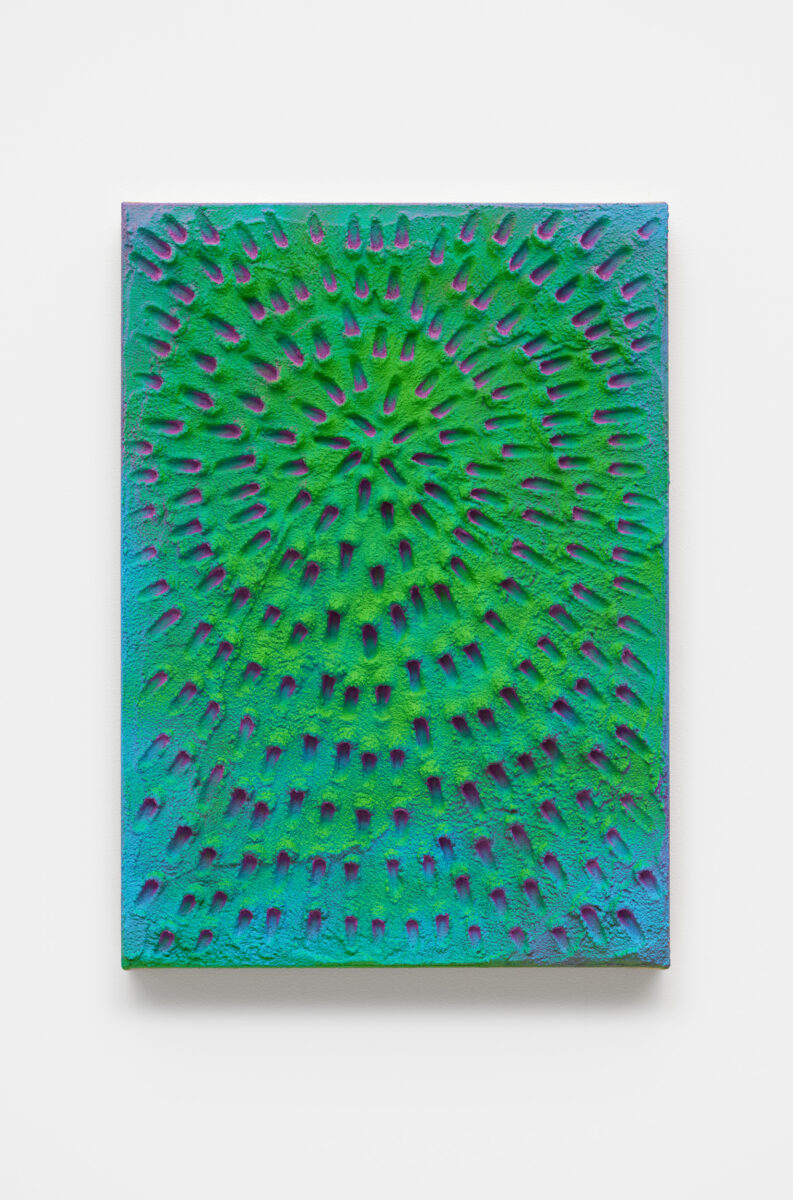 Drawing inspiration from the affirmative phrase "And so it is.," found in prayers of realization—which conveys that upon taking speaking intention, one then surrenders their wish to the universe and allows any outcome without attachment—the exhibition invites viewers to step into the artist's spiritual circle. Guidi often meditates for ideas and embraces the enlightenment that emerges through the process of artmaking. As the artist points out, the energy we invest in something becomes intertwined with the final
output. The signs and symbols originating from her work inevitably radiate outwards, enveloping the viewers, and creating an energy cycle that continues to circulate. Guidi's exhibition brings to life the concept of manifestation and transformation, encapsulating a convergence of art and spirituality, viewer and object, and intention and idea.
JENNIFER GUIDI: And so it is. September 15, 2023 – January 7, 2024, The Orange County Museum of Art
Jennifer Guidi: And so it is. is organized by Heidi Zuckerman, OCMA's CEO and Director.
About the artist
Born in Redondo Beach, California in 1972, Jennifer Guidi received a BFA from Boston University, MA and an MFA from the School of the Art Institute of Chicago, IL. Guidi has been the subject of solo exhibitions at Chateau La Coste, Le Puy-Sainte-Reparade, France (2023); Long Museum West Bund, Shanghai, China (2022); Museo Villa Croce, Genoa, Italy (2017); and LAXART, Los Angeles, CA (2014). Recent group exhibitions include A Possible Horizon, de la Cruz Collection, Miami, FL(2020); One Day at a Time: Manny Farber and Termite Art, Museum of Contemporary Art, Los Angeles, CA (2018); Generations: Female Artists in Dialogue, Part I, Sammlung Goetz, Munich, Germany(2018); NO MAN'S LAND: Women Artists from the Rubell Family Collection, National Museum of Women in the Arts, Washington, D.C. (2016) and Rubell Family Collection, Miami, FL(2015); and The Afghan Carpet Project, Hammer Museum, Los
Angeles, LA(2015). Her work is in the permanent collections of the San Francisco Museum of Modern Art, CA; Dallas Museum of Art, TX; Los Angeles County Museum of Art, CA; and Guggenheim Museum, New York, NY, among other institutions. Guidi lives and works in Los Angeles.
Categories
Tags