Hauser & Wirth has announced representation of artist Sonia Boyce, in collaboration with Apalazzo Gallery, Brescia, Italy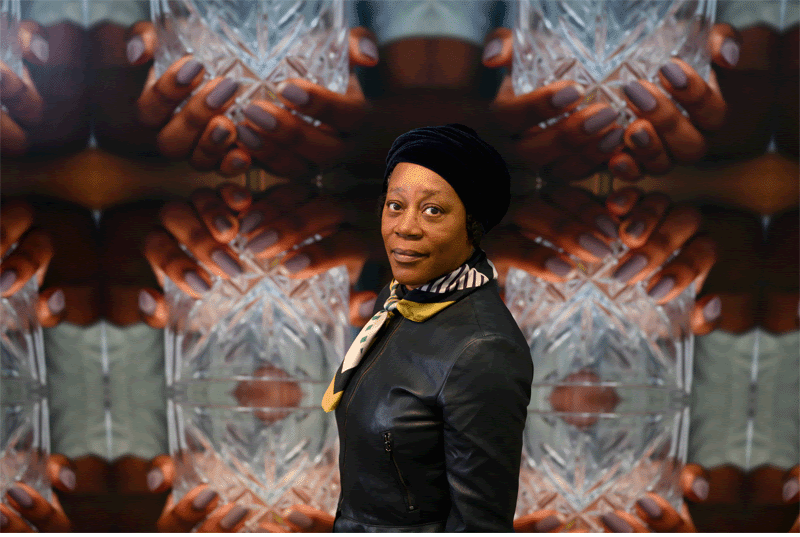 Over the course of four decades, Sonia Boyce OBE RA has developed a powerfully original practice that transcends boundaries as an interdisciplinary artist and academic working across film, photography, print, sound and installation. Boyce creates immersive and experiential spaces that explore themes of play, disruption and revelation in which the audience become active participants.
In 2022, Boyce presented 'Feeling Her Way', commissioned for the British Pavilion at the 59th International Art Exhibition – La Biennale di Venezia for which she was awarded the Golden Lion for Best National Participation. The exhibition is currently on view at Leeds Art Gallery, UK, as part of a continuing international tour. In a collaboration with five Black female musicians, the project features sounds – sometimes harmonious, sometimes clashing – that embody feelings of freedom, power and vulnerability among Boyce's video works, signature tessellating wallpapers and golden geometric structures. The work expands on Boyce's 'Devotional Collection', an archive built over more than two decades and spanning more than three centuries, which honours the substantial contribution of Black British female musicians to transnational culture.
Boyce first came to prominence in the early 1980s as a key figure in the burgeoning British Black Arts Movement with figurative pastel drawings and photo collages that addressed issues of race and gender in Britain. In the early 1990s, Boyce made a shift towards a conceptual practice which led to significant multi media and improvisational works, distinctly focused on collaboration, movement and sound. Working across a range of media, Boyce's practice today is focused on questions of artistic authorship and cultural difference. She continues to break new ground through her commitment to questioning the production and reception of unexpected gestures, with an underlying interest in the intersection of personal and political subjectivities.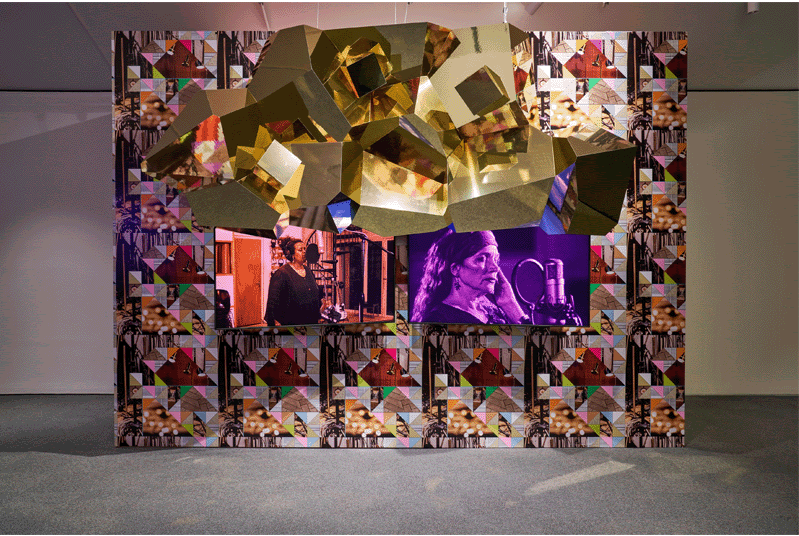 For nearly forty years, Boyce has consistently worked within the art school context where she has made invaluable contributions to reshape the discourse of art through her work as an academic. Since 2014 she has been a Professor at University of the Arts London, where she holds the inaugural Chair in Black Art & Design. A three-year research project into Black Artists and Modernism culminated with the 2018 BBC Four documentary 'Whoever Heard of a Black Artist? Britain's Hidden Art History', exploring the contribution of overlooked artists of African and Asian descent to the story of Modern British art.
Manuela Wirth, President, Hauser & Wirth says,
It is such a great honour that Sonia Boyce has joined our gallery. A remarkable pioneer, Sonia's highly original practice combines not only conceptual rigour and joyful creativity, but also generosity to the audience who become active participants, along with her fellow collaborators. In this way, Sonia has created a vocabulary wholly her own – consistently finding new approaches to making art that embrace experimentation with humanity and social practice at its core. At Hauser & Wirth we believe that art is a transformative force and our own global learning programs are a reflection of this ethos. We look forward to collaborating with Sonia in the years ahead.
Boyce's first exhibition with Hauser & Wirth will be held in 2025.
Boyce's work is held in the collections of Tate, London, UK; Victoria & Albert Museum, London, UK; Arts Council Collection, London, UK; The Government Art Collection, London, UK; British Council Collection, London, UK and Pallant House Gallery, Chichester, UK
Boyce holds three honorary doctorates from the Royal College of Art (2019), the Courtauld Institute of Art and Birmingham City University (2023), and an honorary fellowship from Norwich University of Arts (2022)
About the Artist

Sonia Boyce OBE RA was born in London, UK in 1962, where she continues to live and work. In 1980, she completed a foundation course in art and design at East Ham College of Art and Technology, London, and in 1983, she received a BA in fine art from the former Stourbridge College in Stourbridge, England.
During her time at Stourbridge College, Boyce attended the First National Black Art Convention at the nearby Wolverhampton Polytechnic. It was here that the artist would meet peers Lubaina Himid and Claudette Johnson, and become part of the British Black Arts Movement of the 1980s. Her large-scale pastel works from this brief period depicted domestic scenes from Afro-Caribbean life in the UK, drawing on Boyce's personal experiences from her family and childhood. Foregrounding her own experience, works such as 'Missionary Position II' (1985) and 'She Ain't Holding Them Up, She's Holding On (Some English Rose)' (1986), explore questions of identity, race and cultural difference, themes, along with self-narration, that would continue to inform her career.
Boyce moved away from self-representation soon after and embraced an increasingly conceptual, social art practice. Utilising a range of media including photography, video and installation, her work developed into a collaborative mode of working, engaging with the audience in playful yet provocative situations. Despite this shift in method, issues of the body would remain central at this stage. In the early 90s, the artist began buying and collecting hair from Afro-Caribbean hair shops, which she turned into a series of 50 small, handheld sculptures from her Do You Want to Touch? series, objects that Boyce describes as 'fragments of the African diasporic body'. Questions of the Black body as 'other' are also explored in the photographic installation work 'The Audition' (1997), in which Boyce invited members of the public to be photographed wearing a costume afro wig.
Since 1990, Boyce has been closely collaborating with other artists, frequently involving one- off improvisations and spontaneous performative actions made by the collaborators. Key works in subsequent decades include Boyce's filmed improvisational performance 'For you, only you' (2007) that brought together a choir singing a piece of 15th-century sacred music and the artist Mikhail Karikis, who communicates with the choir in a series of non-verbal stutters and guttural vocalisations. In later works such as 'We Move in Her Way' (2017), the artist combines improvisational sound and movement performances from Elaine Mitchener and Barbara Gamper. Boyce documents these improvised encounters without intervening, and later constructs them into immersive multi-media installations.
For her latest installation work, 'Feeling Her Way' (2022), part of her presentation for the British Pavilion at the 2022 Venice Biennale which was awarded the Golden Lion, Boyce recorded five intergenerational Black female musicians interacting, improvising and playing with their voices, exploring the notion of what it means to be free. As Boyce says of her interest in exploring social dynamics, 'I'm more interested in human responses than anything else…how to learn, how to listen, how to watch things and be in it; not be separate from it, not to have a kind of arm's length relation to what might be unfolding with other people.' The work expands on Boyce's 'Devotional Collection', an ongoing archive project begun in 1999 which celebrates and brings into focus Black British female musicians, many of whom have been underacknowledged. The project has featured in exhibitions including a retrospective of Boyce's work at Manchester Art Gallery in 2018
Boyce has been the recipient of numerous awards. In 2022, Boyce represented the UK at the 59th International Art Exhibition – La Biennale di Venezia with 'Feeling Her Way', a major new commission for the British Pavilion, for which she was awarded the Golden Lion for Best National Participation. In 2019, the artist received an OBE for services to art in the Queen's New Year Honours List. In 2016, Boyce was elected a Royal Academician, and received a Paul Hamlyn Artist Award. Between 2012 and 2017, Boyce was Professor of Fine Art at Middlesex University and since 2014 she has been Professor at the University of the Arts London. As the inaugural Chair of Black Art & Design she led on a three-year research project into Black Artists & Modernism, which led to a BBC documentary 'Whoever Heard of a Black Artist? Britain's Hidden Art History' (2018).
Recent solo exhibitions include 'Feeling Her Way' The British Pavilion, Venice, Italy (2022), touring to Turner Contemporary, Margate (2023), Leeds Art Gallery (2023); 'In the Castle of My Skin', Eastside Projects, Birmingham, UK (2020), touring to Middlesbrough Institute of Modern Art (MIMA), Middlesbrough, UK (2021); 'Sonia Boyce', Manchester Art Gallery, Manchester, UK (2018); 'Sonia Boyce: We move in her way', Institute of Contemporary Arts, London, UK (2017) and 'Paper Tiger Whisky Soap Theatre (Dada Nice)', Villa Arson, Nice, France (2016). In 2015 she was included in All the World's Futures, the International Exhibition of the 56th Venice Biennale, curated by Okwui Enwezor.
Categories
Tags