Art on Paper, New York City's celebrated, medium-driven fair returns to downtown Manhattan's Pier 36 from September 7th–10th, 2023 for its 9th edition.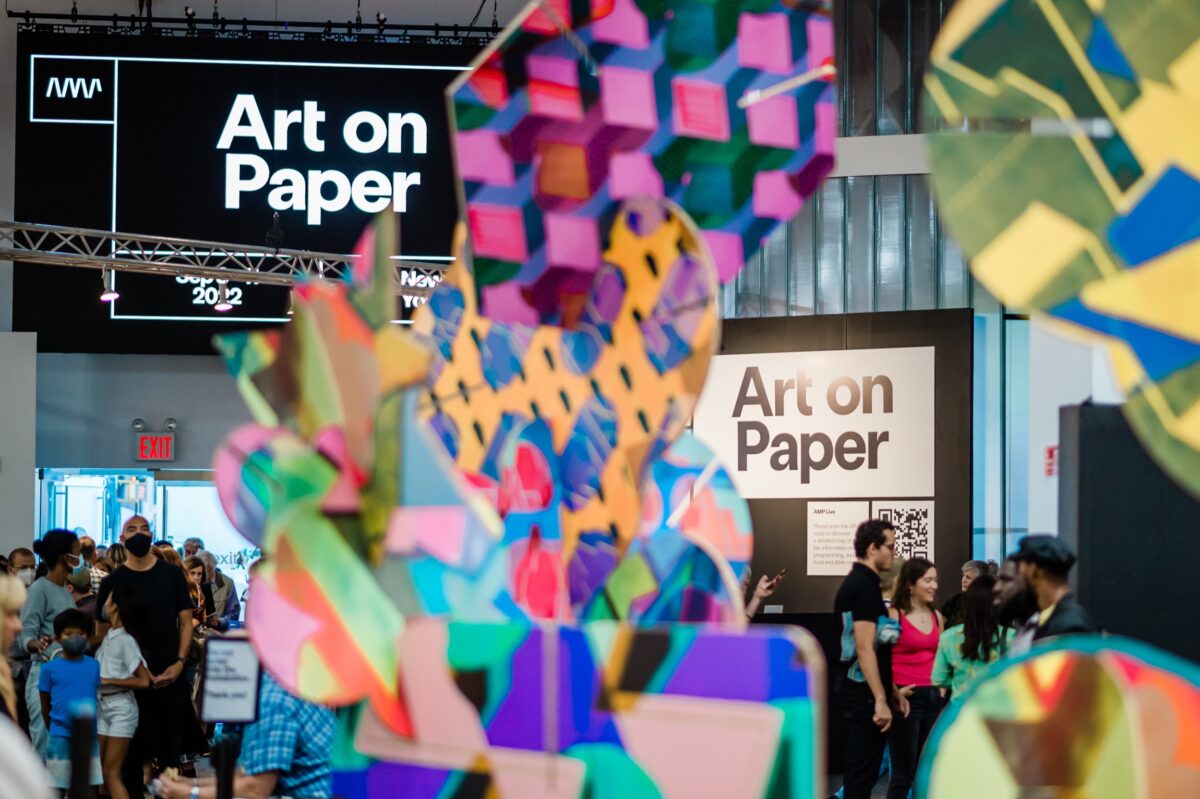 Coinciding with Armory Arts Week, the prestigious event will feature 100 galleries showcasing the very best in modern and contemporary paper-based art, alongside a robust program of compelling installations and events that highlight the creative potential of paper curated by author, curator, and self-described "cultural infrastructure builder" Nato Thompson, who joined Art Market as the fair's Creative Director.
Renowned for its distinctive approach, Art on Paper has consistently pushed boundaries and transcended artistic conventions, and established itself as an essential destination for art enthusiasts, collectors, and industry professionals. Its unique blend of captivating exhibitions and renowned galleries ensures an enriching experience that celebrates the diversity and ingenuity of contemporary paper-based art. In this 9th edition, Thompson – whose experience includes a decade-long tenure overseeing projects at Creative Time and providing artistic direction for Philadelphia Contemporary and MASS MoCA, along with Art Market's portfolio of fairs – will create an even more engaging, immersive experience for patrons with an expanded lineup of special projects, talks and performances that demonstrate the versatility and expressive power of this remarkable medium.
This year a collaboration with the Center for Book Arts (CBA) will debut a unique artists' book fair, emphasizing the book as a distinctive art form. In this inaugural BOOKSMART FAIR, CBA has enlisted eight esteemed institutions to exhibit, each of whom will bring a curated selection of artists' books that engage the form in a myriad of ways—ranging from highly tactile and physical objects to conceptual works. Participating organizations in the inaugural BOOKSMART FAIR include Women's Studio Workshop, Visual Studies Workshop, MoMA Library Council, Center for Book Arts, Dieu Donné, CODEX Foundation, Book/Print Artist/Scholar of Color Collective, and 10×10 Photobooks.
Highlights:
The Book/Print Artist/Scholar of Color Collective will showcase Deep Time by Rhada Pandey, an eloquent visual representation of Scottish geologist James Hutton's concept of deep time. Presented in a clamshell box, Deep Time consists of a series of 19 4 x 6 inch unbound sheets, each dyed with indigo at the bottom to represent water and cloves at the top to represent soil. Each page has a series of cut-outs representing the three highest physical boundaries on Earth's surface: the Tibetan Plateau, the Andes mountain range, and the Kanza'gyal mountain range. As the pages are turned and stacked inside the opposite side of the clamshell box, the cut-outs deepen, building or receding as the reader progresses through the book.
MoMA Library Council will present Charles LeDray's Book Ends, a series of miniature reproductions of used books. LeDray's volumes are miniaturized, abridged, and altered versions of eighteen used books that the artist found in secondhand shops, yard sales, or on the streets of New York and his own library. The list of eighteen—including titles such as Our National Calamity of Fire, Flood and Tornado (1913), I Saphho of Lesbos, Autobiography of a Strange Woman (1960), and Caleb, Who Is Hotter Than a $2 Pistol (1975)—recall and reveal the multiple histories and fragile aspirations and creations of another era. The artist's constructed artifacts, seemingly marked by the passage of time, illuminate the journey of a set of books through the twentieth and twenty-first centuries.
Visual Studies Workshop Press will display the sold-out book African Americans, Civil Rights, Jesse Owens by Amanda Chestnut, with one copy available for purchase a the fair. Several years ago, Rochester-based artist Chestnut was researching in Visual Studies Workshop's Soibelman Syndicate News Agency Archives and observed how photographs of Black subjects were treated differently than images of non-Black people and subjects. Not only did the photographers and the news agency treat the subjects differently, but our organization's archivists clearly had as well. As a 2020 resident in VSW's Project Space, Chestnut worked with us to publish this remarkable archive/book that re-claims the other-ness of Black photographic subjects as well as the innumerable attempts to personally other the Black artist and her family for much of her life.
Established in 1974, the Center for Book Arts has been a beacon for the appreciation and development of book arts. Among the participants are prestigious organizations like Women's Studio Workshop, MoMA Library Council, and Visual Studies Workshop.
Visitors will also be treated to an array of projects, including a large-scale work by Tariqa Waters (named one of Seattle's Top 25 Most Influential Artists); three large-scale painted cardboard works by Fitzhugh Karol; a site specific work that will evolve throughout run-of-show by Striped Canary: Stephen B. Nguyen and Wade Kavanaugh; and a 300 piece glazed paper clay shrine to grunge NYC by Danish artist Rose Eken presented by Alchemy Gallery, amongst others. This year will also feature a reintroduction of the curated Flat Files focus section of the fair which highlights fine art printmakers and publishers from around the world. Flat Files exhibitors will include Mannekan Press, Inky Editions, Lily Press, Kingsland Editions, Oehme Graphics, and Lincoln Center Editions.
Corresponding to this re-launch, Art on Paper will introduce new educational and interactive initiatives providing attendees with opportunities for deeper understanding of printmaking and other paper-based mediums. Part of the experiential initiative includes a live printmaking workshop by Shoestring Press, a Brooklyn-based fine art print studio and membership-based shared workspace. Throughout the fair, they will showcase demonstrations of various printmaking methods and create editioned works available exclusively at the fair by artists like Mike Perry, Victoria Carter, Layla Nami and more. Attendees can also participate in free workshops, including a linocut workshop and silkscreen printing on tote bags. As an additional highlight, on opening night they'll be doing a special live printing of a 50-piece edition, 5-color, 18×18 Mike Perry silkscreen, which will be available for purchase at the fair.
Additional exhibitor highlights include Accola Griefen showcasing the works of two significant American women artists: Judy Pfaff and Barbara Zucker, an originator of the Feminist Art Movement and founder of the first all-women's gallery in the U.S. Commonweal Gallery will feature Anne Minich's selected works on paper from the past 50 years, where she explores themes of sexual desire, violence, spirituality, and the human condition with her rebellious sense of humor and technical expertise. ELEGAL will present a number of charcoal drawings, pieces in acrylics, gouache, and watercolors by George Petrides. Though best known for his sculptural works, the famed artist has done works on paper for years as well. Forum Gallery will captivate audiences with a rare and breathtaking drawing by Kent Bellows, a highly regarded figurative draftsman. J. Rinehart Gallery will exhibit the remarkable printmaking talents of Kelda Martensen and Kim Van Someren, each recognized as innovators in their field. And ADLAR Studio will be presenting prints by Kenny Scharf, Analia Saban, Shane Guffogg, Matthew Brandt, and the Haas Brothers, all of which will offer an additional unique augmented reality experience through their proprietary app, adding a new dimension to each of the pieces.
Art on Paper has also announced the official partnership with the Lower Eastside Girls Club, an organization dedicated to empowering young girls through arts and education; a collaboration that truly reflects the fair's commitment to fostering inclusivity and supporting community initiatives. As part of this partnership, the Lower Eastside Girls Club will feature work by artist-in-residence, instructor and visual storyteller, Destiny Mata – the Mexican American photographer and filmmaker based in New York City known for her focus on issues of subculture and community.
Some of Art on Paper's cultural partners for this 9th edition will include the International Studio & Curatorial Program, Magazzino Italian Art, Morgan Library & Museum, Neue Galerie, Art Table, Center for Contemporary Printmaking, Print Club NY, the Association of Women Art Dealers (AWAD), Parlor Social Club, POWarts, the Cultivist, the Visual Arts Center of New Jersey, and Print Center New York, who will have a special booth at the fair showcasing their benefit prints.
All combined, Art on Paper's visual, and experiential moments have set the fair apart for years. Taking place at Pier 36, a spacious and museum-like venue, provides the perfect setting to engage with a wide range of artistic expressions. From prints and drawings to three-dimensional paper sculptures and more, visitors will be immersed in a world where paper comes alive with imagination and artistic brilliance.
2023 EXHIBITORS
+ARTE – Quito, Ecuador
+GALLERyLABS – Buenos Aires, Miami, New Haven, NYC
Able Fine Art – New York, NY
AC LATIN ART – Buenos Aires, Miami
Accola Griefen Fine Art – New York, NY
Adamar Fine Arts – Miami, FL
ADLAR Studio – Los Angeles, CA
AHA Fine Art – New York, NY
Alchemy Gallery – New York, NY
amArtHouse Gallery – Bantam, CT
AroundSpace Gallery – Shanghai, China
Art Mora Gallery – Ridgefield Park, NJ
ArteLatAm – Brooklyn, NY
ArtStar – New York, NY
Azart Gallery – Woodstock, NY
Bernay Fine Art – Great Barrington, MA
Bertrand Productions – Philadelphia, PA
Black & White Gallery/Project Space – Southampton, NY
BoxHeart Gallery – Pittsburgh, PA
Candela Gallery – Richmond, VA
Catalyst Contemporary – Baltimore, MD
Clark Gallery – Lincoln, MA
Commonweal Gallery – Philadelphia, PA
David Lusk Gallery – Nashville, TN
dieFirma – New York, NY
Donopoulos International Fine Arts – Thessaloniki, Greece
Electric Works – San Francisco, CA
ELEGAL – Athens, Greece
Emmanuelle G Contemporary – Greenwich, CT
Forum Gallery – New York, NY
Fremin Gallery – New York, NY
Friedrichs Pontone – New York, NY
Frosch & Co. – New York, NY
Galeri/Miz – Istanbul, Turkey
Galeria Casa Cuadrada – Bogotá, Colombi, Miami, Zürich, Switzerland
Galleria Anna Marra – Rome, Italy
Gallery Artlink – Seoul, South Korea
Gallery SoSo – Seoul, South Korea
Garvey | Simon – San Anselmo, CA, NYC
George Billis Gallery – New York, NY, Fairfield, CT
Ginza Gallery G2 – Tokyo, Japan
Harman Projects – New York, NY
ILevel – New York, NY
Inky Editions – Hudson, NY
Inna Art Space – NYC, Huangzhou, China
J Rinehart Gallery – Seattle, WA
Jade Flower Gallery – Seoul, South Korea
John Natsoulas Gallery – Davis, CA
Jonathan Ferrara Gallery – New Orleans, LA
K. Imperial Fine Art – San Francisco, CA
K+Y Contemporary – Paris, France
karyn mannix contemporary – East Hampton, NY
Kathryn Markel Fine Arts – NYC, Bridgehampton, NY
Kingsland Editions – Brooklyn, NY
LAMINA Project – New York, NY
LewAllen Galleries – Santa Fe, NM
Lily Press – Rockville, MD
Lincoln Center Editions – New York, NY
LnS Gallery – Miami, FL
Manneken Press – Bloomington, IL
Marlborough Graphics – NYC, London, UK
Marloe Gallery – Brooklyn, NY
Michele Mariaud Gallery – New York, NY
MM Fine Art – Southampton, NY
Muriel Guépin Gallery – New York, NY
New Apostle Gallery – Mount Vernon, NY
Nicolas V. Sanchez – New York, NY
Oehme Graphics – Steamboat Springs, CO
Patrick Heide Contemporary Art – London, UK
QingYunGe Gallery – Changzhou, China
Shueisha Manga-Art Heritage (SMAH) – Tokyo, Japan
Spanierman Modern – New York, NY
Spence Gallery – Toronto, Canada
Stanek Gallery – Philadelphia, PA
Stoney Road Press – Dublin, Ireland
Studio Artego – Queens, NY
TAG Fine Arts – London, UK
The Tolman Collection – New York, NY
Timothy Yarger Fine Art – Los Angeles, CA
Uprise Art – New York, NY
Vertu Fine Art -Boca Raton, FL
Yelena Lezhen Art – New York, NY
Art on Paper, Pier 36, Downtown Manhattan, 299 South Street New York, 10002, Opening Preview: Thursday, September 7th 6:00pm — 9:00pm Public Friday, September 8th – Sunday, September 10th | 11:00pm — 6:00pm thepaperfair.com
About
AMP is a creative events firm that designs, builds, promotes and produces important cultural experiences worldwide. Since 2011, AMP has produced art fairs that focus on a high-quality and engaging fair experience by connecting collectors with galleries in the most optimal settings. AMP's current portfolio contains four major art fairs including Art on Paper, Art Market Hamptons, Art Market San Francisco, and Seattle Art Fair thepaperfair.com
Categories
Tags