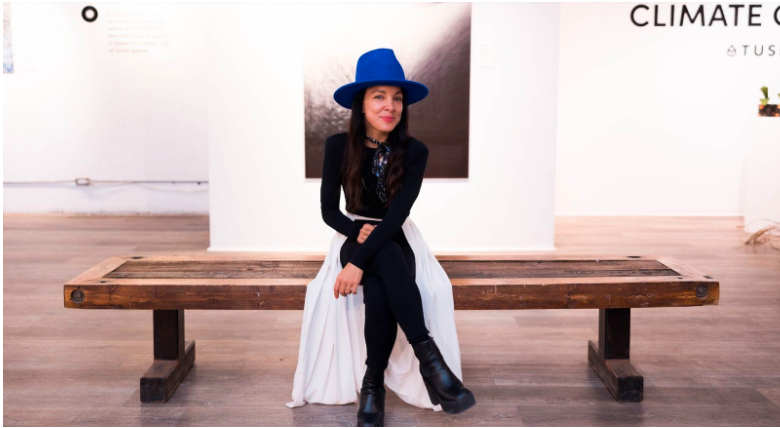 Would you want to be accepted by a club filled with a bunch of a**holes? Many a**holes joined the crowd for "A**hole Activists," an art exhibit at Arta Gallery in Toronto on June 1st, 2023.
The event encouraged participants to wear clothing that showed their backside as a visual reminder that toilet paper isn't environmentally friendly. (With so many bums on display, Arta Gallery only allowed guests 18 and older to attend.) The event wasn't all about champagne and naked butts, though.
Canadian entrepreneur Miki Agrawal produced the "A**hole Activists" art exhibit to educate guests about an earth-friendly alternative to toilet paper: the bidet. Agrawal spent eight years perfecting her company's line of modern bidets – TUSHY – and knows a bit about backsides.
Agrawal organized "A**hole Activists" as a lead-up to World Environment Day on June 5; she wanted to publicize facts about toilet paper. According to the Natural Resource Defense Council, toilet paper production has razed 28 million acres of Canadian forests since 1996.
These forests are critical to combating climate change by absorbing carbon dioxide. Utilizing a bidet can trim a person's lifetime toilet paper usage by 80 percent.
By confronting viewers with this uncomfortable metaphor for World Environment Day, we're exposing the damage we're doing to our planet
Agrawal said.
We hope that it will spur positive, everyday change. From this focused attention, we aim to slow – or better yet completely end – the future chopping of trees in the Canadian Boreal Forest for the use of toilet paper.
Entrepreneur Miki Agrawal Shifts Her Brilliance from Underwear to Derrieres
The road to the "A**hole Activists" art exhibit began a few centuries ago in France. The bidet's invention was credited to Christophe des Rosiers, an 18th-century French furnituremaker who worked for the royal family. The World Toilet Organization cites a French publication that coined the term circa 1710.
Bidets soon became critical for the upper class. The French government even gave one to Queen Marie Antoinette after imprisoning her in 1792.
The word "bidet" means "pony" in French, as users "straddled" the miniature, bathtub-like fixture where water cleans people's privates after
use of the chamber pot. The bedroom or dressing chamber stored both household appliances.
The road to Miki Agrawal's TUSHY bidet didn't wind through the French court but through her stores of ingenuity. Agrawal is about modernizing lifestyle items that need innovation. She was the brains behind THINX (period-proof underwear), and WILD (NYC's first gluten-free pizza concept).
A Wall Street dropout and Cornell University grad, she was named among "Fast Company's Most Creative People" in 2018. Miki Agrawal wrote two books to date; "Do Cool Sh*t: Quit Your Day Job, Start Your Own Business, and Live Happily Ever" and "DISRUPT-HER: A Manifesto."
To Tickle Every Fanny's Fancy, Miki Agrawal Invented Three TUSHY Styles
Unsurprisingly, Miki Agrawal, who has long tackled taboo topics, invented TUSHY bidets to modernize American bathrooms. She envisioned a device that would clean and prevent health problems. Beyond toilet paper's poor environmental impact, it isn't the most effective delivery system for wiping. Using toilet paper after poo-ing also contributes to health issues like UTIs, yeast infections, and itching.
Agrawal says, "I've always loved questioning the status quo and society's approach to things. Is there a better, more efficient, more environmentally friendly, more design-considered, more artful way to do them?"
TUSHY produces three bidet models: The TUSHY Classic and TUSHY Spa are chicly designed attachments. The TUSHY Ace is a full-blown toilet seat that warms the coldest keisters.
The TUSHY Classic – the best-selling bum rinser – is easy to install by connecting it to a toilet and existing water supply. It sends a stream of cool or room-temperature water to tidy the tushie.
TUSHY Spa – mechanically the same as TUSHY Classic – has a second hose to access warm water. TUSHY Spa's console features a temperature control dial so no one burns their bum.
The TUSHY Ace is more luxurious than any bidet straddled at the French court. It provides hot and cold water on demand, but you can always cool it off. The TUSHY Ace delivers myriad features: a remote control, a self-cleaning nozzle, five-setting temperature and water pressure controls, a heated seat and an air dryer. The TUSHY Ace is a bona fide throne.
TUSHY carries the power to do more than make backsides spick-and-span. A trip to India opened Agrawal's eyes to the country's lack of access to private toilets, despite the Indian government's move to eradicate open defecation. One-fifth of rural households lack access to toilets.
After her trip, Miki Agrawal enacted a corporate give-back program to help India tackle its defecation-related issues. Through the program, a portion of each TUSHY provides one family in India with access to clean community toilets by partnering with Samagra, an Indian social enterprise, to improve sanitation.
Agrawal says,
I feel a great sense of pride in having built successful companies that have tackled taboos head-on, are truly changing culture and are improving the lives of millions of people around the world.
Categories
Tags