When you picture an art investor, what do you see? Probably a wealthy individual in an auction house or a private gallery, perhaps surrounded by priceless masterpieces. While this stereotype has been true for as long as art investment has been around, it is rapidly changing thanks to innovative fractional investment platforms like Masterworks and the visionaries behind them.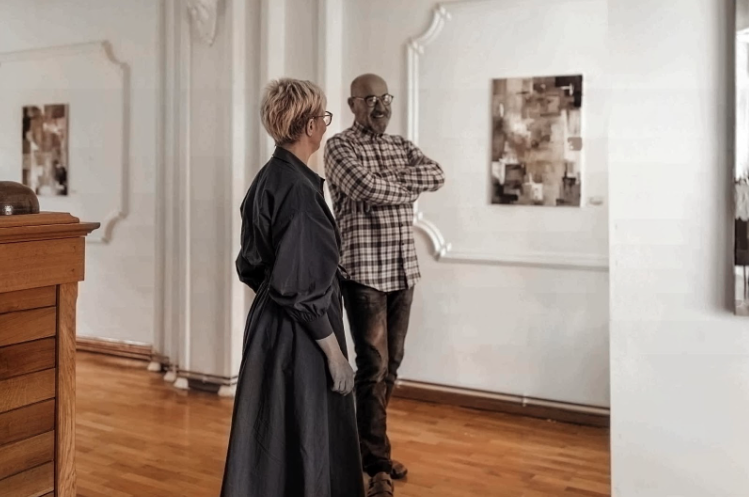 One such visionary is Evan Beard, the Executive Vice President at Masterworks whose latest venture, Level & Co., is set to redefine the art investment landscape – both in the digital and physical world.
The Launch of Level & Co.
In the vibrant epicenter of New York's art world, a new player has burst onto the scene. Level & Co., a secondary-market sales gallery, is not just another art dealer. It functions more like an art market merchant bank. It manages the sale of works from Masterworks and other institutional collections, while simultaneously offering market analytics to its clientele.
The gallery's focus is on post-war and contemporary artworks, those with a valuation exceeding $1 million, showcasing iconic artists of the 20th century such as Warhol, Basquiat, and Haring.
Level & Co. is poised to form commercial partnerships with various art market intermediaries, including galleries, art advisors, and auction houses, as well as the estates and foundations of the artists they represent. This cooperative strategy, coupled with its emphasis on high-value art, carves out a unique space for Level & Co. in the art market.
Moreover, the gallery intends to loan pieces from its collection to museum exhibitions and significant commercial displays, thereby amplifying its footprint and impact on the art scene.
The Role of Evan Beard in Level & Co.
At the helm of this innovative venture is Evan Beard, a seasoned art industry veteran with a track record of success.
Prior to his role at Masterworks, Beard built art financing departments at Deloitte and Bank of America, the latter of which became the world's largest art-secured lender. His wealth of experience and deep understanding of the art market are set to be invaluable assets to Level & Co.
Beard's vision for Level & Co. is clear. He aims to work closely with clients on the acquisition and market analysis front, leveraging his team's extensive market experience. This client-centric approach, combined with a focus on high-value contemporary art, sets Level & Co. apart in the crowded art market.
Beard's leadership is further strengthened by his team, which includes Katherine Reid, a former employee of Art Agency Partners and Sotheby's. Together, Beard and Reid have facilitated the sale of art worth $45 million in the past year, underscoring their formidable expertise and market acumen.
Masterworks: The Foundation for Level & Co.
Masterworks, the unique fractionalized art investment platform where Beard serves as EVP, has been instrumental in laying the groundwork for Level & Co. By securitizing individual pieces of art with the SEC, Masterworks has democratized access to blue-chip art, opening up opportunities for a broader audience.
This innovative approach has revolutionized the art investment industry, allowing individuals to invest in high-value artworks that were previously only accessible to the ultra-wealthy.
However, because Masterworks is a digital platform, some potential investors might have been skeptical, preferring to purchase works that they can examine with their own eyes. The launch of Level & Co. addresses these concerns head-on. As a physical gallery, Level & Co. provides a space where investors can see artwork up close and personal.
This not only enhances the investment experience but also adds a layer of transparency and trust to the process. Investors can now appreciate the tangible aspect of their investments, bridging the gap between the financial and aesthetic value of art.
The Future of Level & Co. and Art Investment
The inception of Level & Co. signifies more than just the emergence of a new gallery; it represents a transformative shift in the realm of art investment. There's no doubt that Level & Co. is well-placed to challenge the status quo of art investment, reshaping the definition of what it means to be an art investor in the process.
As Level & Co. embarks on its journey in the intricate and dynamic art market, it is met with a wide range of challenges and opportunities in a complex industry that's constantly undergoing change. Only time will tell whether the experienced leadership of Masterworks, Beard and the collective expertise of the team will be enough to help Level & Co. navigate this landscape and flip the art investment world on its head.
Categories
Tags