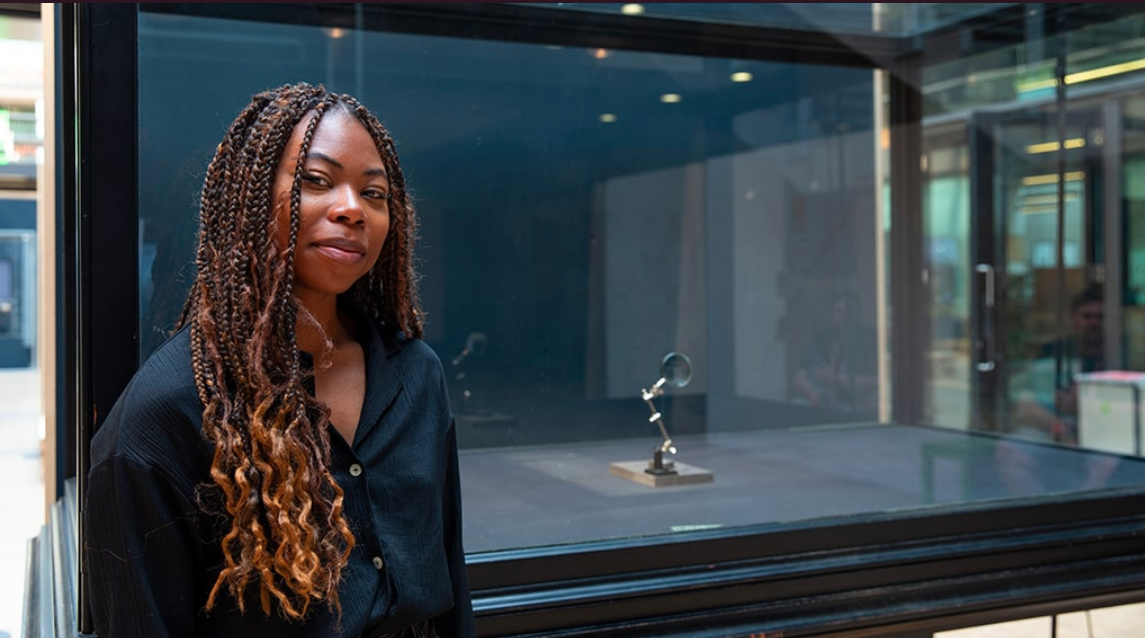 FAD managed to have a quick chat with the 5 finalists of the MullenLowe NOVA Awards 2023 here we have Liz Ebengo winner of the MullenLowe NOVA Award 2023 who graduated from the MA Material Futures course at Central Saint Martins who was chosen for her project CONTINUED.
Can you tell us about your practice and/or project
I am a narrative designer and material researcher with a passion for crafting stories across various mediums that compel people to justice. With a background in international law, materiality, and ethics, I specialize in weaving together provocative conversations that engage people with global issues.
Tragedies are etched into our memories, some that we choose to forget, and others too catastrophic to ignore. Climate policy and legislation often fail to engage with the urgency of protecting the values, places, and lived experiences of those affected. Low-lying areas will be submerged underwater, other regions turned into eternal dust and arguably the gravest tragedy of all will be the gradual loss of the rich and diverse flavors that make humanity so unique – our culture.
CONTINUED examines the sociocultural cost of adapting to climate change and our complicity in cultural erosion. I found one of the last female cultivators of a wild banana on one off the furthest remote islands of Vanuatu. Utilizing the capabilities of DNA storage to encrypt a library of sound and film all in a seed – her story that would be forgotten, will be remembered in the very plant that she cultivates.
What was the best thing about your time at Central Saint Martins?
Studying at CSM feels like a religious deconstruction moment where you are wrestling with who you were and who you are becoming through the work you make, and it is difficult. The best part of my time at CSM was the community that helped me through this deconstruction and supported this version of me that made this project – CONTINUED.
What plans / aspirations do you have for 2023 and beyond?
I recognize that I want to tell stories for the rest of my life that has that agenda of compelling people to fight for some of the causes that are dear to me and many others. My aspiration is to have my own research and design studio that is focused on solving human security issues through design. For me, I just need one person to be impacted by the work that I do and them being an agent of change to do something in their community, that will inspire the next person to do the same.
What does winning a MullenLowe NOVA Award mean to you and in what way can organisations support graduate creatives more?
Before studying my MA at CSM, I lacked a background in design and had no drawing skills to speak of. Transitioning from the legal field to an environment where I felt wholly unqualified was a daunting experience. However, despite these challenges, I managed to design a project that not only exceeded my expectations but also garnered recognition with a prestigious MullenLowe Nova award. These awards are so powerful in that they help you realize that the bet you placed on yourself was worth it and they are the best encouragement to have you keep going and pursuing your creative practice. The recognition that has opened up for me because of this is very surreal and we need more of these award programs, where organisations can affirm a graduate creative that they are worth betting on.
Do you think you will stay in London to develop your practice/ career?
I would love to stay in London to continue to develop my creative practice, but I feel as though my work has an international call. The stories I want to tell are not confined to this beautiful city, so I don't think I am either.
Follow Liz Ebengo. linkedin.com/in/elizabethebengo
Find out more about the wonderful
MullenLowe NOVA Awards HERE
 

 

View this post on Instagram

 
Categories
Tags