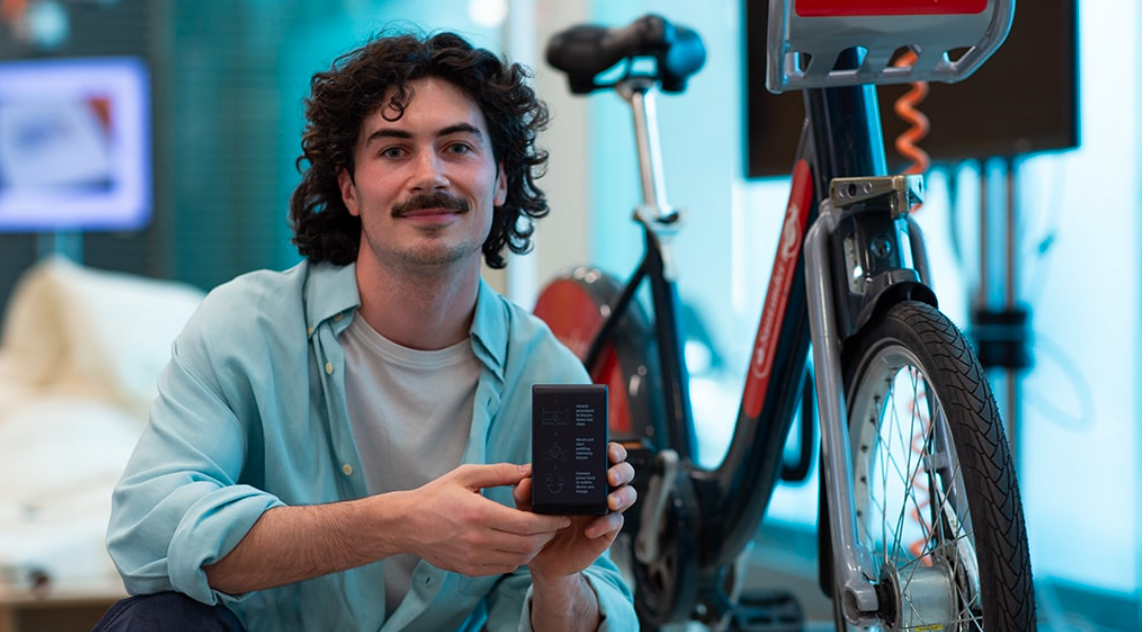 FAD managed to have a quick chat with the 5 finalists of the MullenLowe NOVA Awards 2023 here we have Luke Talbot Unilever #Unstereotype Winner from the BA Product and Industrial Design course at Central Saint Martins who was chosen for his project MyPowerbank.
Can you tell us about your practice and/or project?
This project, 'My PowerBank' was a design solution in response to those who are homeless in London having stifled access to charging their mobile devices. From many conversations with rough sleepers around London, it was apparent how crucial and ubiquitous mobile phones are in 2023. So, I investigated ways into how you could 'hack' the city to get free energy/charging power. I finalised on a Power bank that uses dynamo technology to 'hack' Santander bikes to create an accessible, reliable and free electrical power supply.
What was the best thing about your time at Central Saint Martins?
The tutors. They undoubtedly make the entire university experience. I believe I got very lucky with my personal tutors Adrian Allen and Jeffrey Doruff, who were incredibly engaging and worked tirelessly to make the course the best it could be.
Whats plans / aspirations do you see for 2023 and beyond?
Well, I've started a 6-month design placement at Policy Lab in the Government, which is a very unique and exciting opportunity. I would like to eventually create my own social impact/innovation design firm. At the graduation show many people said it's great to see physical design like mine (My PowerBank) that tangibly impacts people's lives and how little of that they often see. So, I want to continue making impactful designs, until this changes and people get used to seeing more design that helps people.
What does winning a MullenLowe NOVA Award meant to you and in what way can organisations support graduate creatives more?
Winning this award indicated to me design which isn't aesthetically beautiful but compassionate and functional are valued and even praised in the art and design world. This has been a really encouraging and inspiring reality to experience as a designer who has always felt their socially engaged work being slightly overlooked compared to classical highly aesthetic-orientated product design.
I think the best way organisations like MullenLowe can support graduating artists is through mentorship. Navigating the working creative world alone as a graduate can be a daunting task that leaves a lot of people disengaged but with a small amount of guidance (not hand-holding) I think it can really effectively help those know where to focus their energy and passion.
Do you think you will stay in London to develop your practice/career?
Well as a born and raised Londoner this is my home and I believe I will always find myself back here. But for now, I would like to work in other parts of the world to gain first-hand experience of different cultural working dynamics and see areas of industry that aren't based in the UK.
Follow Luke Talbot @luketalbot___/
Find out more about the wonderful
MullenLowe NOVA Awards HERE
Unilever #Unstereotype Award – Creativity as a force for good and positive change. Unilever is proud to support the MullenLowe NOVA Awards. This year the Unilever #Unstereotype Award will recognise inclusive, forward-thinking creative work that breaks away from limiting and outdated stereotypical gender portrayals.
Unilever has long championed the need for urgent change across the industry to use advertising as a force for good and positive societal change by banishing harmful stereotypes. We call this movement #Unstereotype, challenging our brands to deliver fresh campaigns that are more relevant to the aspirations of our audience, reflecting their rich, characterful personalities and beauty.
 

 

View this post on Instagram

 
Categories
Tags